Mills' latest effort ugly but effective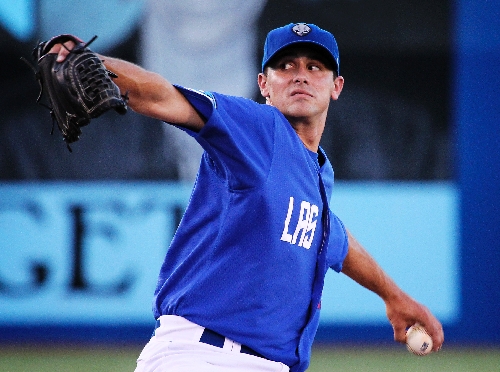 It was just Sunday that Brad Mills faced this same Tucson Padres lineup and turned into Sandy Koufax.
He carried a no-hitter into the eighth inning before allowing a leadoff single.
It was quite a different story Friday night at Cashman Field. Mills gave up four runs in the first inning and struggled all night but managed to get through seven innings and allow the 51s to rally for a 10-8 victory.
"I didn't have it tonight," Mills said. "The last time out against these same guys, it was so easy. Everything was where I wanted it. You're going to have nights like this, too, where it's not easy. I had to really concentrate to try and make every pitch. I didn't execute a lot of them. I was fighting myself all night."
When Tucson got to Mills early, 51s manager Marty Brown didn't think about lifting the left-hander because the bullpen needed a break.
Brown also knew Mills' history.
"Brad has this way he'll have one bad inning, and he regroups," Brown said. "Today, he had two questionable innings. He pitched up in the zone but got through it, and that gave us a chance to win."
Mills threw shutout ball in five of his seven innings but was touched up for three more runs in the fifth inning.
He said former 51s pitching coach and major league veteran Dave LaRoche told him in a season a starter feels great five times, lousy five times and so-so the other 20 times.
"It's what you do with those five you feel terrible and 20 you feel OK that defines your season," Mills recounted LaRoche saying.
"Winning's not preached in the minor leagues," Mills said. "But (Friday) reminds you of college when all you want to do is win. It's gratifying to see the team battle back, and feel I did my part of keeping them in the game."
He certainly was on top of his game Sunday with one-hit ball against the Padres.
That followed last week's Triple-A All-Star appearance in Salt Lake City, where he started for the Pacific Coast League.
"I was kind of nervous, but it was good," Mills said. "I never actually pitched at Salt Lake before. I was very honored to be in that clubhouse and get to meet some of the guys that I pitched against."
Mills has received a taste of the big leagues with short stints the past two seasons with the parent Toronto Blue Jays. Brown said he wouldn't hesitate to recommend a return trip for Mills, who is 9-7 with a 3.99 ERA this season.
"I think Brad Mills has been about as consistent a pitcher as we've had all year," Brown said. "He's not going to be a guy that has great stuff, but he's always going to be a guy to compete.
"If they're looking for a starter, I'd never be scared to say Brad Mills will be the guy that can come up and help you win."
■ NOTE — Tonight's 51s starter, Luis Perez, was sent down by the Blue Jays this week. He posted a 3.57 ERA over 24 appearances this season in Toronto. 51s infielder Ramon Vazquez was released.
Contact reporter Mark Anderson at manderson@reviewjournal.com or 702-387-2914. Follow him on Twitter: @markanderson65.
LAS VEGAS — 10
TUCSON — 8
KEY: Chris Woodward hit two home runs and had four RBIs to help the 51s rally from two four-run deficits.
NEXT: Padres (RHP John Van Benschoten) at 51s (LHP Luis Perez), 7:05 p.m. today