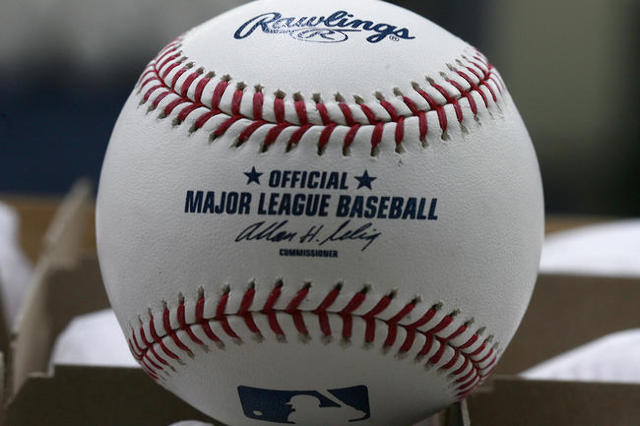 BOCA RATON, Fla. — Major League Baseball teams have already started releasing their exhibition schedules for next year, but Commissioner Rob Manfred is hoping to make some alterations that would include spring training games in Cuba.
"We got a little time still. There isn't really a firm cutoff," Manfred said Tuesday during the general managers meetings. "We're going to proceed internally and get to the point where we've sort of identified who would go, meaning which club would go if we can get it done. And one club maintaining flexibility with respect to a spring training date is a lot easier than 25 clubs maintaining that flexibility."
The United States and Cuba reestablished embassies in July, a thawing of the relationship between the countries that had been tense since Fidel Castro led a Communist party overthrow of the Cuban government in 1959.
Some major league teams held spring training in Cuba before Castro took over. The only major league team to play in Cuba since then is the Baltimore Orioles, who took part in an exhibition game against the Cuban national team in 1999 in the capital city of Havana.
Manfred admits there are obstacles to overcome in order to be able to stage games in Cuba.
"There are a variety of issues involved there, not all of which are wholly within baseball's control," he said. "Obviously, the federal government has some significant influence on whether that's going to take place, and there are issues that need to be solved before that can happen."
The United States also continues to hold a trade embargo on Cuba, which is why Cuban players must defect to another country in order to sign with a major league organization. Those players often leave the island nation on dangerous journeys with the help of smugglers, who ask for as much as 50 percent of their future earnings in return.
Many baseball executives and player agents expect that eventually a system will be put in place where major league teams could purchase players directly from teams in Serie Nacional — theCuban professional league — with the Cuban government getting a share of the sale price.
Manfred also reiterated that he will make a decision by the end of the year on all-time hits leader Pete Rose's application for reinstatement, and that expanding protective netting at major league ballparks will be on the agenda at the quarterly owners' meetings Dec. 18-19 at Dallas.
Suspended by MLB for betting on baseball in 1989, Rose met with Manfred in September at the league offices in New York.
There has been a push by some owners to increase netting after a number of fans were seriously injured by foul balls and bats entering the stands this past season.
— The Chicago White Sox hired Rick Renteria as their bench coach Tuesday, and no one was happier about that than Chicago Cubs general manager Jed Hoyer.
Renteria managed the Cubs in 2014, then was fired in awkward fashion. He was originally told he would return in 2015 but Chicago changed its mind when Joe Maddon became available after triggering an escape clause in his contract with Tampa Bay after Rays president of baseball operations Andrew Friedman left for the same position with the Los Angeles Dodgers.
Maddon led the Cubs to the National League Championship Series this year, where they were swept by the New York Mets.
Hoyer said Renteria sent him congratulatory texts after each of the Cubs' postseason victories.
"He's a good man and it's good that he's back in the game," Hoyer said.
— The days of the New York Yankees throwing big money at free agents pretty much ended when owner George Steinbrenner died in 2010. In fact, the Yankees aren't connected to any of the big names on this year's market.
Yankees general manager Brian Cashman doesn't necessarily think that is a bad thing.
"You're always going to pay more than you want for a player in free agency. Always," Cashman said. "That's the way free agency works. It's not the most efficient way to build a team."
— David Stearns became the youngest general manager in the game at 30 when he was hired by the Milwaukee Brewers in September after previously serving as the Houston Astros' assistant GM.
Not surprisingly, Stearns says he is willing to listen to trade offers on any of his players after the Brewers went 68-94 this past season. One player who is reportedly drawing strong interest in catcher Matt Lucroy.
Stearns, though, does not think his age will work against him in trade talks.
"I'm sure there are some sharks out there, but I think I can fend them off," he said with a smile.
— Senior writer John Perrotto is The Sports Xchange's baseball insider. He has covered Major League Baseball since 1988.
Like Sports News on Facebook: