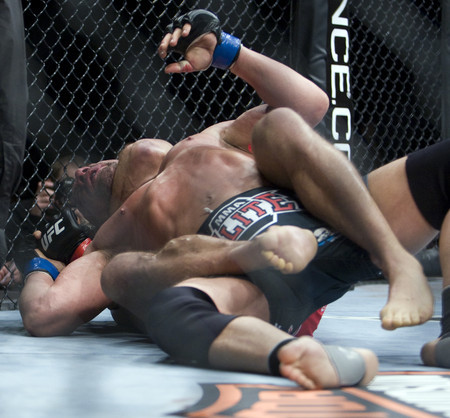 Randy Couture lost a wrestling match to Mark Coleman many years ago.
Couture proved Saturday night he is the far superior mixed martial artist at this stage of their careers, submitting his fellow Ultimate Fighting Championship Hall of Famer in the main event of UFC 109 at Mandalay Bay.
The 46-year-old Las Vegan used a combination of punches to get Coleman, 45, against the cage and secure a takedown early in the second round. Couture then got to mount and pounded on Coleman, eventually causing him to give up his back.
It took Couture just seconds from there to lock in a choke and end the fight.
"I felt like if I got into the clinch, I would have a distinct advantage with the Greco background I have," Couture said. "We hit the ground and ended up right in the mount. He went to turtle position and gave up his back right away."
Couture also showcased his boxing and muay thai skills in a first round that was fought entirely on the feet.
It was Couture's first victory by submission since 2005.
"I was very happy. I couldn't have mapped it out better," he said. "I'm very happy to get the submission win and I'm feeling great."
Coleman defeated Couture in a wrestling match at the 1989 Olympic Festival. He never got a chance to use his wrestling skills Saturday as Couture dominated from the start.
"Wow, the guy's tough," Coleman said. "The guy's real tough. I don't know what the hell happened. I'm disappointed. I think I can do better. I won't quit. I'll be back."
Chael Sonnen, another fighter from a wrestling background, earned a shot at the middleweight title by keeping Nate Marquardt on his back for most of three rounds to score a unanimous decision.
Marquardt went for a guillotine early in the fight and looked like he might be able to finish it, but Sonnen managed to pull out of it and wound up on top of Marquardt. He found himself in that position for almost the entire fight.
Sonnen rained elbows and punches on Marquardt throughout the bout to make sure the judges had an easy decision.
Marquardt did some damage, but not nearly enough to get the win. He landed a few elbows from the bottom in the second round that cut Sonnen's face badly.
"I was scared that was going to stop the fight," Sonnen said.
Marquardt then locked in another deep guillotine with just a minute remaining, but Sonnen again pulled out.
"(It was) very tight. I was hanging in there and counting the seconds down in my head," Sonnen said. "I thought I was going to pass out possibly. I was not going to tap."
Marquardt finally got himself to top position, but it was far too late and time ran out.
Sonnen will fight the winner of the April title bout between Anderson Silva and Vitor Belfort.
In a welterweight fight, former champion Matt Serra knocked out Frank Trigg 2:23 into the first round.
Trigg, 37, said before the bout that a loss probably would lead to his release from the UFC and his retirement.
The Las Vegan has been knocked out in the first round of each of his two fights since returning to the organization after four years bouncing around other leagues.
Serra, fighting for the first time since May, ended a two-fight losing streak.
"I believe in my standup," the jiu-jitsu specialist said. "It's not pretty, but if I land it, it hurts."
Paulo Thiago choked out Mike Swick in the second round after sending him sprawling to the mat with a huge left hand. Swick thought he had rocked Thiago and moved in to capitalize, but Thiago connected with a right hand, then followed with the left that put down Swick.
Swick tried to cover up, but as his head came up, Thiago locked in a d'arce choke and Swick was asleep in seconds.
In a bout that featured little action, Demian Maia was awarded a unanimous decision over Dan Miller.
Maia, normally a submission ace, said he was trying to show his versatility.
"I wanted to show people I can also fight standing up," he said. "It was my choice to fight standup the first two rounds."
On the Spike portion of the card, Mac Danzig and Melvin Guillard each won by unanimous decision. Danzig had been out of action since July, as he took a hiatus in an attempt to refocus on his career. He had lost three fights in a row.
Joey Beltran knocked out Rolles Gracie in the first bout of the night, and Chris Tuchscherer won a majority decision over Tim Hague. Phil Davis and Rob Emerson won unanimous decisions.
Contact reporter Adam Hill at ahill@reviewjournal.com or 702-224-5509.
Watch the slideshow