After roar of engines, NASCAR's Kurt Busch hears wedding bells
December 2, 2016 - 2:27 pm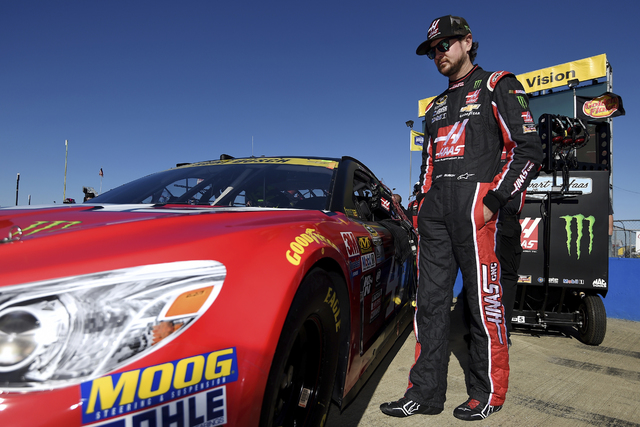 He finished seventh in final points, making NASCAR's Elite Eight, as he calls the Round of 8 in the Chase for the championship, for the second straight year.
Plus, his beloved Chicago Cubs finally won the World Series, and he was witness to Game 2 in Cleveland and Game 5 in Chicago.
Plus, he's getting married soon.
So all things considered — especially the last two — native NASCAR son Kurt Busch said the 2016 season has been a good one.
He sneaked in the bit about an impending marriage to girlfriend Ashley Van Metre toward the end of the media scrum with Chase drivers leading up to Friday's Champion's Week black-tie awards soiree at Wynn Las Vegas.
The two have been engaged since 2015.
"To be up in Virginia with my fiancee's family, and then a wedding shortly thereafter," the 2004 Cup Series champion said about his holiday plans.
"It's going to be fantastic to be able to go to the Caribbean, and to get married to the love of my life, Ashley, and have my family there, her family, and then before we know it, we'll be back in Daytona.
"It's going to be a nice off-season. I can't wait."
Busch said there would be a grand reception in Florida during January for family and friends.
So no ceremony at a little hometown chapel with an Elvis impersonator as witness?
"It would be a lot cheaper to do that than what we're going to be doing in January," said the blushing bridegroom to be.
About last night…historic game, epic time with @DanicaPatrick @StenhouseJr at Wrigley. #WorldSeries #W pic.twitter.com/uEbtoBVl2R

— Kurt Busch (@KurtBusch) October 31, 2016
HOMETOWN ADDITION
Kyle Busch, who in addition to being a NASCAR Cup driver of some repute also owns a Truck Series team, said he was looking forward to having fellow Las Vegan and rising star Noah Gragson behind the wheel of one of his Kyle Busch Motorsports Toyota Tundras in 2017.
"Noah, being from Las Vegas, getting a little bit of history about him, I'm seeing how he's been kind of growing up through the ranks of the (Las Vegas Motor Speedway) Bullring, and going through the (developmental) K&N West and East divisions — winning in K&N East and West, that's a big deal," Busch said during the Champion's Week media session at Wynn Las Vegas.
"Just being able to help another guy from Vegas run the Truck Series, it's going to great for us."
Busch was asked if he sees any similarity between himself and 18-year-old Gragson, who is on this year's NASCAR Next list of potential up-and-coming phenoms.
"Situations being parallel, but seeing any of me in him? Absolutely not," smiled the 2015 Cup Series champion. "He's way better in attitude and everything else than I am."
CUP RUNNETH OVER
NASCAR types are speculating next year's stock car racing championship will not be called the Monster Energy Cup, despite the energy drink company having signed on Thursday as new title sponsor. They believe media types would shorten it to Monster Cup on second reference, and then fans would snicker.
I'm sure that's part of it, although the folks at Dover International Speedway — aka "The Monster Mile" — would probably dig the Monster Cup.
Another reason the Cup Series, formerly known as Winston, Nextel and Sprint, may be rebranded the Premier Series (or something similar): there already is a Monster Energy Cup. It's a major AMA Supercross race — Monster Energy also is heavily involved in dirt bike racing — held at Sam Boyd Stadium in October.
There can only be so many Monster Cups.
NASCAR chairman Brian France said Thursday the new designation of the Cup series will be revealed at a later date.
Contact Ron Kantowski at rkantowski@reviewjournal.com or 702-383-0352. Follow @ronkantowski on Twitter.
BUSCH 2016
It was another solid season for Las Vegas' Kurt Busch, driver of the No. 41 Ford Fusion for Stewart-Haas Racing in theNASCAR Cup Series. Here are his results:
— STARTS: 36
— WINS: 1
— TOP 5: 9
— TOP 10: 21
— DID NOT FINISH: 2
— CHASE: Eliminated in Round of 8; credited with seventh place in final points.