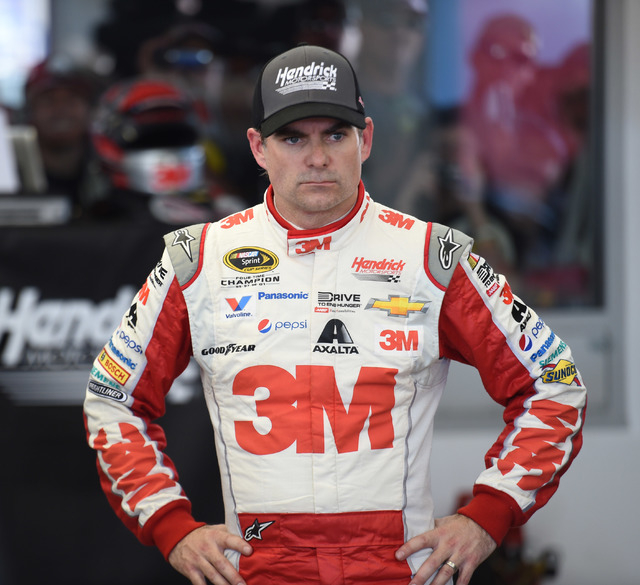 Jeff Gordon set a Las Vegas Motor Speedway record in qualifying Friday, running 194.679 mph to claim the pole for the Kobalt 400.
Now, however, his Hendrick Motorsports No. 24 Chevrolet will start in the back of the NASCAR Sprint Cup Series race at 12:30 p.m. today.
Danica Patrick, in the Stewart-Haas Racing No. 10 Chevy, spun out in the final minute of practice Saturday, and Gordon ran into her.
Gordon clearly wasn't happy, tweeting: "Just when u think everything is starting to go your way 10 spins in front of u &ruins ur day &the @3MRacing @TeamChevy. Going to backup!"
This has been a rough start to the year for Gordon, who announced he would retire after the season.
The four-time Cup champion was involved in wrecks in the first two events, finishing 33rd at the Daytona 500 and 41st at Atlanta Motor Speedway.
Patrick will not need a backup car because her damage was minor. She will start 17th.
David Ragan, driving for injured Las Vegan Kyle Busch in the Joe Gibbs Racing No. 18 Toyota, moves to the back after damaging his car. Ragan had qualified 13th.
■ GOING AND GAUGHAN — Last season was a comeback year for Brendan Gaughan, the Las Vegan who finished a career-best eighth in what was then the Nationwide Series. It also was his first full season at that level since 2010.
Now, after finishing sixth in Saturday's Boyd Gaming 300, Gaughan moved up to seventh in what's now called the Xfinity Series standings.
He came to Las Vegas last year and placed 16th after two speeding penalties on pit road and another for jumping a restart.
"We definitely are way further ahead than last year," said Gaughan, who drives the Richard Childress Racing No. 62 Chevy.
He gave it a good effort Saturday, running up front throughout the day and even leading three laps.
"We had a shot to win it, and that's all you can ask for in the Xfinity Series," Gaughan said.
He also will compete in the Kobalt 400, driving for the startup Premium Motorsports team. Gaughan will start 41st.
■ LIVE AND IN PERSON — Las Vegas resident Jamie Little isn't used to being at LVMS for the Cup race, but she will be in pit road today working for Fox Sports.
She worked the Saturday race for ESPN the previous eight years, and Fox handled the one Sunday. But ESPN no longer covers NASCAR, and Fox televises both events.
"It's so hard to be at the track and not be working, so on Sunday mornings, I always stayed home and watched it with my family," Little said. "So when I signed with Fox, there were two things I was super excited about. One was doing the Daytona 500, and the other was I finally get to do the Cup race in Vegas."
She made history at the Daytona 500, becoming the first woman to work that race and the Indianapolis 500.
"It was chaos because Fox doesn't mess around," Little said of covering Daytona. "They cover everything that moves on the racetrack, so out of the chutes, I showed up, and boom we're on the air. I think it was 10 out of 12 days I was there, we were on the air, so there's nothing like getting adjusted to new co-workers by doing that — trial by fire. But it's great. I love it. We're at the track anyway, so we may as well be on the air and talking about the sport."
Contact Mark Anderson at manderson@reviewjournal.com or 702-387-2914. Follow him on Twitter: @markanderson65.