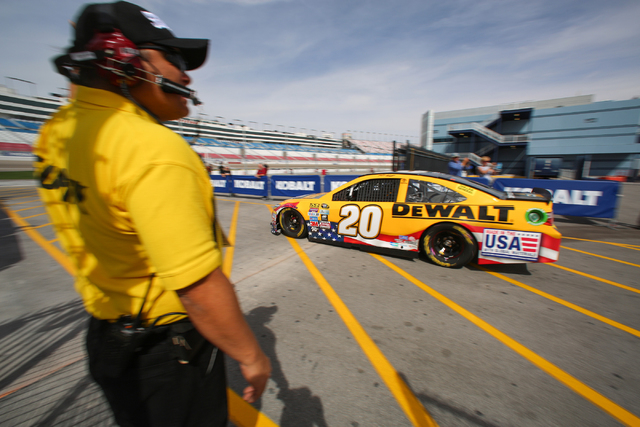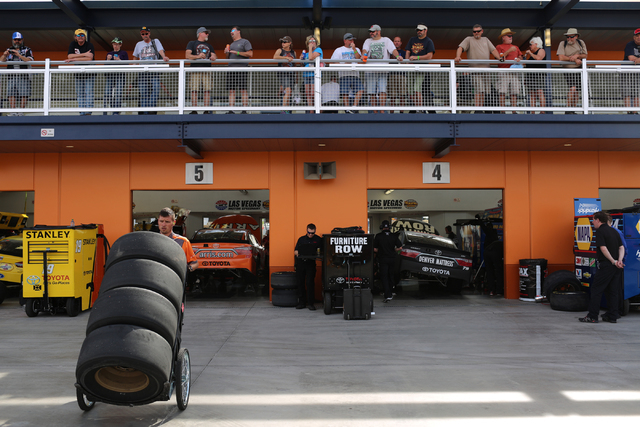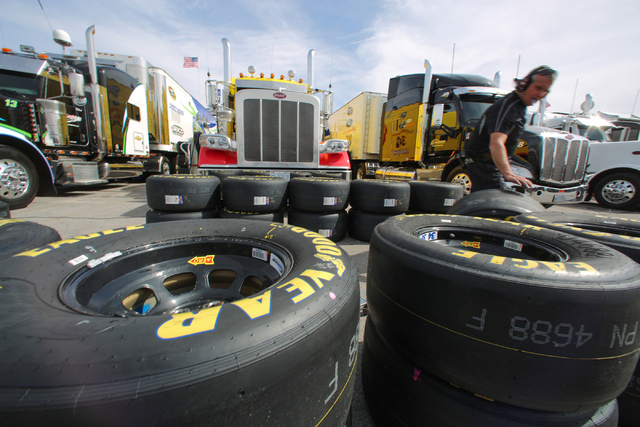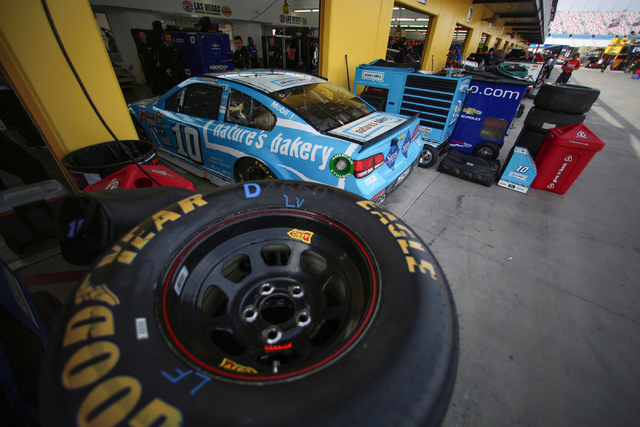 If one were to characterize the kind of race we're going to see in Sunday's Kobalt 400 at Las Vegas Motor Speedway in terms of a presidential primary, it probably would be "too early to call."
Perhaps after more rubber gets put down during today's practice sessions and qualification attempts more accurate projections can be made.
"I think the biggest surprise is just how fast the cars are going," driver Carl Edwards said Thursday as 38 Sprint Cup cars and drivers tested NASCAR's new low downforce package introduced to promote more passing.
The aerodynamic tweaks debuted to rave reviews at Atlanta last week. Somebody said when Dale Earnhardt Jr. arrived at the track Thursday that he still was grinning in the manner of Lewis Carroll's Cheshire cat.
"I guess in my mind I envisioned the lower downforce package being slower," Edwards said. "But the cars are just really fast. The second thing which was notable to me, which I think is a real plus, is how the Goodyear rubber is laying down on the racetrack."
In most cases, speed is not conducive to side-by-side racing. But rubber laying down to form multiple grooves is.
"I think that's going to help the racing be really good," Edwards said of the rubber meeting the road.
"It's gonna help us have multiple (racing) lanes. It's already spread out in the corners; you already can run up in the second groove and make up a little time. I really hope it can stay like that all weekend because the rubber, when it does that, makes the racing a lot more fun."
Jimmie Johnson, the four-time Las Vegas race winner who also won at Atlanta last week, turned the fast lap of the morning session at 192.981 mph in the No. 48 Kobalt Chevy. Which is fast. In the afternoon, with the sun (sort of) breaking through the clouds, Richard Petty driver Aric Almirola went nearly as fast in a Ford — 192.940 mph.
There was one incident. Denny Hamlin, last month's Daytona 500 champion, lost control of his No. 11 Toyota in Turn 2 and pancaked the wall. Hamlin drove the car back to the garage area and returned to the track in a backup car.
NASCAR hoosegow
A total of 10 Sprint Cup teams were fined or received slaps on the wrist Thursday for transgressions committed during the race weekend at Atlanta. That seemed like a lot of wrist slapping, and might have tied Sheriff Joe Arpaio's record for disciplinary action down in Maricopa County, Ariz.
Carl Edwards was queried about NASCAR's heavy hand during a short chat with the media.
"Was I one of 'em?" asked the driver of the No. 19 ARRIS Toyota.
"No," he was told.
"Well, then it's great," Edwards said, eliciting belly laughs and chortling.
But seriously, Edwards said, "I guess everybody realizes that NASCAR is policing the sport tougher, looking at things closer. But for a sport, that's great. That's what you want. You want to know you're competing against guys that are being held to the same rules you are."
Cole Pearn, crew chief on Martin Truex Jr.'s No. 78 Furniture Row Toyota, received a one-race suspension and was fined $50,000 for a roof flap violation. Truex, who finished seventh at Atlanta and a thrilling second at the Daytona 500, was docked 15 championship points, dropping him from second to ninth in points heading into Sunday's Kobalt 400, pending appeal.
Green-white-checkered
• Some of the weather forecasts for race day are getting brighter. Weather Underground is now calling for partly cloudy skies Sunday, with only a 10 percent chance of rain during the race. The projected high temperature is 65 degrees with stiff breezes that may reach 30 mph, however.
• First, it was the grandstand at Daytona Speedway that was "reimagined." Now NASCAR is using that same word to describe its Trackside Superstore, which makes its Las Vegas debut this weekend. The retail tent more or less consolidates the individual driver souvenir trailers on the midway into a one-stop shop roughly the size of the Grand Canyon. Defending Kobalt 400 champion Kevin Harvick said he was impressed with the selection of stock car swag and how well it is organized. "I walked through my section and a couple of the other sections (probably not Joey Logano's) to see how simple it really is," Harvick said. "We're excited, and you can kind of see the step we've taken forward in our sport."
Las Vegas Review-Journal sports columnist Ron Kantowski can be reached at rkantowski@reviewjournal.com or 702-383-0352. His motor sports notebook runs on Friday. Follow him on Twitter: @ronkantowski.
Sprint Cup driver Ricky Stenhouse talks about the racing groove at Las Vegas Motor Speedway, new low downforce package:
IF YOU GO
Stratosphere Pole Day WHAT: Kobalt 400 Sprint Cup Series qualifying WHEN: 4:45 p.m. today (practice begins 10:30 a.m.) WHERE: Las Vegas Motor Speedway TV: Fox Sports 1 RADIO: NASCAR Radio SiriusXM 90 Tickets: www.lvms.com