In retrospect, NASCAR's Kyle Busch says it was another fine year
December 2, 2016 - 4:01 pm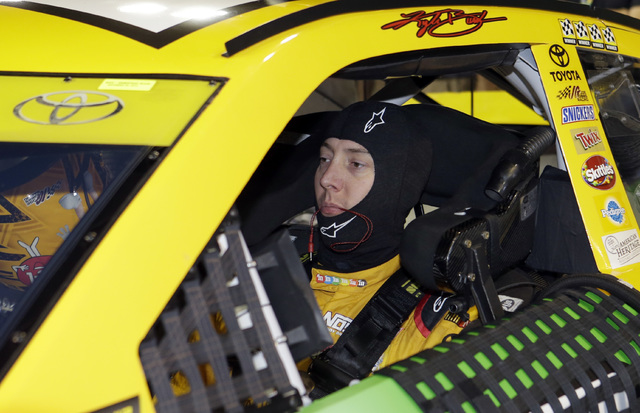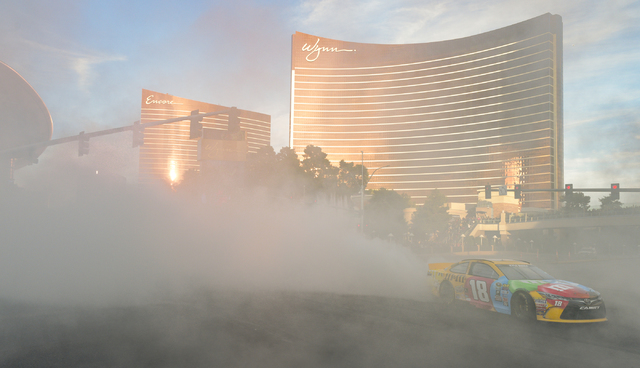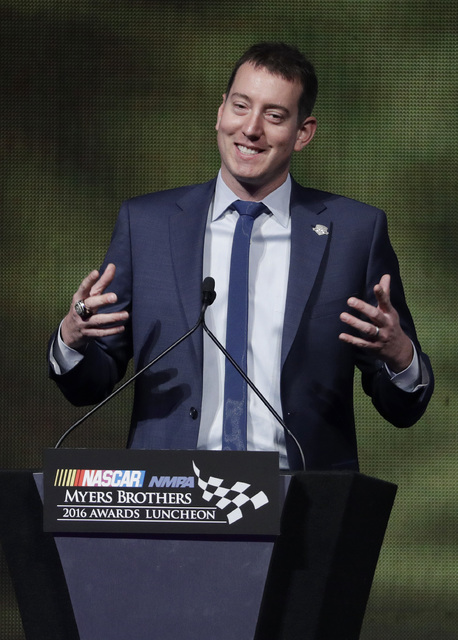 When NASCAR switched to the current one ultimate race, winner-take-all Chase format in 2014, it was seeking a "Game 7 moment" as in the traditional stick-and-ball sports.
When Carl Edwards and Joey Logano tangled on a late restart during the season finale at Homestead, Florida, paving the way for Jimmie Johnson's record-tying seventh Cup Series championship, that's exactly what NASCAR got.
The Game 6 moment the week before at Phoenix was pretty dramatic, too.
It involved defending series champion Kyle Busch of Las Vegas, who went low during a similar late and frantic restart. Busch's car nicked Alex Bowman's, prompting a chain reaction that knocked Busch's Joe Gibbs Racing teammate Matt Kenseth out of the lead and out of the championship, and Busch back into it.
Busch was contrite, and was all but pardoned for having caused the incident. That he was even in position to figure in the outcome says a lot about his perseverance during a season he termed "odd."
"Any year you don't win the championship, it's always going to be a little bit of a disappointment," Busch said as the Chase drivers prepared to break bread at Friday's awards show at Wynn Las Vegas, the culmination of Champion's Week. "But we certainly can't be disappointed with the way we ran this year."
Busch said he was competitive, consistently ran up front despite not winning in the Chase and might have repeated as champion were it not for late cautions and slippery tires in Florida.
He led just one lap at Homestead. He didn't have the best car. He still thought he could win, especially after it got dark and cool which suited his No. 18 Toyota.
"I thought Carl was the best of all of us, and it was going to be hard to beat him straight up," Busch said of his JGR stablemate. "But when he was eliminated, that kind of opened the door for all three of us, really."
Kyle Busch. Joey Logano. Jimmie Johnson. Three drivers. Two laps. One champion.
One seven-time champion.
One guy from Las Vegas who almost made it two in a row.
"It seemed Jimmie was able to have a little bit better opportunity that got him to the end," Busch said about the hit-and-miss nature of this latest Chase setup.
So these would be the final numbers for the 31-year-old former Las Vegas Motor Speedway Bullring legend: 36 starts, 4 wins, 17 top fives, 25 top 10s, 5 did not finishes. Third in points. The so-called Rowdy one also won 10 of 17 Xfinity Series starts and went 2-for-4 in the Truck Series when he didn't have anything else to do.
Odd season? Perhaps. But most guys not named Jimmie Johnson would have taken it.
Contact Ron Kantowski at rkantowski@reviewjournal.com or 702-383-0352. Follow @ronkantowski on Twitter.
WINNING BIG
Kyle Busch of Las Vegas continues to be one of the biggest winners in NASCAR. Here are his victories by series, with 2016 wins in parentheses:
— Cup Series: 38 (4)
— Xfinity Series: 86 (10)
— Truck Series: 46 (2)