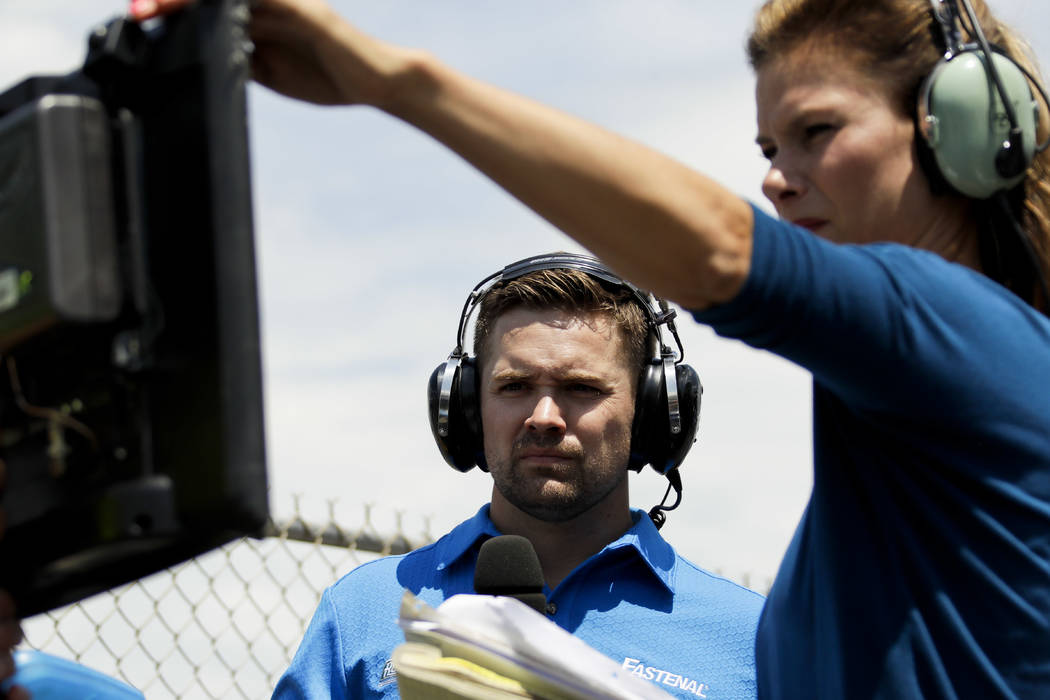 If the second half of the NASCAR season is anything like the first, Jamie Little has some advice for fellow Las Vegan Kelli Stavast.
Hold onto your headset. You're in for a wild ride.
With NASCAR splitting its TV coverage between Fox and NBC, Little hands off pit road reporting duties to Stavast this week after having witnessed a wildly eventful first half of the season.
It began with another new NASCAR points system — stage racing is what it came to be known — and another Las Vegan, Kurt Busch, leading only the final lap to post a stunning victory in the Daytona 500. Two weeks later, kid brother Kyle Busch was bleeding from a gash in his forehead after challenging Joey Logano's entire pit crew to a fight following the Kobalt 400 at Las Vegas Motor Speedway.
After that, Dale Earnhardt Jr. announced his retirement. Then a bunch of young guns — Kyle Larson, Ryan Blaney, Ricky Stenhouse Jr., Austin Dillon, Chase Elliott, Erik Jones — who hope to follow in his tire tracks starting winning races, or at least contending for victories.
Little would even make a little news herself. A day after Blaney had interviewed Brad Keselowski in Victory Lane after the latter had won an Xfinity Series race during NASCAR's Driver's Only broadcast, she handed her headset and microphone to Keselowski so he could interview Pocono 400 winner Blaney. "TV magic" is how one critic described Little's spur of the moment decision.
"It was really cool to be part of that," she said during a telephone chat this week.
As for what Kelli Stavast should keep her eye on during the second half of the season, Little said it will be interesting to see if Earnhardt Jr. can race his way back into Victory Lane one final time; if Kyle Busch and Joe Gibbs Racing can regain their winning form; how stage racing points affect the playoff chase and lineup. The "silly season" of driver changes also should be intriguing, she said.
Little also would advise Stavast to hold onto her headset, unless Brad Keselowski wants to borrow it.
"It goes by so fast," she said of the NASCAR season. "The schedule is crazy, and then we're in Sonoma (last week) and then we're done."
Happening right now!! Gave @keselowski my headset and he is interviewing @Blaney! So cool. @NASCARONFOX pic.twitter.com/CS3FoW0NK4

— Jamie Little (@JamieLittleTV) June 11, 2017
Gaughan back at Daytona
Brendan Gaughan posted photos on his Twitter account of him training with U.S. Air Force Special Tactics personnel at Hurlburt Field in Florida this week — an experience that should help prepare him for another mission with NASCAR's top garrison in Saturday's Coke Zero 400 at Daytona Speedway.
The Xfinity Series veteran from Las Vegas will be reprising his part-time Cup Series drive in the No. 75 Chevrolet for car owner Mark Beard of Michigan. The two teamed at the Daytona 500 in February, when Gaughan ran among the lead pack most of the day before settling for 11th place.
Another restrictor-plate race in Beard's car at Talladega didn't turn out as well. Gaughan started 32nd and finished 26th, completing 183 of 191 laps at the GEICO 500 in May.
I love my life!

Thank you @USAFSpecTactics for allowing @Matt49erPR and I take part yesterday. Such an amazing experience! pic.twitter.com/kxO5JSsb3V

— Brendan Gaughan (@Brendan62) June 28, 2017
Great looking @visualinnovations car looking forward to another @DISupdates with @Brendan62 at the wheel. pic.twitter.com/TFIYiditCZ

— Darren Shaw (@d17shaw) June 25, 2017
Night of Fire
The highlight of this year's always-popular Night of Fire commemorating the July 4 holiday at the Las Vegas Motor Speedway Bullring is a Figure 8 Trailer Race. A special prize will be awarded to the driver who causes the "most destruction."
What could possibly go wrong?
There also will be a 76-lap NASCAR Super Late Models division feature race and plenty of traditional postrace fireworks, in addition to the ones generated by the Figure 8 Trailer drivers.
Tickets and beers are reasonably priced. Gates open at 5 p.m. Monday, with racing at 7.
The annual Night of Fire returns to The Bullring at LVMS on Monday, July 3, and will include a huge fireworks show! https://t.co/ljmRrEDqE1 pic.twitter.com/CFy1mqnfzg

— Las Vegas Speedway (@LVMotorSpeedway) June 26, 2017
White flag
Sitting a distant 14th in season points, Kurt Busch of Las Vegas hasn't been much of a factor since winning the season-opening Daytona 500. But he's the only driver eligible for the Daytona sweep, as Busch on Saturday will be bidding to become the first driver since Jimmie Johnson in 2013 to win the Daytona 500 and Coke Zero 400 at the 2.5-mile oval.
Other drivers who have swept the Daytona races in the same year are Bobby Allison (1982), LeeRoy Yarbrough (1969), Cale Yarborough (1969) and Fireball Roberts (1962).
Lots of fun in #NYC this morning with @NASCARonNBC and the @TODAYshow https://t.co/sHRyNVVuo3

— Kurt Busch (@KurtBusch) June 28, 2017
Contact Ron Kantowski at rkantowski@reviewjournal.com or 702-383-0352. Follow @ronkantowski on Twitter.
Pro schedules
NASCAR Monster Cup
What: Coke Zero 400.
When: Friday, qualifying, 1:10 p.m. (NBCSN). Saturday, race, 4:30 p.m. (KSNV-3).
Where: Daytona International Speedway (oval, 2.5 miles), Daytona, Florida.
Distance: 400 miles (160 laps).
Last year: Brad Keselowski won the summer stop at Daytona.
Last week: Kevin Harvick won at Sonoma, his first victory of 2017.
Next race: Quaker State 400, July 8, Kentucky Speedway, Sparta, Kentucky.
NASCAR Xfinity
What: Coca-Cola Firecracker 250.
When: Friday, qualifying, 11:10 a.m. (NBCSN); race, 4:30 p.m., NBCSN.
Where: Daytona International Speedway (oval, 2.5 miles), Daytona, Florida.
Distance: 250 miles (100 laps).
Last year: Aric Almirola took first despite starting 23rd.
Last race: William Byron won in Iowa, his first victory in the series.
Next race: Alsco 300, July 7, Kentucky Motor Speedway, Sparta, Kentucky.
NASCAR Camping World Truck
What: No racing this weekend.
Last week: John Hunter Nemecheck won his second consecutive race in Iowa.
Next race: Buckle Up In Your Truck 225, July 6, Kentucky Speedway.
IndyCar
What: No racing this weekend.
Last week: Scott Dixon won at Road America for his 41st career victory, one shy of Michael Andretti for third all time.
Next race: Iowa Corn 300, July 9, Iowa Speedway.
Formula One
What: No racing this weekend.
Last race: Daniel Ricciardo won after starting 10th in Baku.
Next race: Austrian Grand Prix, July 9, Red Bull Ring, Spielberg, Austria.
NHRA
What: No racing this weekend.
Last race: Steve Torrence (Top Fuel), Jack Beckman (Funny Car), Bo Butner (Pro Stock) and LE Tonglet (Pro Stock Motorcycle) won in Norwalk, Ohio.
Next race: Route 66 NHRA Nationals, July 9, Route 66 Raceway, Elwood, Illinois.
The Associated Press