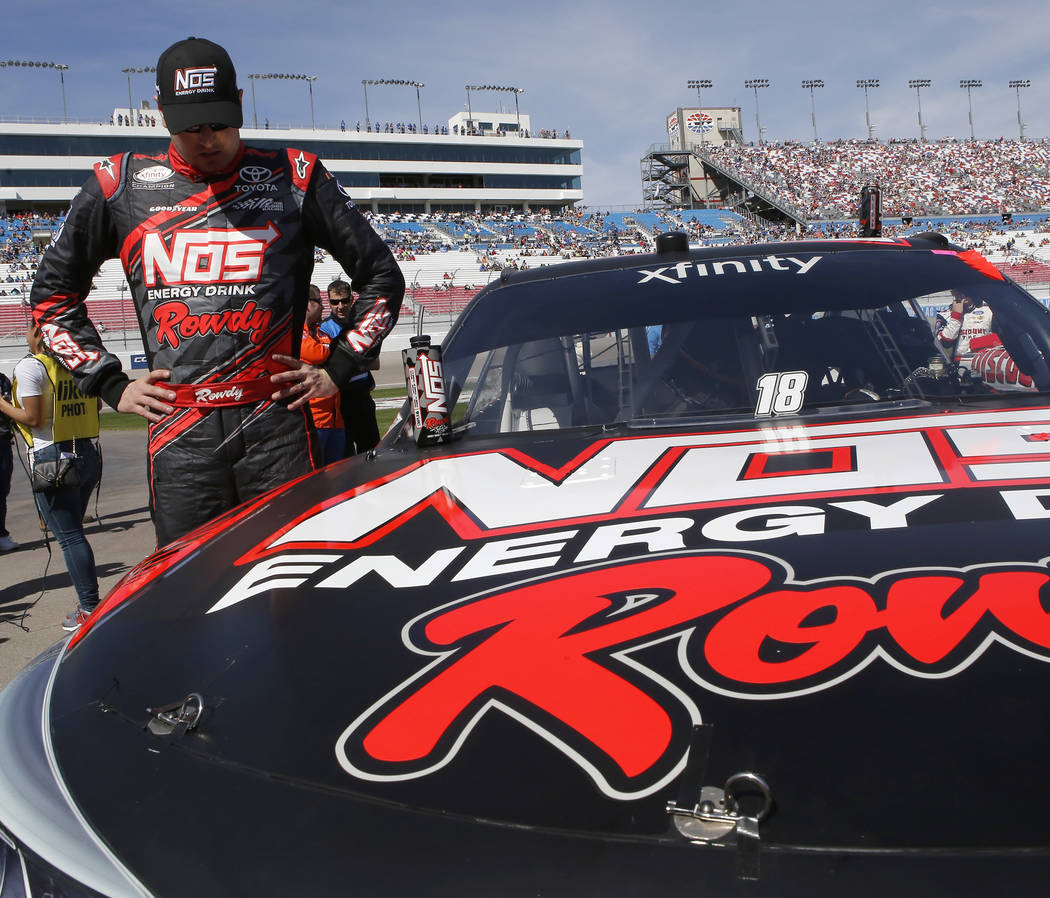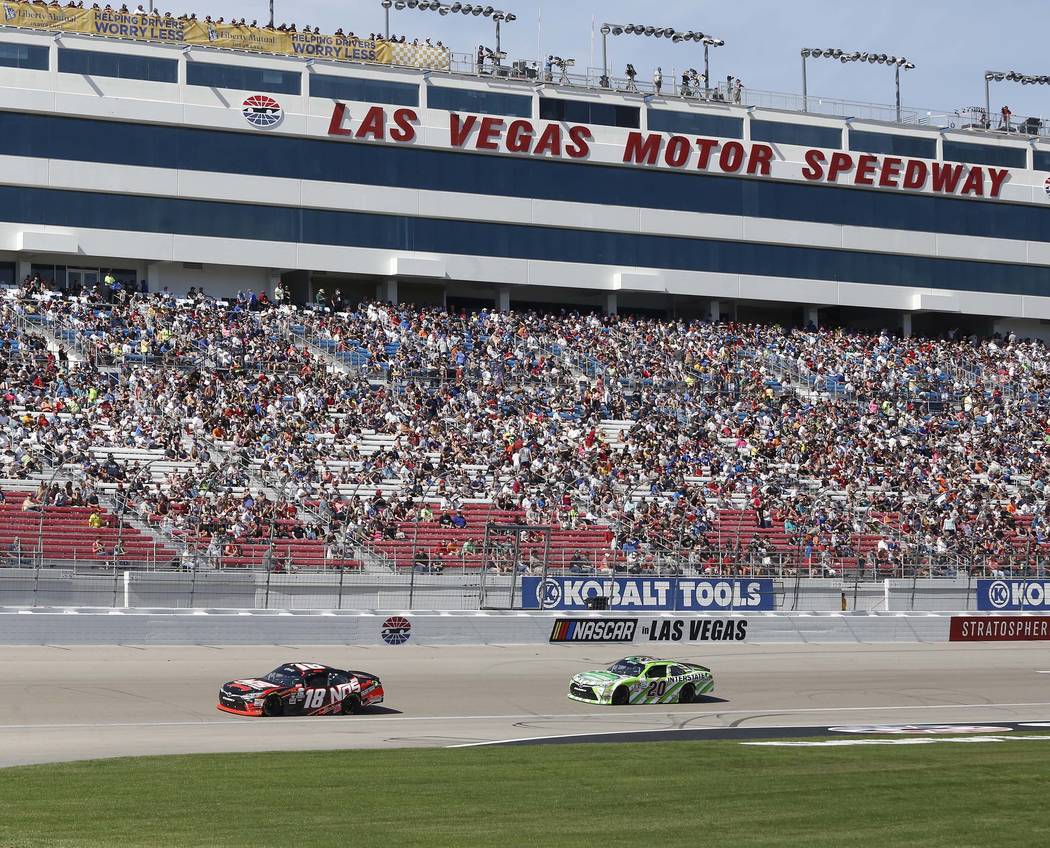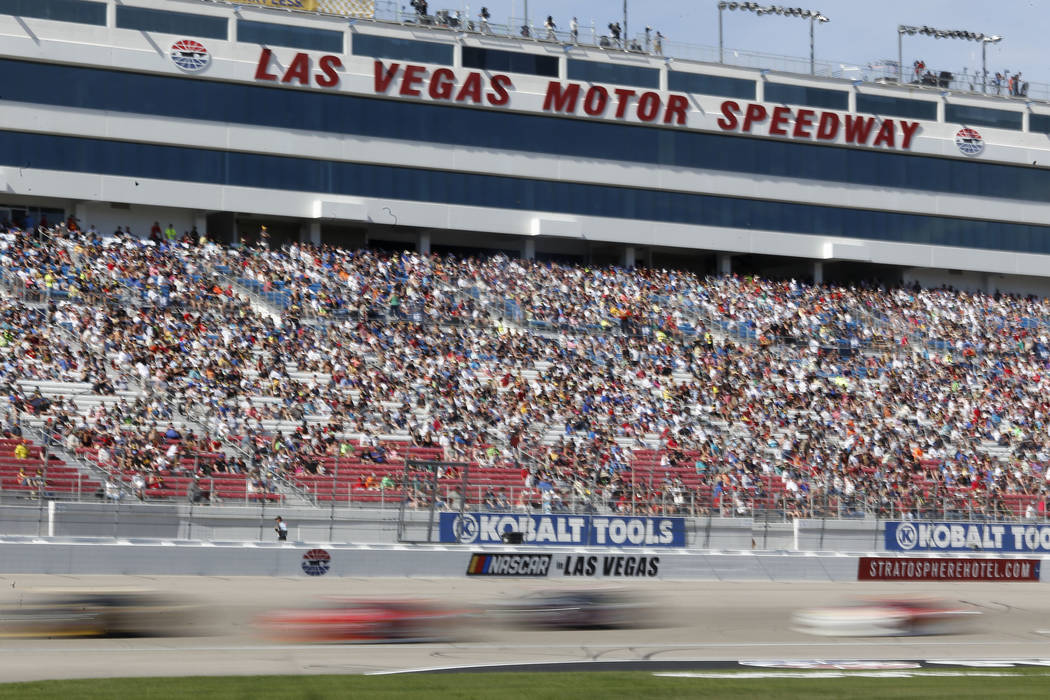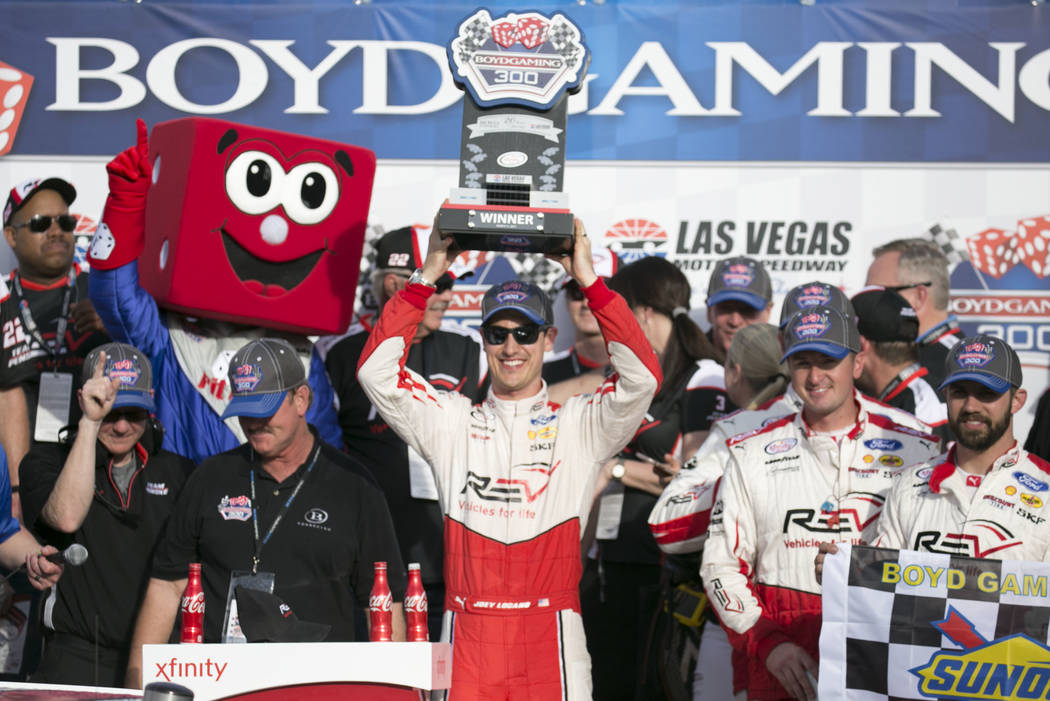 He has won the Kobalt 400 four times, but never when it was called that.
Jimmie Johnson gets one more chance Sunday.
The Kobalt 400 will become the Pennzoil 400 in 2018, and the seven-time Cup Series champion, who drives the No. 48 Chevrolet sponsored by Kobalt's parent company, Lowe's Home Improvement, would like nothing better than to put his name alongside those of his longtime backers when the gentlemen of NASCAR and Danica Patrick start their engines at approximately 12:30 p.m. at Las Vegas Motor Speedway.
It won't be easy.
The Ford drivers have had an edge on their Chevy and Toyota counterparts during the first two races of 2017, and Johnson will start 16th on the grid after missing the setup in Friday qualifying. Plus, he was popped twice for speeding on pit road last week in Atlanta, with speeding in the pits being a major storyline for Sunday's race.
Sunny skies and warmer than usual temperatures also could turn the modestly banked LVMS turns into Slip 'N Slides. But the drivers seem more concerned by conditions in the pits than on the racetrack.
Per current rules, NASCAR teams aren't allowed to test the pit road speed traps before race day, which led to 13 speeding infractions at Atlanta.
"That's something we're all leaning on NASCAR about," said Johnson, who won this race three consecutive times, from 2005 through 2007, and again in 2010, when it was sponsored by Chrysler, Dodge or auto racing pioneer Carroll Shelby. "We're a little frustrated that during practice the (timing zones) aren't open so that we can dial in our speed accordingly."
The Cup cars do not have speedometers, so drivers use tachometers set by RPMs and dashboard warning lights to alert them when the pit road speed limit is approaching.
Squeaky wheel gets the grease — the timing lines were shown to the teams via NASCAR laptops during Cup and Xfinity practices Saturday, allowing crew chiefs to make adjustments.
In theory, that should reduce speeding penalties in the pits.
There were 13 at LVMS last year, giving credence to Johnson's belief that the best place to pass cars is the pit lane, even with added timing zones.
Brad Keselowski, last week's winner at Atlanta when Kevin Harvick's drive to an apparent dominating victory was derailed by a late speeding penalty, will start from the pole position, with Martin Truex Jr. outside on the front row.
"It's gonna continue to play out as a storyline," said Keselowski, who has won two of the past three Kobalt 400s. "I think that's one of those things where everybody kind of learns the new boundary, and then they get settled in and it kind of goes away."
Sunday's race also will provide a third look at NASCAR's new points system, in which races are divided into three segments — two short sprints, followed by a longer run to the finish — during which drivers receive championship points based on position, with segment winners receiving bonus points that carry over into the 10-race playoffs.
"The majority of the points are still handed out at the end," said Kurt Busch, the Daytona 500 winner from Las Vegas who will be gunning for his first win on his hometown track from the 17th starting position. "But our second engineer, I saw him after the (Atlanta) race, and he just had his eyes wide open like, 'Wow, we finished seventh, but we only got 30 points today.'"
Contact Ron Kantowski at rkantowski@reviewjournal.com or 702-383-0352. Follow @ronkantowski on Twitter.
Kobalt 400
What: Monster Energy NASCAR Cup Series
When: 12:30 p.m. Sunday
Where: Las Vegas Motor Speedway
TV/Radio: KVVU-5; KBAD-AM (920)
Favorite: Kevin Harvick (4-1)
NASCAR WEEKEND SCHEDULE
(All events, times subject to change )
Sunday
7 a.m. — Ticket gates, Neon Garage, VIP Suites open
9-10 a.m. — Speedway Children's Charities Track Walk
10:30 a.m. — Kobalt 400 driver/crew chief meeting (Neon Garage)
10:30 a.m. — Flagstand crossover gates open for pre-race driver introduction passes
11:50 a.m. — Kobalt 400 driver introductions
12:30 p.m. — MENCS Kobalt 400 (267 laps, 400.5 miles) (TV: Fox)
5:30 p.m. — Neon Garage closes
BEST OF LAS VEGAS
Top NASCAR performances at the Kobalt 400:
Most races: Jeff Gordon (18)
Most wins: Jimmie Johnson (4)
Most second-place finishes: Dale Earnhardt Jr. (3)
Most top 3 finishes: Jimmie Johnson (6)
Most top 10 finishes: Dale Earnhardt Jr. and Mark Martin (10)
Best average finish: Dale Earnhardt Jr. (7.7)
Most laps led: Jimmie Johnson (576)
KOBALT 400 LINEUP
Car number in parentheses
1. (2) Brad Keselowski, Ford, 193.68 mph.
2. (78) Martin Truex Jr, Toyota, 193.458.
3. (21) Ryan Blaney, Ford, 193.41.
4. (20) Matt Kenseth, Toyota, 193.389.
5. (42) Kyle Larson, Chevrolet, 193.161.
6. (22) Joey Logano, Ford, 193.029.
7. (5) Kasey Kahne, Chevrolet, 193.133.
8. (77) Erik Jones, Toyota, 192.369.
9. (18) Kyle Busch, Toyota, 192.362.
10. (1) Jamie McMurray, Chevrolet, 192.362.
11. (19) Daniel Suarez, Toyota, 191.966.
12. (24) Chase Elliott, Chevrolet, 191.042.
13. (14) Clint Bowyer, Ford, 192.623.
14. (27) Paul Menard, Chevrolet, 192.431.
15. (11) Denny Hamlin, Toyota, 192.356.
16. (48) Jimmie Johnson, Chevrolet, 192.267.
17. (41) Kurt Busch, Ford, 192.089.
18. (88) Dale Earnhardt Jr, Chevrolet, 192.068.
19. (4) Kevin Harvick, Ford, 191.7.
20. (6) Trevor Bayne, Ford, 191.544.
21. (31) Ryan Newman, Chevrolet, 191.523.
22. (3) Austin Dillon, Chevrolet, 191.029.
23. (47) AJ Allmendinger, Chevrolet, 190.638.
24. (13) Ty Dillon, Chevrolet, 188.864.
25. (37) Chris Buescher, Chevrolet, 190.57.
26. (95) Michael McDowell, Chevrolet, 190.402.
27. (34) Landon Cassill, Ford, 190.208.
28. (10) Danica Patrick, Ford, 189.954.
29. (17) Ricky Stenhouse Jr, Ford, 189.553.
30. (43) Aric Almirola, Ford, 189.401.
31. (32) Matt DiBenedetto, Ford, 187.813.
32. (38) David Ragan, Ford, 186.716.
33. (72) Cole Whitt, Ford, 185.752.
34. (83) Corey Lajoie, Toyota, 185.554.
35. (23) Gray Gaulding, Toyota, 185.008.
36. (33) Jeffrey Earnhardt, Chevrolet, 182.624.
37. (15) Reed Sorenson, Chevrolet, 180.301.
38. (55) Derrike Cope, Chevrolet, 177.468.
39. (51) Timmy Hill, Chevrolet, 174.876.