Kurt Busch shatters record in taking Kobalt 400 pole position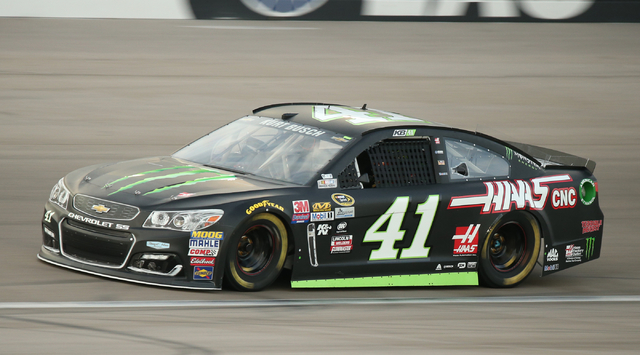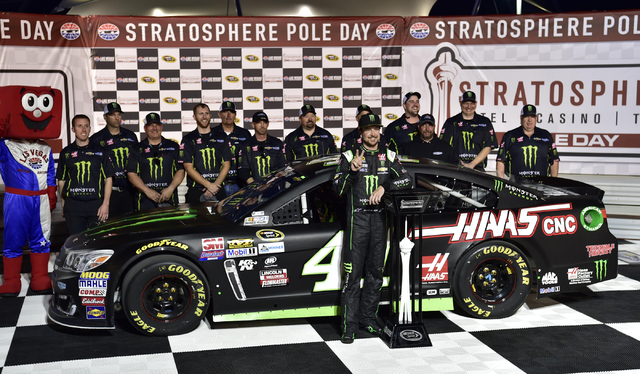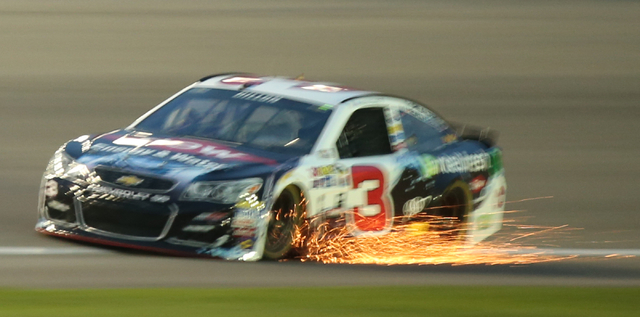 Of all the ways to describe Friday's Sprint Cup Series pole day qualifying at Las Vegas Motor Speedway, this one seemed best:
It sounded like a broken record.
Last year, on the day before his last race at the 1.5-mile oval on the northern edge of town, Jeff Gordon turned a lap of 194.679 mph in setting the track record.
Gordon's record is long gone now. They might as well have just buried it along with the old grandstand in Turn 3.
During the three-tiered qualifying, 14 drivers posted laps that were faster than Gordon's. Las Vegan Kurt Busch posted the fastest time of all as daylight was yielding to dusk, so he'll start first in Sunday's Kobalt 400.
Busch's fast lap in the No. 41 Monster Energy/Haas Automation Chevrolet was 196.378 mph during the first qualifying round. It was his second pole position in two weeks; he also started first at Atlanta last week.
The track record speed was set on the first of Busch's three qualifying laps. He said he overdrove going into Turn 1 on his second try. His third lap was a fraction slower than his first.
"Being on the tight side after that (second) run, (crew chief Tony) Gibson loosened it up," Busch said. "He said go on down (into Turn 1), and it stuck.
"I had to make an extra run, and it made for a pressure-cooker situation. All in all, you've just got to play it cool and rely on your team members."
Joey Logano will line up next to Busch in the front row. It'll be Matt Kenseth and Brad Keselowski, both former Las Vegas winners, in Row 2. Austin Dillon and defending race champion Kevin Harvick rounded out the top six qualifiers and will comprise the third row.
The cars, which are running a low downforce package per new NASCAR rules, were super fast in qualifying trim. They also were a handful to drive, or guys were trying too hard to go fast.
Jamie McMurray hit the wall. Carl Edwards hit the wall, bringing out the red flag when Brian Vickers, substituting for injured Tony Stewart, was on a flier. Stewart, watching from pit road with headphones on, cussed on TV.
Kurt's brother, Kyle Busch, said on his radio that his car "was out of control." He'll start 23rd.
"The front tires were chattering, and there wasn't much we were going to do to fix that out there," said Kyle Busch, the only man to win the 400-mile race from the pole position.
STEWART ON THE MEND — Injured Sprint Cup star Tony Stewart appeared at a news conference at LVMS to talk about a new series of TV commercials he has filmed for sponsor Mobil 1. He also chatted about his recuperation from an offseason sand rail accident that has put him on the sidelines.
The TV spots were hilarious. The recuperation not so much, at least not so far.
"I wish I knew," Stewart said when asked how he was doing. "I go back to Charlotte for X-rays next Wednesday. That's the first time since the surgery that we'll have an update.
"But for a month now, I haven't done anything but just kind of chill out. The doctors want me laying in bed and walking. They don't want me sitting and standing. I'm definitely breaking the rules."
Stewart, who was in good spirits, suffered a burst L1 vertebra when the sand rail he was driving went over a dune in the desert near the California-Arizona border. He previously had announced this would be his final season driving in the Sprint Cup series, which he has won three times.
"I can't even make it sound cool," Stewart said of the accident. "I mean, I got hurt driving 5 mph.
"I went over the lip of a dune, went down 20, 25 feet, landed like a lawn dart. It broke my back. It's hard to make that sound cool."
HARVICK CROSSES OVER — This is a big sports weekend in Las Vegas, what with the NASCAR Xfinity and Sprint Cup Series races trading paint with UFC 193, USA Sevens rugby and the West Coast Conference men's and women's basketball tournaments, but local tourism officials said there probably wouldn't be a lot of overlap for spectators.
But there will be at least a little overlap.
Kevin Harvick, defending champion of the Kobalt 400, said he planned to be ringside for the Holly Holm vs. Miesha Tate bantamweight fight on Saturday's Ultimate Fighting Championship card. Tate is promoted by Kevin Harvick Inc., the stock car driver's management company.
"You know what would be really crazy?" somebody said in the LVMS media center. "If some of Conor McGregor's fans would go to the NASCAR race."
McGregor, who will fight Nate Diaz in the main event at the MGM Grand Garden, is from Ireland. So are most of his fans. They tend to drink a lot of beer at McGregor's fights and have been known to utter the occasional expletive.
Las Vegas Review-Journal sports columnist Ron Kantowski can be reached at rkantowski@reviewjournal.com or 702-383-0352. His motor sports notebook runs on Friday. Follow him on Twitter: @ronkantowski
Boyd Gaming 300
WHAT: NASCAR Xfinity Series race
WHEN: 1 p.m. today
WHERE: Las Vegas Motor Speedway
TV: FOX Sports 1
RADIO: NASCAR Radio SiriusXM 90
TICKETS: www.lvms.com