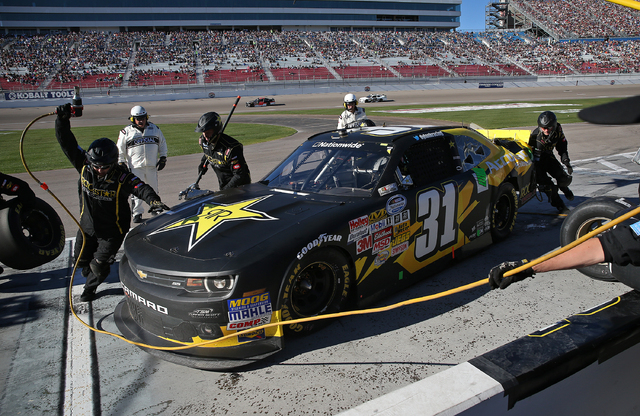 Dylan Kwasniewski said he was fired up for the NASCAR Xfinity Series season, that he was eager to show what he could do in a car and on a team with a real chance to win every week.
But the Las Vegan will have to share the No. 42 Chevrolet with Kyle Larson, last season's Sprint Cup Series Rookie of the Year.
They are part of the newly formed one-car racing team of HScott Motorsports with Chip Ganassi.
How Kwasniewski and Larson divide the car has not been determined. The season begins Feb. 21 at Daytona Beach, Fla., and Kwasniewski said he didn't know who would be behind the wheel when the series heads to Las Vegas Motor Speedway on March 7 for the Boyd Gaming 300.
Even with the uncertainty, Kwasniewski didn't sound concerned about losing so much track time.
"It's still a lot of races," he said. "I think we're going to have better results. You're running up front with the guys you're going to race for the rest of your life. I think that's better than running midpack.
"We're going to show up to win every race. That will benefit me more and show people that I have talent more than running in the middle of the pack for the rest of the year. Even though it's less races, I think it's going to be a good deal."
This is Kwasniewski's second season in the Xfinity Series, formerly known as Nationwide. He drove for Turner Scott Motorsports last year, but that team disbanded after a legal dispute between the owners.
Harry Scott Jr. then united with Ganassi to form the current team.
Funding allowed the team to run just one car, but Kwasniewski said logistics would make it difficult to operate a second Chevy on a full-time basis even if the money was there.
"They're trying to put everything into one shop," he said.
Being distracted shouldn't be a problem for Kwasniewski. He and his team dealt with the Turner Scott team breaking up last year, and that didn't help achieve what he hoped on race day.
Kwasniewski, 19, was 11th in the season standings, posting just three top-10 finishes.
"It was good equipment, but the team was splitting up," Kwasniewski said. "It's hard … for the guys working on the team to feel secure in a job when they know eventually it's going to dissipate. While other teams gained momentum and got better, we stayed the same."
Kwasniewski, a Faith Lutheran High School graduate, will take the experiences from last season and try to build on them.
He is the only driver to claim K&N Pro Series titles in the West and East divisions, and his talent seldom has been questioned. Not with all the winning.
The wins didn't come last season, but Kwasniewski now sees 2014 in his rear-view mirror.
"(Last season) definitely taught me a lot, very humbling, for sure," he said. "Next year is what we've been looking forward to. We treated last year as a learning year, and now we can go out there and compete and try to get really good finishes."
Contact Mark Anderson at manderson@reviewjournal.com or 702-387-2914. Follow him on Twitter: @markanderson65.