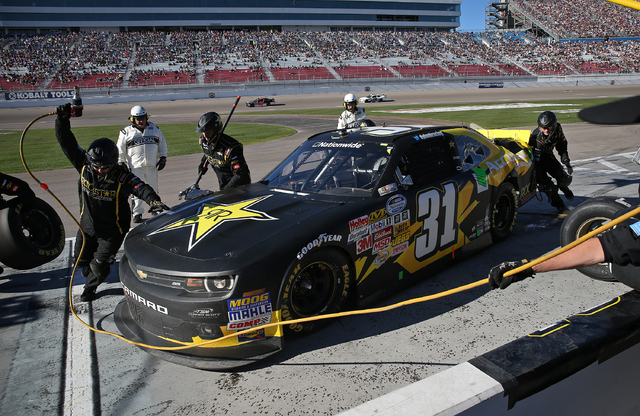 Dylan Kwasniewski is trying to maintain a positive attitude, as difficult as that is for someone used to spending this time of the year preparing to compete in races, not watch them.
But he doesn't have a ride for the NASCAR Xfinity Series season, and Kwasniewski doesn't know when he will get one.
He was expected to share the No. 42 HScott Motorsports Chevrolet with Kyle Larson, but Kwasniewski didn't reach an agreement with Rockstar Energy Drink, which sponsored his car last season.
HScott then brought in Brennan Poole on Feb. 10 to share the car with Larson. Poole will make his debut in Saturday's 1 p.m. Boyd Gaming 300 at Las Vegas Motor Speedway.
So now Kwasniewski waits and hopes to get enough sponsorship money together to put his own car on the track.
"If we can get the funding, we've got to decide if we can get the second car or not," he said. "If we do get the money, do we put it toward the end of the year or (earlier) this year? Do we try to get a full season in '16? Ideally, we would do the races after the first half of the season and get '16 funded. That's what we're working on right now."
Kwasniewski is only 19 and in his second Xfinity (formerly Nationwide) season. He raced for Turner Scott Motorsports last season, but the team fell apart over a legal dispute.
Now Kwasniewski, who went to Faith Lutheran High School, works for Harry Scott Jr. and Chip Ganassi and is hopeful he will be able to show his rookie season wasn't indicative of what's to come. Kwasniewski finished 11th in the standings with just three top-10 finishes.
But he is considered one of the sport's up-and-coming drivers, and still being a teenager should work in his favor because his potential remains. Kwasniewski is the only driver to win championships in the NASCAR K&N Pro Series West and East.
To keep himself sharp, he works out and makes sure he's present in the team racing shop and at the tracks.
"I'm still going to the races, staying in there and making sure people don't forget who I am," Kwasniewski said.
He will be at LVMS this weekend.
Kwasniewski competed in Las Vegas last season, but crashed in practice and then the race, finishing 24th. It wasn't quite the return home he wanted, and neither is this weekend's visit.
"Obviously, I wanted to drive out there," Kwasniewski said. "It's my job to be out there. I want to be with my teammates. I've got to stay involved in the racing as much as I can so I can go out there and actually drive a car."
That didn't appear to be much of a problem when the year began when he expected to share the No. 42 car with the 22-year-old Larson, the 2014 Sprint Cup Series Rookie of the Year. But that was before the financing with Rockstar didn't work out and HScott brought in 23-year-old Poole, who will run 15 races.
"So we have to scramble and go to companies," Kwasniewski said. "A lot of them have had their budgets spent, so it's just the name of the game, a little bump in the road. It's not detrimental to my career. We've got to bounce back from it. We've got to get the money and hopefully find great partnerships with great companies that will back me and believe in me, and go out there and show them what I've got."
■ NOTES — The NASCAR hauler parade begins at 6 p.m. today by the "Welcome to Las Vegas" sign and will head north on the Strip to Sahara Avenue before picking up Interstate 15. … LVMS has created a mobile app that is available on iPhone and Android devices. Included are various updates, ticket information and live audio, among other features. Those interested in downloading the app need to search for Las Vegas Motor Speedway or LVMS, then register within the application.
Contact Mark Anderson at manderson@reviewjournal.com or 702-387-2914. Follow him on Twitter: @markanderson65