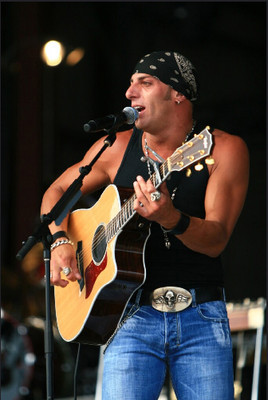 More than 10,000 NASCAR fans are expected to swarm the Fremont Street Experience downtown this weekend. The sixth annual RaceJam will bring entertainment highlighted by country star Trent Tomlinson and former Lynyrd Skynyrd drummer Artimus Pyle, scheduled for separate (and simultaneous) Saturday night gigs.
"NASCAR fans love country music and they love Southern rock," said Fremont Street Experience President Jeff Victor, who pointed to the event's Florida roots.
Since 2003, RaceJam has attracted motorsports fans in town for the annual NASCAR action at Las Vegas Motor Speedway.
"It's a way to take an event that's important to Las Vegas and make it bigger for the fans who are looking for stuff to do," said Victor, who described himself as "anxious" but "hopeful" that the economy won't dampen this year's draw. (A speedway spokesman estimated this year's ticket sales at 130,000 to 140,000, "pretty much what it normally is.")
In addition to their country and Southern rock, NASCAR fans love their hats. And, as he does every year, North Carolina-based traveling vendor Mickey Pearson plans to park a 50-foot trailer brimming with 1,500 racing caps on the pedestrian mall.
"When you're sitting at the racetrack, you have to protect your face from the sun and keep your bald spot from blistering," Pearson explained, refusing to speculate on any specific correlation between NASCAR appreciation and lack of hair. (However, he did admit that Dale Earnhardt Jr. hats outsell both Jeff Gordon and Tony Stewart 2-to-1. "Everybody loves Junior," he said.)
When asked if emergency reserves of Budweiser would be on hand, Victor laughed.
The Fremont Street Experience will not tailor programming on its Viva Vision light canopy specifically to racing fans — which is just as well because they might not be able to see it over all those brims.
Contact reporter Corey Levitan at clevitan@reviewjournal.com or 702-383-0456.
Preview
FRIDAY
8-11 p.m., Southern Stue, First Street Stage
8-11 p.m., Tony Marques, Third Street Stage
8-11 p.m., T.J. Weaver, Main Street Stage
SATURDAY
6-8 p.m., Southern Stue, First Street Stage
6-8 p.m., Tony Marques, Third Street Stage
8-11 p.m., T.J. Weaver, Main Street Stage
9-11 p.m., Artimus Pyle, First Street Stage
9-11 p.m., Trent Tomlinson, Third Street Stage
SUNDAY
8-11 p.m., Highwire Band, First Street Stage
8-11 p.m., Speaks Brothers, Third Street Stage