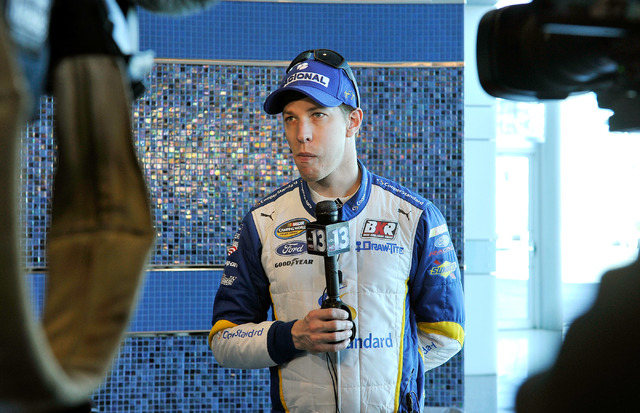 The provocative driver who at times appears to revel in the "Bad Brad" image is by no means the first to wear the black hat at the highest level of stock car racing.
If Brad Keselowski didn't exist, NASCAR would have to invent him. Any sport needs a highlight-film villain so that fans can better identify the heroes.
Think back to Darrell Waltrip in the 1970s and '80s, Dale Earnhardt in the '80s and '90s. They helped set the standard for ruffling rivals' feathers, for coming off as a pain in the anatomy on the track and an occasional dart-thrower off.
It's no coincidence that fans tend to assign a bold, brash, up-and-coming driver the villain's role for simply having the audacity to first challenge and then whip the heroes of that generation.
Neither is it a coincidence that those villains are glory-bound and, in the later stages of their careers, change roles and derive popularity not only from their success but from the aggressiveness with which they achieved it.
Keselowski became in 2012, at age 28 and in only his third full season, the first Sprint Cup champion since 2004 not named Jimmie Johnson or Tony Stewart.
Last year he appeared poised to mount a quest for a second Cup championship in three seasons with a series-best six victories for famed team owner Roger Penske. (He arrives as the defending Kobalt 400 champion.)
But a mechanical failure at Martinsville, Va., slowed Keselowski's No. 2 Miller Lite Ford and precipitated the crash that saddled him with a 31st-place finish and essentially eliminated him from championship contention.
True to "Bad Brad" form, however, and in what rival Kevin Harvick called his "bulldoze mode," Keselowski tried a week later to charge through a narrow gap between the cars of front-runners Johnson and Jeff Gordon on a late-race restart in the Texas 500.
He slammed into Gordon and knocked the valve stem off Gordon's left rear tire. That precipitated a subsequent spin that plunged Gordon to a 29th-place finish and undermined the four-time champion's very live shot at a fifth.
Naturally, that resulted in a pit-road altercation embroiling drivers, crewmen and NASCAR officials that led race coverage from coast to coast.
Recall also that only weeks earlier, an infuriated Denny Hamlin had to be restrained from getting at Keselowski after the Chase race at Charlotte, N.C., but that normally easygoing Matt Kenseth chased down Keselowski between team haulers and furiously clamped a headlock on him.
Keselowski repeatedly has insisted since that he is who he is and his approach is likely to remain combustible.
He was asked the week before he celebrated his 2010 Nationwide series champion to recall the last time he felt intimidated in a race. He chuckled softly.
"Define intimidate," he said. "I work real hard not to be intimidated."
That assertion still defines Keselowski, only 31 and hellbent for dominance in the next decade.
Is he brash? Confident, bordering on cocky? Before the Daytona 500, he told USA Today motorsports reporter Jeff Gluck, "I feel like I'm doing things that are going to make me the guy to beat for the next five to 10 years."