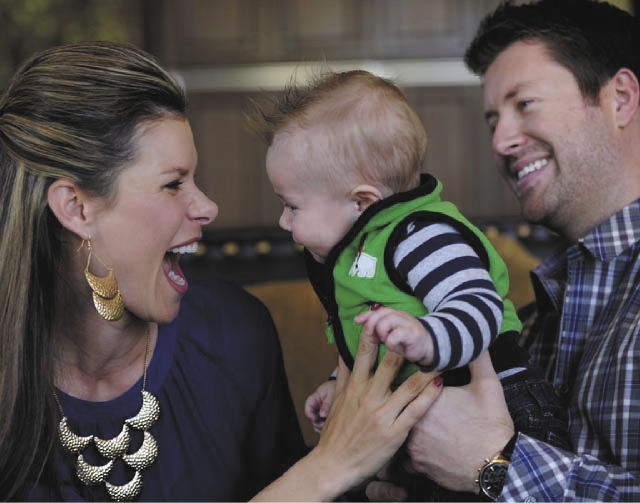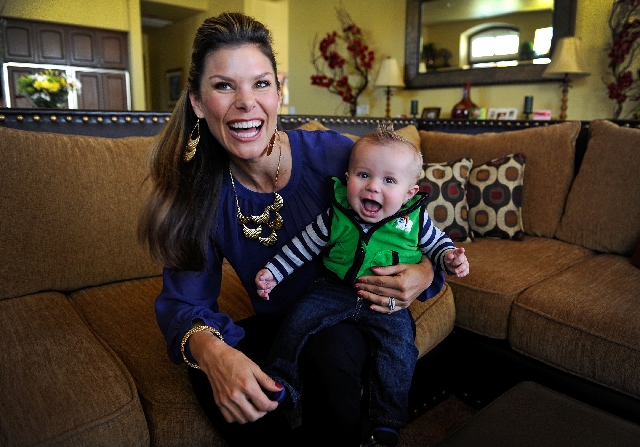 It's a common scene for parents: The mother holds the baby while the father does everything he can to get a smile or a laugh from the child while the photographer aims the camera.
For ESPN pit road reporter Jamie Little and her husband, Cody Selman, such a moment, which occurred last week, is precious.
They were together in their Summerlin home, with Little making the most of her time with 6-month-old Carter Selman between road trips for the NASCAR races in Daytona and Phoenix.
"It makes you appreciate everything more," Little said as Carter played nearby in a jumper. "I think I even appreciate my job more being a mom now."
This week is especially important because Little will be at home, with NASCAR weekend returning to Las Vegas Motor Speedway. With ESPN airing Nationwide Series races, she will be at LVMS for Saturday's Sam's Town 300.
Little, a Green Valley High School graduate, is on the road about 40 weeks per year. She adds coverage of Sprint Cup races to her responsibilities when ESPN takes over from Fox and TNT on July 28. Little also covers five IndyCar events and the Winter X Games.
But even though she is a new mother, Little said she doesn't miss as much family time as it would appear.
"People say, 'How can you have a baby and a husband and travel as much as you do?' " Little said. "Normal women that are at home work 8 to 5. You're away from your kids every single day, so it's not so bad. I'm away from him for two straight days or three straight days, and then I'm home."
Selman is a spinal implant distributor and his hours vary, but he usually watches Carter on weekends while Mom is in a firesuit telling America the car Dale Jr. is driving is getting tight or if Jimmie Johnson needs to change all four tires on the next pit stop.
With Little doing her very public job, Selman shows Carter the large TV screen, so it seems as if she is in the living room.
Little's mother lives three miles away, so she doesn't have to fret much should Selman get called away.
"We've been lucky," Selman said. "We really haven't had to get a nanny or a full-time babysitter. So, knock on wood, we've been able to work it out."
Little and Selman met through racing, but not in the way that indicated they had a romantic future together. He was a tire changer in an IndyCar race about eight years ago when he broke his leg. Little reported the accident as Selman was carried off on a stretcher.
They got to know each other in 2008 when Little would contact Selman, by then Kyle Busch's manager, for interviews with the racer.
"As far as knowing (Little's) schedule, I lived it," said Selman, 29. "The first two years of us dating, we were traveling together. So we knew how much one another traveled. Once we moved here and I switched careers, it was kind of a shock for me to be in one place.
"It's so great to be in one spot. I love that. I just wish that all the friends that we've made on our moves, especially in Charlotte (N.C.), we could transplant here."
The couple were married in December 2010 in La Jolla, Calif., and tried to be strategic about when to expand the new family. That plan changed the following October when Little was working the IndyCar race in Las Vegas and had to cover the death of her friend, Dan Wheldon.
"After he died, I looked at (my husband) and said, 'Life is too short. We need to go for it. We don't know when it will happen. Let's just try,' " Little said. "Three weeks later, I was pregnant with (Carter)."
Little, 34, worked the NASCAR circuit until she was 36 weeks pregnant, and gave birth Aug. 9. After taking maternity leave, she planned to take the family to Chicago for the Sept. 16 Sprint Cup race, which also was the first event in the Chase.
They were all packed and getting ready to walk out the door for the airport when Carter got upset, which he hadn't done until then. Little read it as a sign to return to the track on her own.
"I didn't expect to have to sever the tie," Little said. "So it was hard, but literally once I got back to the garage, I had a task at hand and was able to stay focused on that. It worked out."
Little and Selman would like to involve Carter in racing, including taking him to tracks, and instill the love of the sport the parents treasure.
It's a sport that gave Little a career and put her in position to start a family.
"I worked my butt off," Little said. "That's all my 20s were — basically getting my career in order. Then as soon as I hit 30, I met my husband, and the little man came along at 34. So it's all worked out perfect."
Contact reporter Mark Anderson at manderson@reviewjournal.com or 702-387-2914. Follow him on Twitter: @markanderson65.
BOOK APPEARANCES
Jamie Little teamed up with Danielle McCormick of the Discovery Channel to write a "Essential Car Care for Women." There are two local events to promote it — a book signing at 7 p.m. Friday at The Cannery, 2121 E. Craig Road, North Las Vegas, and a launch party at 7 p.m. Saturday at Pole Position Raceway, S. 4175 Arville St., Las Vegas. For more information on the book, go to essentialcarcareforwomen.com.