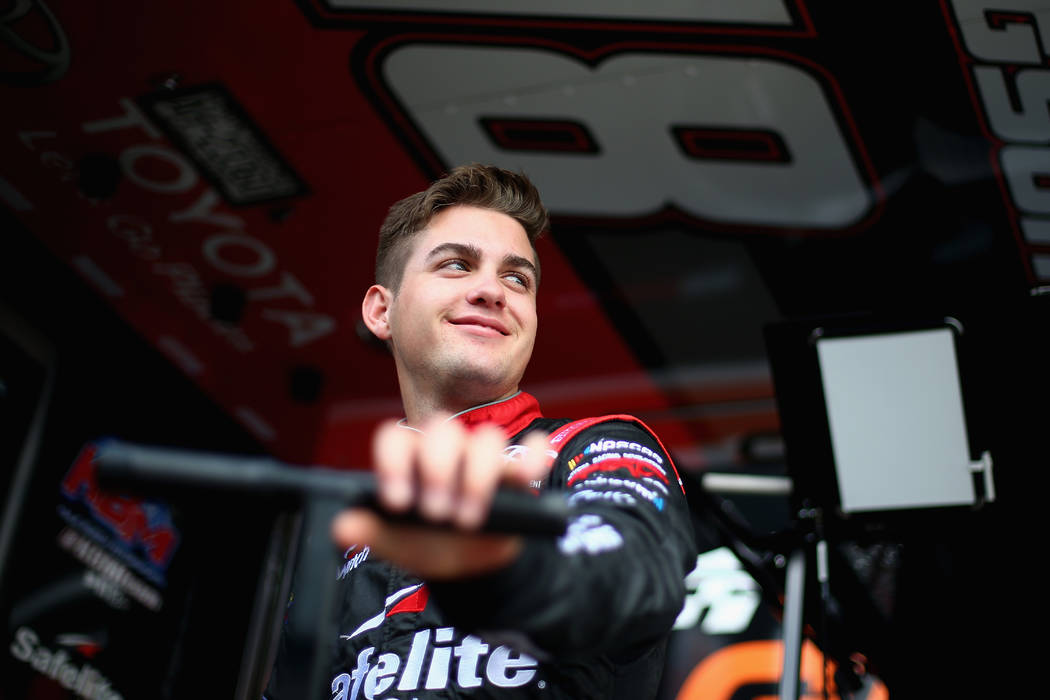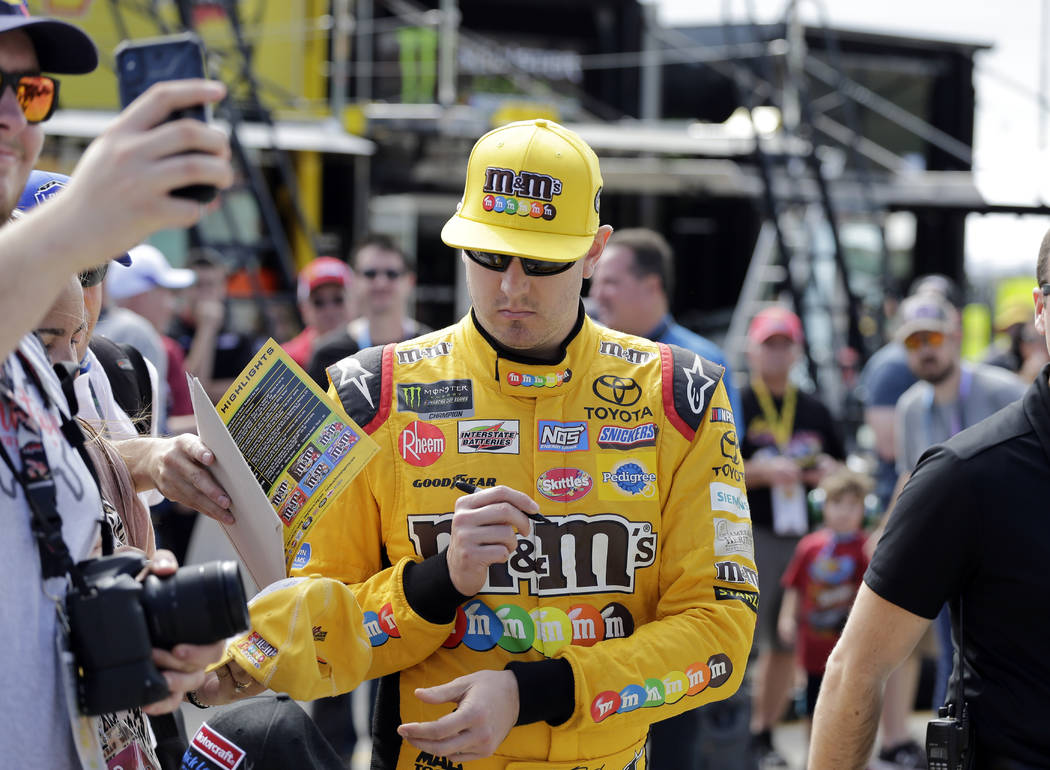 Here's snow in your eye.
In his last drive for fellow Las Vegan Kyle Busch, Noah Gragson won Sunday's 51st Snowball Derby, one of late model stock car racing's showcase events, at Five Flags Speedway in Pensacola, Florida.
How big is the Snowball Derby? Busch dropped whatever he was doing to run in the golden anniversary installment in 2017, and won it. Young NASCAR lions Chase Elliott and Erik Jones are also former Snowball Derby winners.
Gragson, 20, will replace retiring Elliott Sadler in Dale Earnhardt Jr.'s Xfinity Series ride in 2019. He drove the No. 18 car in the Snowball Derby made popular by Kyle Busch, taking the lead with six laps remaining to top a star-studded field of late model drivers representing 15 states.
Harrison Burton, the 18-year-old son of retired NASCAR veteran Jeff Burton, led most of the way but fell behind on a late restart as Gragson pulled away on fresh tires.
Gragson, who finished second to Brett Moffitt in the 2017 Truck Series championship and was named its Most Popular Driver, thanked his old and new car owners after taking the checkered flag. He received congratulatory text messages from both.
It's official… Thank you @NoahGragson @MarcusRichmond_ @T_Hosh @KBMteam for winning the #SnowballDebry and bringing home another Tom Dawson trophy. You guys ran a great race and had speed at the end to get it done!

— Kyle Busch (@KyleBusch) December 3, 2018
Congrats @NoahGragson #SnowballDerby

Amazing to have that particular win on your resume.

— Dale Earnhardt Jr. (@DaleJr) December 2, 2018
#SnowballDerby: @NoahGragson got the kiss in victory lane, now he's getting the digits in post-race tech.

Post-race coverage continues on https://t.co/m90WxzMiEr. pic.twitter.com/CJvteV14UQ

— Speed51.com – PFC Brakes News Feed (@speed51dotcom) December 3, 2018
Green, white, checkered
— If this was the last NASCAR Champion's Week in Las Vegas, at least it produced an indelible memory. It occurred during the last 10 minutes of the awards show at Wynn Las Vegas when a kid from a little town in Arkansas rolled onto stage in a wheelchair to introduce 2018 Cup Series champion Joey Logano.
Gavin Grubbs suffers from muscular dystrophy, and he and Logano have been pals since they met at the 2010 Daytona 500 through the Make-A-Wish Foundation. The two hit it off, and Grubbs served as a groomsman in Logano's wedding.
Unlike thanking sponsors and so much else about Champion's Week, there was nothing scripted about Joey Logano's reaction when Gavin Grubbs wheeled on stage.
Joey Logano surprised by intro from Gavin Grubbs https://t.co/mTyKRqdpOC #NASCAR

— desdebogota.com (@desde_bogota) November 30, 2018
You can't beat this! @joeylogano shows us around his suite in Las Vegas during #ChampionsWeek! pic.twitter.com/O2kNFNYQOm

— NASCAR (@NASCAR) November 29, 2018
— Coach Kurt? In that he has turned 40 and new Chip Ganassi Racing teammate Kyle Larson is only 26, Kurt Busch said he envisions himself being something of a driver-mentor during the 2019 NASCAR Cup Series.
"I'm looking forward to that relationship," Busch said during a teleconference this week confirming he'll replace Jamie McMurray in the No. 1 CGR Chevrolet. "He is a hard charger, he is always up front, there are things he has done to win races — there are also things he has done to lose some races where he was really fast. It's a matter of putting all of the puzzle pieces together.
"For me, there has just been that change in life where I feel like I want to help somebody like him."
Teammates always get along great in December.
That is one badass-looking race car, @KurtBusch pic.twitter.com/9bz4e89OKc

— BroBible (@BroBible) December 4, 2018
— Las Vegas Motor Speedway will make a little more history during NASCAR Pennzoil 400 weekend when it hosts the first World of Outlaws-NASCAR K&N Pro Series West doubleheader on Feb. 28. (The Outlaws will race in a stand-alone event on Feb. 27). Special pricing is available for the five days of racing that will include NASCAR Truck, Xfinity and Cup Series races on the superspeedway. Go to lvms.com or call 800-644-4444 for ticket information.
Hmmm.. Lets see, no @nhrarace that weekend, I love dirt racing, love Vegas , and I know a guy @BMR_NASCAR 👌 https://t.co/tEBj6M34cd

— Ron Capps (@RonCapps28) November 27, 2018
Contact Ron Kantowski at rkantowski@reviewjournal.com or 702-383-0352. Follow @ronkantowski on Twitter.