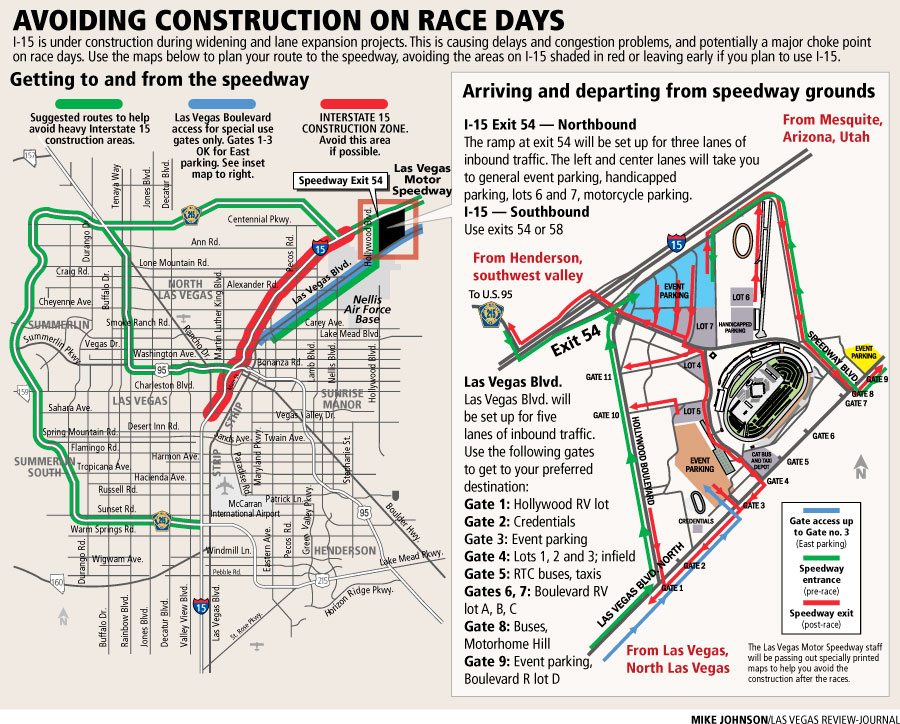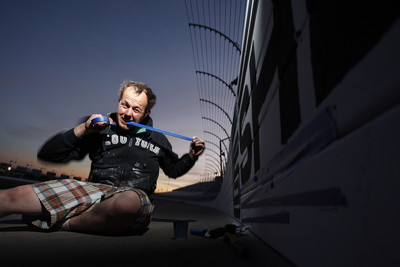 "@#$%&!"
That's what a number of NASCAR race fans — and other motorists caught unaware — might end up saying this weekend if they choose to take Interstate 15 toward the Las Vegas Motor Speedway.
Citing the I-15 north widening project, the most expensive in state history, Speedway officials warned spectators that the trip to and from the raceway this weekend will not be an easy one.
In other words, drivers sporting white knuckled, clenched fists gripping steering wheels won't just be featured on the Speedway track this weekend. The difference being the motorists on I-15 aren't expected to be driving very fast.
The $240 million interstate widening project stretches 5 1/2 miles, from the Spaghetti Bowl north to Craig Road approaching the Speedway. The interstate is reduced to two windy lanes in each direction, leaving motorists to suffer through numerous lane changes and sharp twists due to the construction.
"We're going to be as challenged as we've ever been," Speedway general manager Chris Powell said.
Powell is urging motorists, especially locals who are more familiar with alternate routes, to stay off I-15 during the race weekend.
Motorists who live east of I-15 are asked to take Las Vegas Boulevard to the Speedway; those who live west of the freeway should use the Las Vegas Beltway. Powell hopes that only visitors staying downtown or on the Strip will use I-15.
Powell said he has witnessed a jam-packed interstate and a quiet Las Vegas Boulevard before and after previous races.
"The idea is to bypass as many people as possible by the Spaghetti Bowl," he said. "We're asking people, more this year than ever before, to heed our advice."
Nevada Highway Patrol Trooper Kevin Honea encouraged race fans to arrive early and stay late to avoid what could be a traffic nightmare.
"Our goal is to have uninterrupted flow in and out of here; that's not going to happen," he said.
Traffic updates will be available on KDWN-AM, 720.
Once at the Speedway, general parking is free.
NASCAR Weekend at the Speedway begins with zMAX Pole Day on Friday. The Sam's Town 300 race, part of the Nationwide series, will follow on Saturday. And the Shelby 427 race, part of the Sprint Cup series, will be held on Sunday.
The number of fans heading to the Speedway over the three-day weekend usually swells from more than 50,000 on Friday to more than 150,000 on Sunday.
Powell is encouraging fans to take mass transit to the races. Every busload of spectators means about 30 to 40 fewer vehicles making a trip to the Speedway, Powell said.
Coach America is offering charter bus service from three hotel-casinos on the Strip, including Treasure Island, the Riviera and Tropicana hotels, and the Four Queens downtown.
The service will be available from 7 a.m. to 12:30 p.m. and from 2:30 p.m. to 7 p.m., Friday through Sunday.
In the past, charter bus service was provided by Citizen's Area Transit, which charged $20 for a one-way fare.
But federal regulations were changed this past year that now prohibit government-funded transportation providing charter bus service when private bus companies are willing to perform the service.
Coach America is charging $30 for one-way fares on Friday and Saturday and $40 for a one-way fare on Sunday. Fans can also buy a three-day pass for $75.
For more information, visit nascar.coachamerica.com or call Coach America at 702-948-7360. Other private charter bus services are also available. Visit www.lvms.com and click on the "Getting to the Races" to learn more.
For those willing to spend some extra coins and aren't afraid of heights, several helicopter tour companies were still taking reservations for aerial transport to the races this weekend. Prices ranged from about $400 to $500 for a round trip.
In the meantime, the widening of I-15 should be completed by the time the 2010 NASCAR weekend rolls around.
Honea said, "Next year is going to be really nice getting out here and getting home. I can't say the same for this year."
Contact reporter Francis McCabe at fmccabe@reviewjournal.com or 702-387-2904.
Don't Miss
NASCAR revelry will officially begin today with the second annual Hauler Parade.
At 10 a.m., the colorful NASCAR team haulers, which transport the Sprint Cup race cars across the nation for each race, will roll north up Las Vegas Boulevard from Mandalay Bay to Sahara Avenue.
About 50 haulers, tractor trailers decorated with decals and advertisements similar to what is seen on the race cars, are expected to participate.
Race fans and other onlookers are expected to line the Strip to watch the motoring parade.
"The response from last year's parade was amazing," said Chris Powell, Las Vegas Motor Speedway general manager. "Every opportunity we get to take NASCAR to the Strip is something special."
Once the haulers get to Sahara, the trucks will continue north on Interstate 15 to the Speedway.
Las Vegas police cruisers and motorcycles will escort the haulers the five-mile route up the Strip.
The Speedway is paying for the police escort and use of any traffic control devices needed, a spokesman said.