Website keeps track of NASCAR drivers who finish last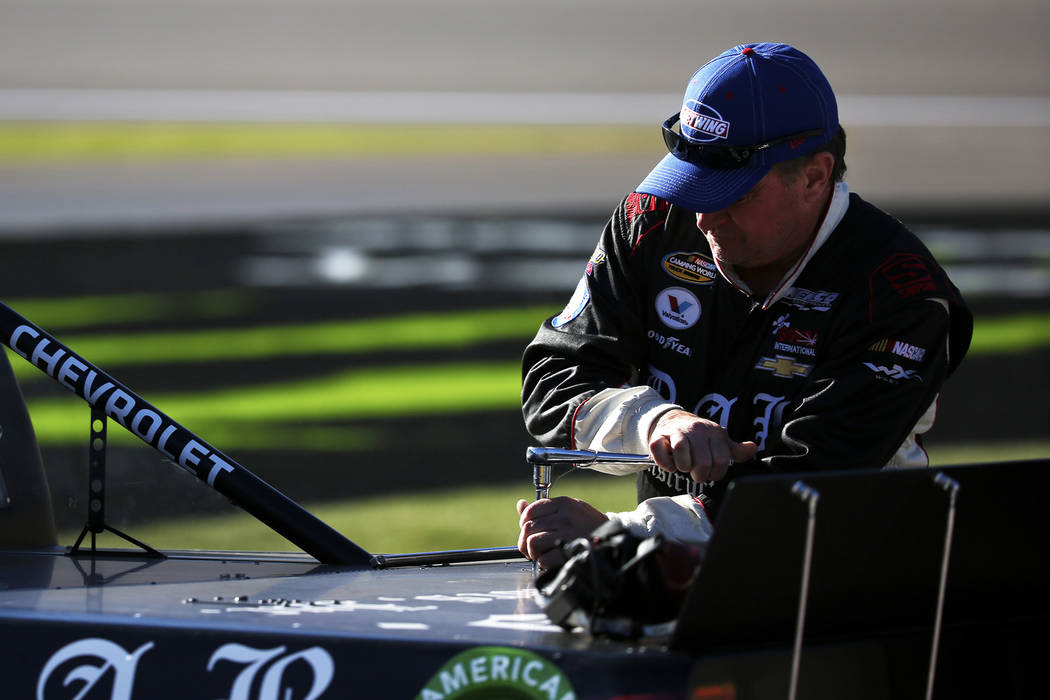 Most NASCAR fans are up to speed with the drivers who run up front and win races. But who keeps up with those who finish last?
Lastcar.info, that's who.
Yes, there is a website that pays homage to guys who finish last. "Bringing up the rear since 2009" declares the Lastcar home page. The old baseball manager Leo Durocher would have loved it. Nice guys finish last. Isn't that what "Leo the Lip" famously said?
NASCAR fans might be surprised to learn the identity of the nice guy who has brought up the rear more times than any other driver, if for no other reason his nickname does not suggest it.
Joe Nemechek — dubbed "Front Row Joe" by former teammate Wally Dallenbach Jr. for his proclivity of putting middling cars near the front of qualifying grids — has finished last 33 times during a Cup Series career that began in 1989.
J.D. McDuffie is next worst with 32 last-place runs. Derrike Cope, the 1990 Daytona 500 winner, and Michael McDowell are tied with 28. Dave Blaney, father of rising Cup star Ryan Blaney, has been first man out 24 times.
Finishing last is not exactly an indictment of driver skill. Joe Nemechek also has four Cup Series wins, 10 poles and 62 top 10s.
Between them, Cale Yarborough and Darrell Waltrip have combined for six Cup Series titles. They also have combined for 33 last-place finishes.
Yarborough brought up the rear 17 times, D.W., 16. Among current Cup drivers, Aric Almirola leads — if that's the right word — with 10 last places. Dale Earnhardt Jr. also had 10.
Joe Nemechek started 21st in Friday night's Truck Series race at Las Vegas Motor Speedway. He did not finish last. He finished 31st — next to last.
There isn't a website for guys who finish 31st.
Not yet anyway.
Green, white, checkered
— Las Vegas Motor Speedway has added new meaning to "bringing out the yellow." The retaining walls rimming the 1.5-mile oval have been painted screaming yellow in deference to Pennzoil, title sponsor of Sunday's 400-mile Cup Series race.
There's a good chance the amber paint scheme will remain for LVMS' second NASCAR Weekend in September. South Point will sponsor NASCAR's playoff opener, and yellow and black are the primary South Point colors.
— Speaking of South Point, Brendan Gaughan is not racing in his hometown this weekend.
The son of South Point owner and longtime LVMS benefactor Michael Gaughan announced his semiretirement from NASCAR on the same day the South Point 400 was announced in late November.
Driving for Michigan businessman Mark Beard, Gaughan ran in the lead pack for most of the day at the season-opening Daytona 500. He had hoped to put together a deal for Sunday's Cup race, but it didn't come together.
The South Point still will have a presence on the track this weekend, as Daniel Hemric will drive the No. 21 South Point Chevy — colors yellow and black — in Saturday's Boyd Gaming 300 Xfinity Series race.
— Local Cup Series ace Kurt Busch, when asked how he deals with the high demand of casual supporters who hit him up for tickets when he's racing in Las Vegas:
"I just send them to Brendan Gaughan."
Contact Ron Kantowski at rkantowski@reviewjournal.com or 702-383-0352. Follow @ronkantowski on Twitter.
Weekend schedule
Saturday
8 a.m. — Ticket gates, Neon Garage and VIP suites open
9-9:50 a.m. — Cup Series second practice
10:05 a.m. — Xfinity Series qualifying (multivehicle, three rounds)
11:35 a.m.-12:20 p.m. — Cup Series final practice
12:30 p.m. — Xfinity Series driver introductions
1 p.m. — Boyd Gaming 300 Xfinity Series race (200 laps, 300 miles) (TV: Fox Sports 1)
4:30 p.m. — Neon Garage closes
5:30 p.m. — Speedway Children's Charities rides
Sunday
7 a.m. — Ticket gates, Neon Garage and VIP suites open
9-10 a.m. — Speedway Children's Charities Track Walk
10:30 a.m. — Flag stand gate opens for prerace pass on front stretch
10:30 a.m. — Cup Series driver and crew chief meeting (Neon Garage)
11:50 a.m. — Cup Series driver introductions
12:30 p.m. — Pennzoil 400 presented by Jiffy Lube Cup Series race (267 laps, 400 miles) (TV: Fox)
5:30 p.m.—Neon Garage closes