Antron Brown clinches NHRA Top Fuel crown in Las Vegas
October 30, 2016 - 10:53 pm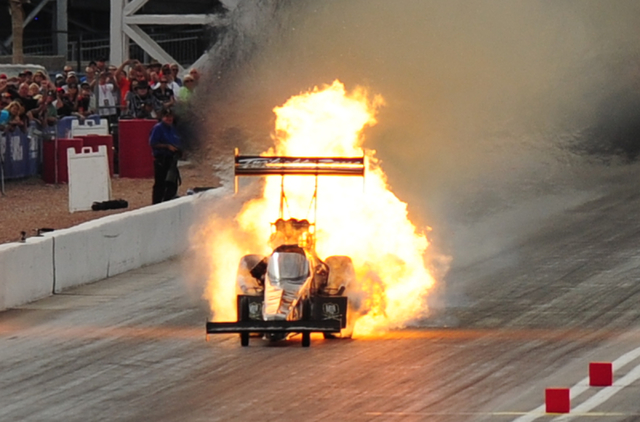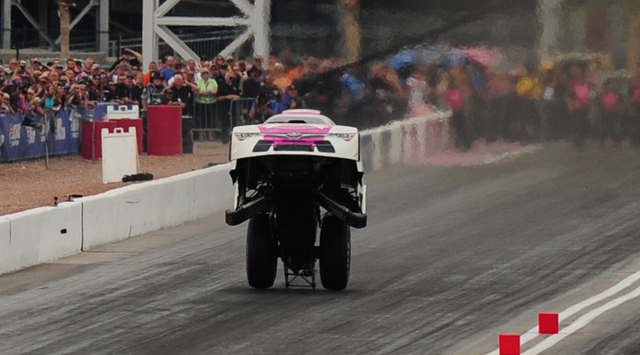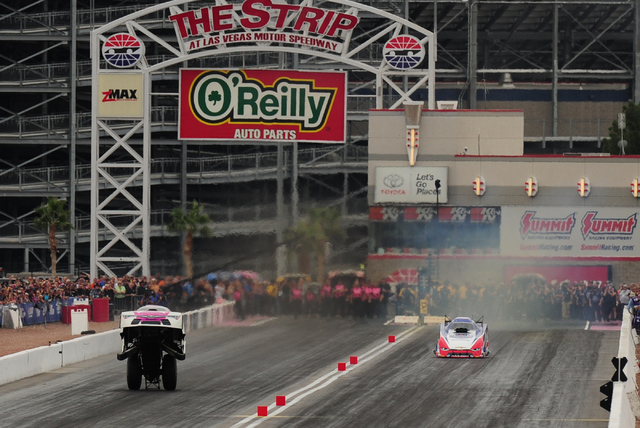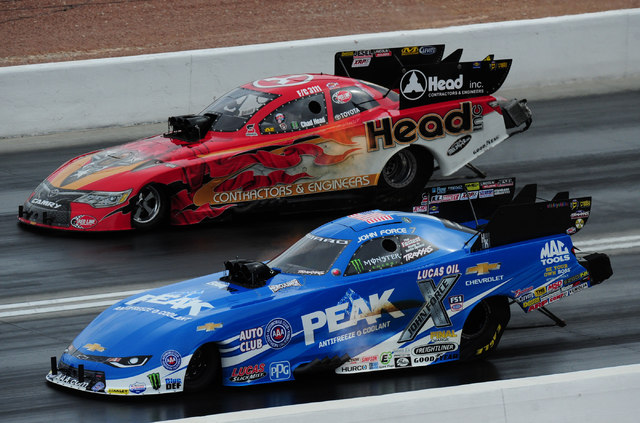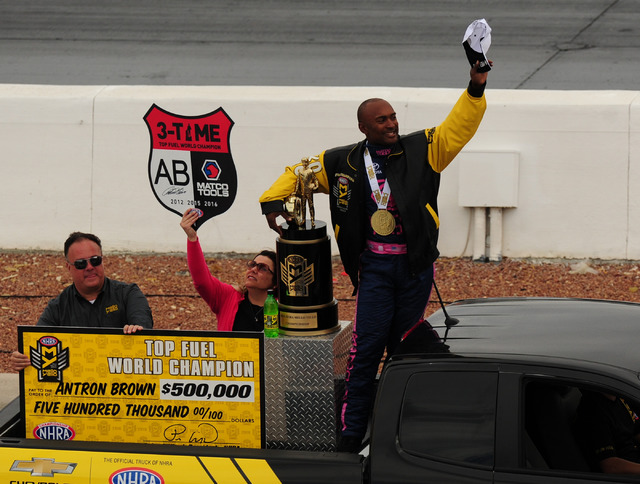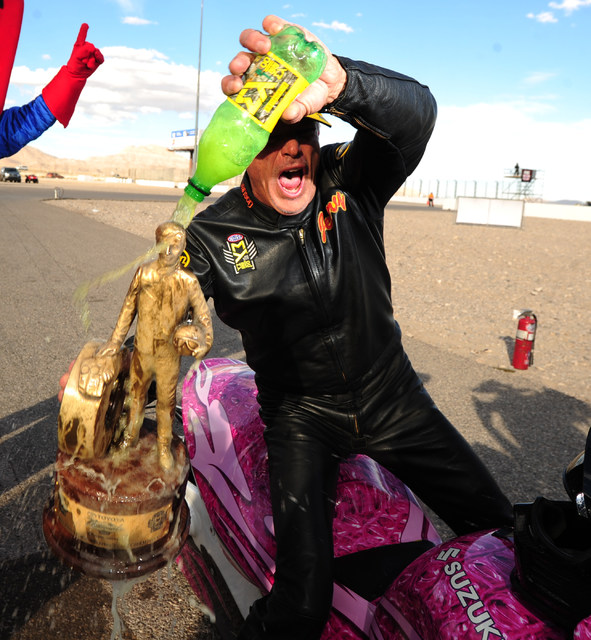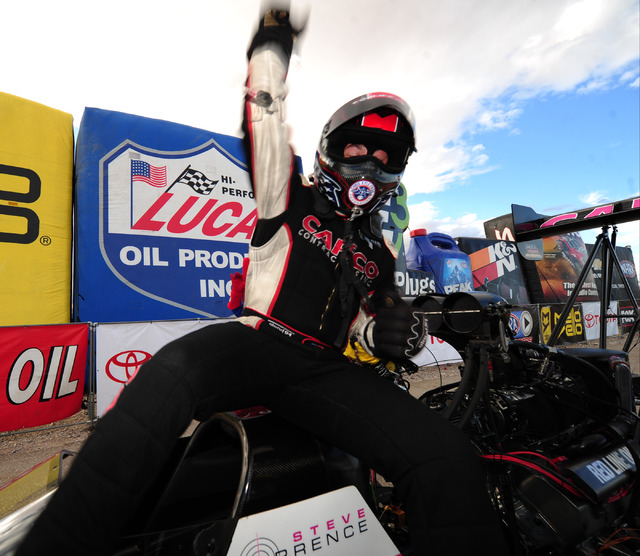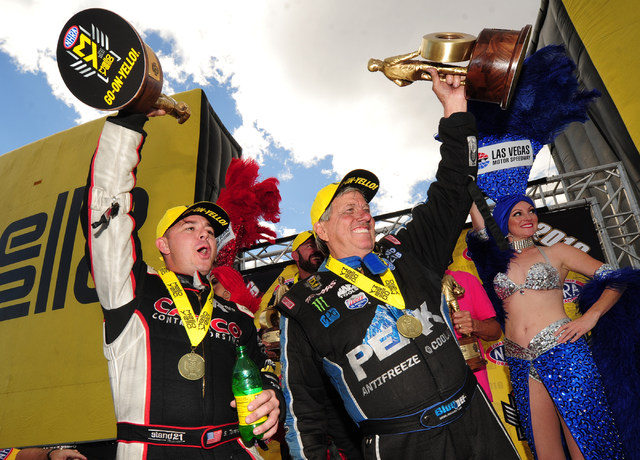 It was one of those behind-the-scenes snapshots, a moment in time that even if you were there may not have noticed, had you turned away or were posting on Twitter.
It happened Saturday as the sun was setting on the Las Vegas Motor Speedway drag strip. Antron Brown, the two-time NHRA Top Fuel champion, was wedged against a wall in the media tower, along with car owner Don Schumacher and a man from Matco, the tool company whose sponsorship dollars help Brown blister the asphalt.
They were making a cursory announcement about a contract extension, during which Brown broke from the script. Having grown up in New Jersey playing stick-and-ball sports, he said, in effect, he couldn't believe he was standing where he was, and how his life had turned out.
To which Schumacher replied that between Top Fuel and Funny Car he has eight drag race teams and drivers, and that Brown is the best of those drivers, at least right now — and how that was saying something, because one of Schumacher's myriad drivers is his son, Tony, who won the championship a record eight times.
As tweets were being sent, car owner and driver hugged by the Coca-Cola cooler.
This embrace was genuine, and it also may explain why Antron Brown wrapped up his third Mello Yello Series Top Fuel championship at the Toyota Nationals with a race still to run in the Countdown to the Championship.
The synergy between car owner and driver was on display again on a windy and overcast Sunday after Brown won his first two runs and Doug Kalitta, his closest pursuer, lost by a heartbeat to Steve Torrence in the quarterfinals.
"I'm just privileged to drive that racecar for Don Schumacher Racing, because Don makes it happen," Brown said before he saluted the crowd, and they him, during a spontaneous victory lap from the back of a pickup truck. "We're like a gel that sticks together.
"When you come to a sport with all this access it makes dreams like mine, a kid from New Jersey, come true. My dad, uncle, everybody, they installed it in me at a young age, work hard and you can make great things happen."
Brown also clinched the 2015 title in Las Vegas. This is the first time in seven years, when Tony Schumacher capped a run of six consecutive championships, that a driver has won back-to-back Top Fuel crowns. Brown did not go on to win the meet title — Torrence defeated J.R. Todd after Todd bested Brown in the semis, but by then Brown and his crew were popping champagne corks.
In Funny Car, Ron Capps inched closer to his elusive first championship by advancing to the semifinals before father John (3.884 at 327.19) edged daughter Courtney (3.906 at 325.85) in an all-Force championship round. It was the 147th career win for the old man, the 16-time champion who is 3-2 against his offspring in finals and 14-7 overall.
Shane Gray (6.719 at 204.76), racing in his last Pro Stock season, defeated Drew Skillman (19.793 at 27.72) in the final for factory hot rods. Teammates Jason Line and Greg Anderson, who drive for Las Vegas businessman Ken Black, will decide their taut championship battle (Line leads by 19 points) during the season finale in Pomona, California.
The most spectacular run of the day occurred in the first round of Funny Car eliminations when Cruz Pedregon's car got airborne, thudded back to earth and did a wheelie as his back wheels tripped the electronic beam at the finish line. Drag racing people said they had never seen anything like it.
"This is what it must be like to go to the other side," the colorful Cruz said after his car kissed the sky. "It was blue, it was cloudy, it was peaceful … "
Contact Ron Kantowski at rkantowski@reviewjournal.com or 702-383-0352. Follow @ronkantowski on Twitter.