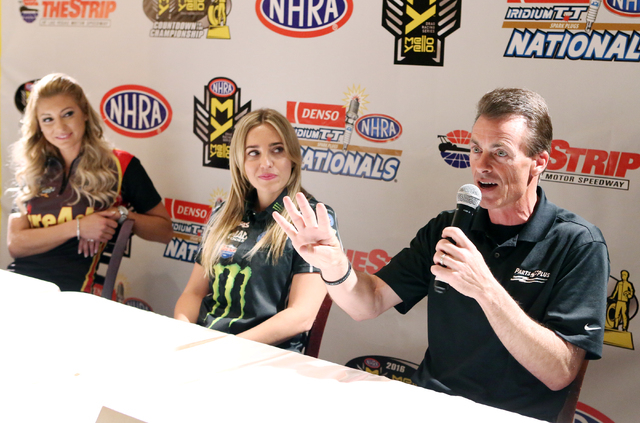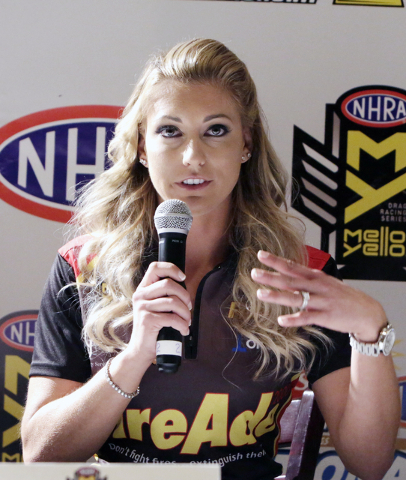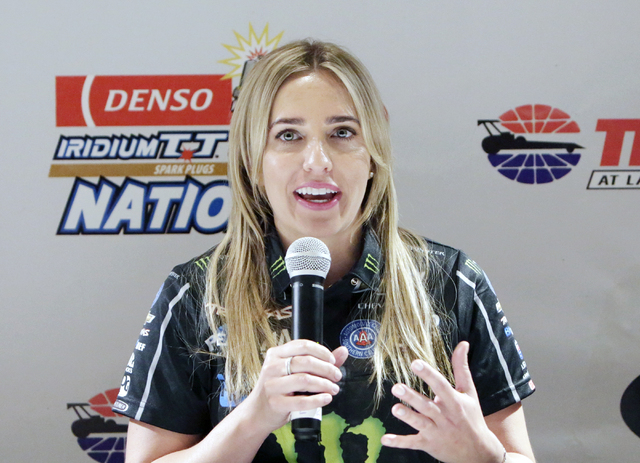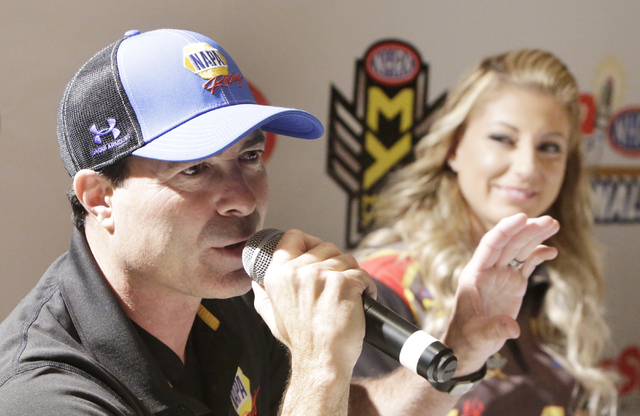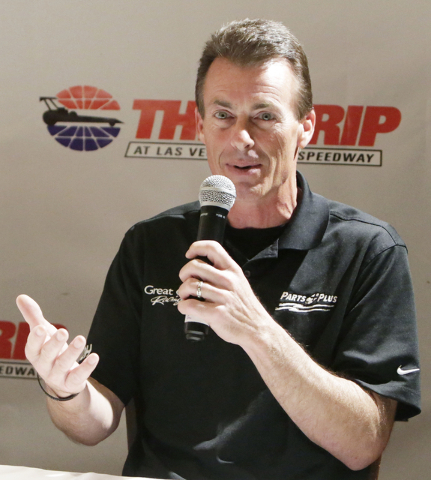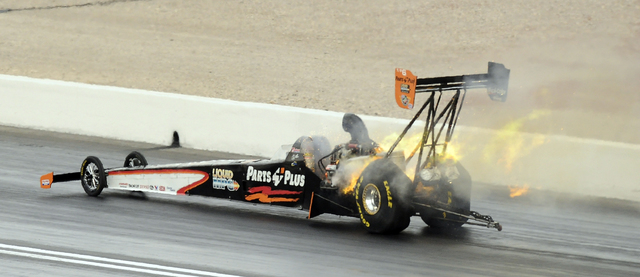 There once was a ballplayer named Ron Herbel who went 0-for-55 to start his career, got a hit, then went hitless in his next 50 at-bats. It should be noted he was a pitcher. But at least he got that one hit.
Clay Millican, the NHRA Top Fuel dragster driver, can relate.
Millican got a lot of hits — he won a lot of titles — when he drove in the International Hot Rod Association. But though he's been to first base and beyond, he's 0-for-222 in the big leagues of drag racing heading into this weekend's DENSO Spark Plugs NHRA Nationals at The Strip at Las Vegas Motor Speedway.
That seems like a slump that would impress Mario Mendoza, for whom baseball's Mendoza Line (batting average under .200) is named. But it's a lot harder to win in the NHRA than it is to get a hit in a baseball game, at least if you go by the percentages.
Millican, a native of Drummonds, Tennessee, who was driving a forklift for Kroger Supermarkets when he started driving an NHRA dragster sponsored by the Chicago White Sox, seems to be on the verge of busting out.
After three nationals, he's second in points and has reached two semifinal rounds.
"Right now, we're like the little team that could," said the 50-year-old veteran who has eight career runner-up finishes to his credit and will be flying the colors of race sponsor DENSO on the sides of his car this weekend. "Are we prepared to win? You bet we are.
"We're a little team out of McLeansboro, Illinois. … But we're doing what we've got to do. We've got a group of kids workin' on this car, but we've got some veterans runnin' it."
Foremost among those is former driver turned crew chief "Aussie" Dave Grubnic.
"I have spent a lot of time sitting in the lounge with crew chiefs looking at squiggly lines on the computer and I understand most of it," Millican said. "But I sit up there with Grubby — he's so smart and so advanced I end up looking like a bobblehead, because I don't know what he's talking about. But I know he's going to make the car run good."
As for the streak, although 0-for-222 sounds like a whole mess of futility, it's not even close to what Michael Waltrip experienced in NASCAR. Waltrip began his career with a 462-race winless streak before finally breaking through in the big one, the 2001 Daytona 500. As fate would have it, his victory was overshadowed by the death of Dale Earnhardt.
When Millican's first victory comes, he is hoping it will come under more joyous circumstances.
"When the time's right, it will happen," Millican said at Thursday's news conference at the Palm Restaurant at the Forum Shops.
So Millican might be one of the drivers to watch this weekend, as will Erica Enders-Stevens, the ying to Clay Millican's yang. Enders is on a streak that is the polar opposite of Millican's — she has won four consecutive Pro Stock national events in Las Vegas, two K&N Horsepower Challenge races and 22 consecutive rounds.
If Millican is the Mario Mendoza of the NHRA, then Enders-Stevens is its Tony Gwynn.
"It's awesome to have that kind of run, and it's pretty unheard of," said the 32-year-old reigning two-time Pro Stock champion.
But Enders-Stevens, who has switched to a new manufacturer in Dodge, stands only 10th in points after three races of what has been an unpredictable season. Her team has yet to get a handle on new 2016 rules mandating the use of flat hoods and fuel-injected engines.
Jason Line leads the Pro Stock class heading into Las Vegas, and Robert Hight has a one-point edge on Ron Capps in Funny Car. Brittany Force, buoyed by the first victory of her career, at Gainesville, Florida, leads Millican by 41 points in Top Fuel.
Las Vegas Review-Journal sports columnist Ron Kantowski can be reached at rkantowski@reviewjournal.com or 702-383-0352. Follow him on Twitter: @ronkantowski
DENSO Spark Plugs NHRA Nationals
WHEN: Friday through Sunday; Qualifying begins 1:30 p.m. Friday and 1 p.m. Saturday; final eliminations begin 11 a.m. Sunday.
WHERE: The Strip at Las Vegas Motor Speedway
TV: Friday, Fox Sports 1, 8 p.m.; Saturday, Fox Sports 1, 6 p.m.; Sunday, Fox Sports 1, 2 p.m.
RADIO: None
TICKETS: www.lvms.com