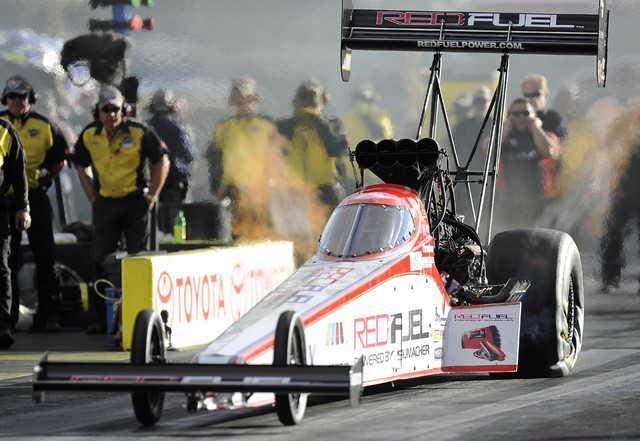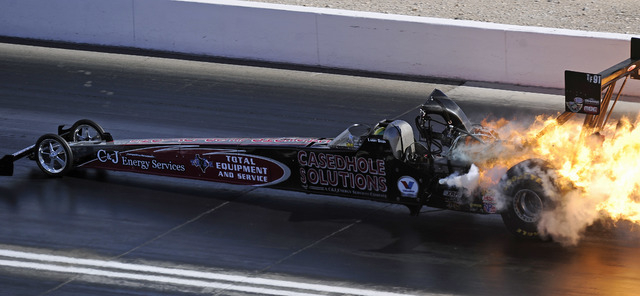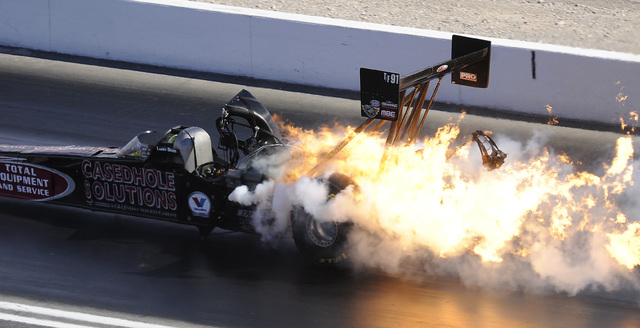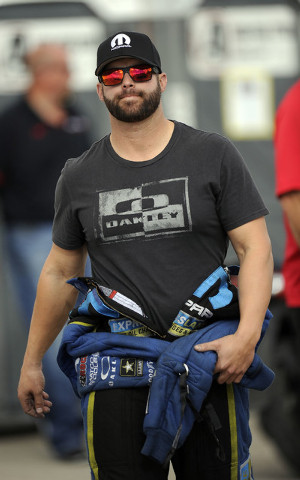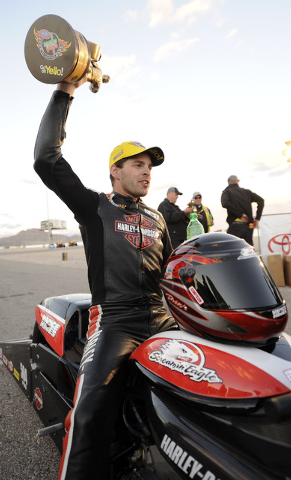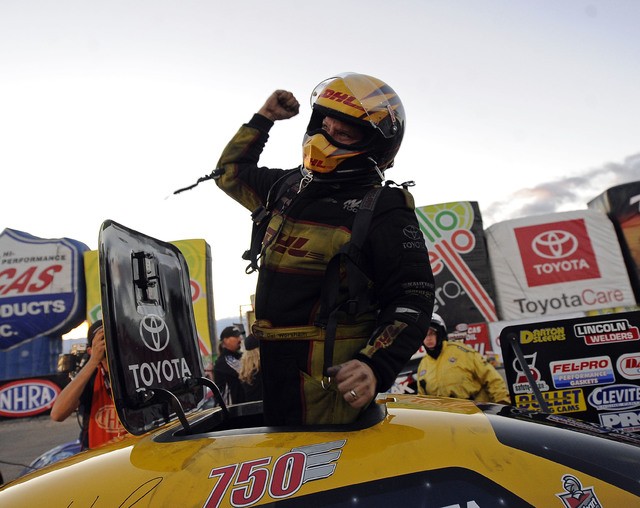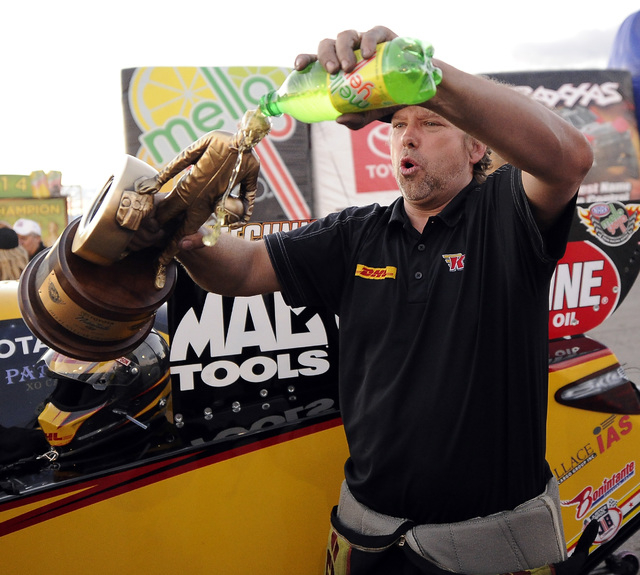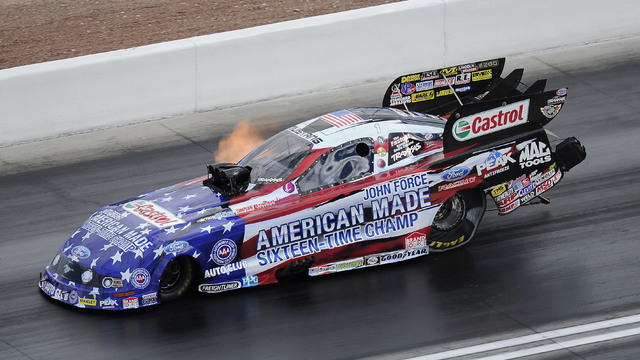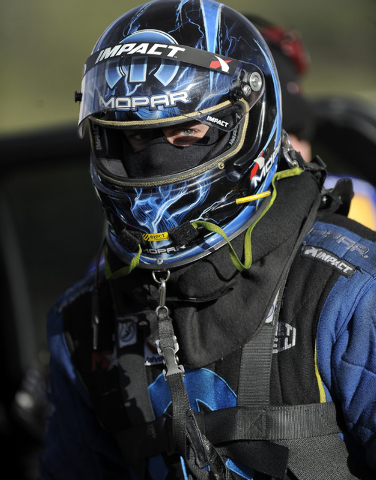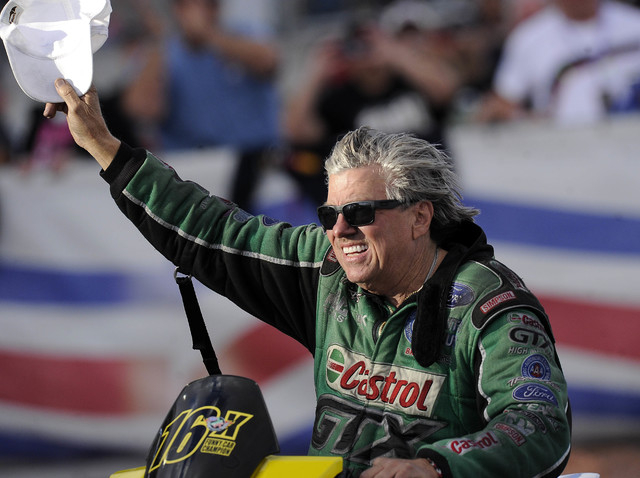 When he's not roaring down the race track at more than 320 mph, Matt Hagan stays grounded by taking life in the slow lane on his cattle farm in Christiansburg, Va.
"You slow down in your tractor. You're on the highway, and people are honking their horns at you to get off the road," he said. "You come out here and you can't slow down enough."
Hagan was the fastest Funny Car driver during qualifying at the NHRA Toyota Nationals at The Strip at Las Vegas Motor Speedway. But he lost in the semifinal round of Sunday's final eliminations to allow 16-time NHRA world champion John Force, cutting his points lead to 21 heading into the season finale at Pomona, Calif.
Force lost in the final round to Del Worsham (4.064 seconds at 318.39 mph), who dealt Hagan a narrow loss in the semis (4.059 at 315.71) on his way to winning an NHRA Wally trophy.
"It's just the way the ladder played out this weekend. John had a great side of the ladder, and we had a tough one to get through," Hagan said. "We just have to go work hard and not make any mistakes and capitalize on it if they do.
"It's human nature. You want to go out here and spread the gap. There's no doubt about that. We want to win and have it wrapped up, but that's just not typically how it happens."
Force — who beat son-in-law and John Force Racing teammate Robert Hight in the semifinals (4.069 at 319.45) — stayed in contention for his 17th title despite parting ways with longtime crew chief Jimmy Prock shortly before the event.
"This was a moral victory for my whole team," Force, 65, said. "We had a lot going on this weekend, and we pulled together to almost get the win. We just lost a close race. No one should hang their heads.
"We are leaving here closer to first place than when we started. This is going to be a battle, and we will be ready. I was on top of my game. Worsham is a great racer, and he beat me fair and square."
Full-fledged rivals, Force passed Hagan in points late in the 2010 season for his 15th championship and outlasted him again last season for No. 16. Hagan, 31, won his only title in 2011.
"I've been in this hunt for the majority of my career. Me and John have been battling it out four years out of the last five," Hagan said. "It's pretty phenomenal to have a kid in here slugging it out with an all-time legend."
Hagan will have 10 days to get focused for Pomona. Some of that time surely will be spent harvesting wheat for his 300 head of cattle.
"It's a relaxing deal for me to be able to kind of get back to zero, to center," he said. "It's my time out there. I do have one guy that helps me out, but he had a stroke so it's been all on me.
"A lot of it's just sitting on the tractor with the lights on at night, trying to get it done because you can't feed cows snow."
Worsham's win was his first in Funny Car since 2009, but he won eight Top Fuel races in 2011 en route to the world title. Worsham is the first driver to win in both nitro classes at The Strip.
In Top Fuel, Tony Schumacher, the No. 5 qualifier, was poised to clinch his eighth NHRA world title here before getting upset by No. 12 qualifier Billy Torrence (3.769 at 329.10) in the first round.
Schumacher has a 109-point lead over Spencer Massey, his Don Schumacher Racing teammate. Massey beat J.R. Todd in the final (3.756 at a track-record 330.88) to win the event and ascend from seventh to second in the standings.
In Pro Stock, Erica Enders-Stevens beat defending and five-time world champion Jeg Coughlin in the final (6.587 at 209.36) to move into the lead, 17 points ahead of Jason Line. Enders-Stevens, 31, beat two-time world champ Line in the semis (6.593 at 209.20) en route to her fifth win of the season. The No. 1 qualifier, she swept both victories at LVMS this year and is bidding to become the first female to win a Pro Stock world title.
"The Jason Line round was probably the biggest of my career at this point," said Enders-Stevens, who has been racing since she was 8 years old. "This has been a dream year for me."
In Pro Stock Motorcycle, three-time champ Andrew Hines beat Matt Smith in the final (6.955 at 191.02) to increase his lead to 92 points over Eddie Krawiec.
Henderson's Justin Lamb beat Todd Patterson to win the Competition Eliminator category (8.202 at 152.04).
Contact reporter Todd Dewey at tdewey@reviewjournal.com or 702-383-0354. Follow him on Twitter: @tdewey33.