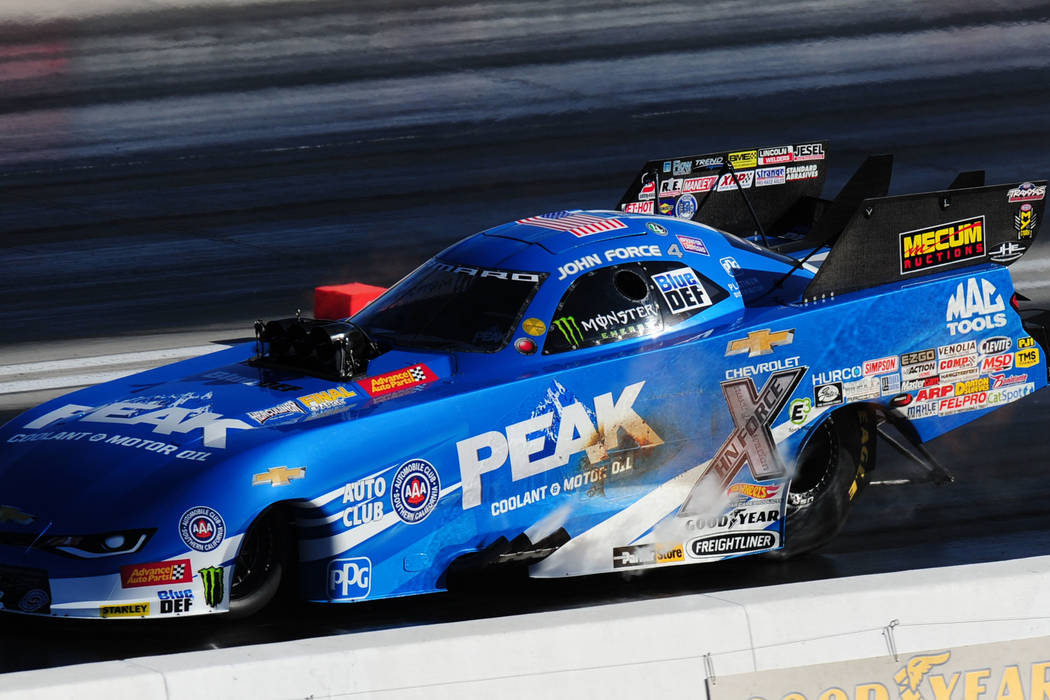 There are people who liken John Force and his race teams to the Yankees and baseball, IBM and the stock market, the Carrington family and the TV oil business.
It is always a little more interesting when Force is on top.
John Force, the driver, isn't on top this season. Heading into this weekend's NHRA Toyota Nationals at Las Vegas Motor Speedway, he has won just once. He sits sixth in Funny Car points with a slim chance to make up the deficit here and in the season finale at Pomona, California.
John Force, the car owner, isn't on top, either. But he is close enough to make these final two races a little more interesting.
Brittany Force, the patriarch's 31-year-old offspring, is second and closing in Top Fuel points. Robert Hight, his son-in-law, is second and closing in Funny Car points. Courtney Force, his other racing daughter, is third in Funny Car.
So interest in John Force and his race teams is keen again as the Countdown for the Championship builds to a 330 mph, nitro-powered climax.
"I've got some cars in the hunt — Robert (Hight) second, Courtney (Force) right behind him, and I still have a shot in Funny Car. And Brittany (Force) and Monster Energy have a shot in Top Fuel, so we're coming in positioned well," said Force, the 68-year-old racing Methuselah who has 148 career victories and won the last of his 16 Funny Car titles in 2013.
"It won't be for a lack of money, lack of heart, or lack of work ethic."
It almost was for a lack of money in 2013, when Ford and Castrol announced they were pulling the parachute as Force's longtime sponsors.
The situation was so dire that Force, who has won 14 times at LVMS and beat daughter Courtney in last fall's final, thought he might have to step out of the car. Racing teams rarely discuss budgets, but insiders say Force was spending about $20 million annually when Ford and Castrol bailed.
"Corporate America, I don't expect you to come to me. I'm coming to you," said the ebullient former truck driver from Yorba Linda, California.
Corporate America somehow survived.
So did John Force and his race teams.
"For Chevrolet to come pick me up, for PEAK to give me a lifetime contract to drive as long as I want, as long as I'm competitive, I'm the luckiest guy in the world," said Force, who also has added support from Auto Club, Advance Auto Parts and Monster Energy.
"John Force Racing was going out of business, at least how we knew it. I lost so many people. I got 'em back, so I put the band back together, and that's why I'm right on the edge of being in — but Robert and Courtney are in the hunt, and my daughter Brittany's in the hunt.
"We're going to fight this thing down to the wire until Sunday night, and then we're going to fight it down to the wire in Pomona. I told my sponsors I turned the corner. I'm planning on this being the year."
Notes
John Force had a frightening moment during second-round qualifying when he crossed the center line and almost struck Jim Campbell's Funny Car at about 300 mph. "I was going left, trying to go right," Force said. "I saw him go by me, so God bless him."
Contact Ron Kantowski at rkantowski@reviewjournal.com or 702-383-0352. Follow @ronkantowski on Twitter.
.@roberthight7000 and @JohnForce_FC at #NHRAVegas Fanfest! #NHRA pic.twitter.com/1vhs5SLS5e

— John Force Racing (@JFR_Racing) October 27, 2017
NHRA Toyota Nationals
Friday at Las Vegas Motor Speedway
Top qualifiers
— Top Fuel: Tony Schumacher 3.673* at 332.67**
— Funny Car: Jack Beckman 3.867* at 329.50
— Pro Stock: Greg Anderson 6.663 at 204.73
— Pro Stock Motorcycle: Eddie Krawiec 6.936 at 191.76
Saturday
— Qualifying continues at 1:15 p.m.
— Tickets, information: NHRA.com; LVMS.com
* track record
** tied track record