KB Racing owner, driver scarred — but not scared
October 31, 2014 - 9:48 pm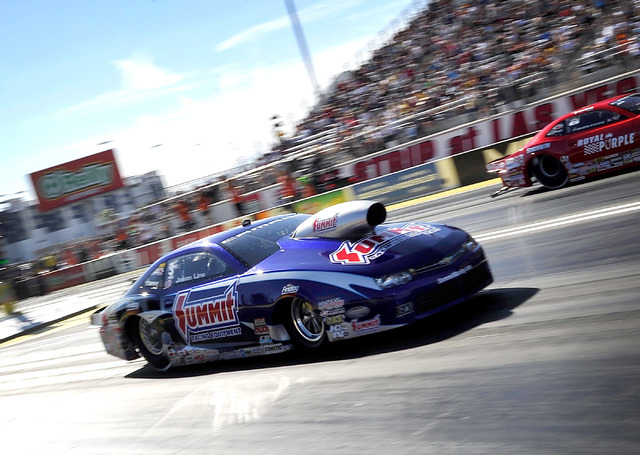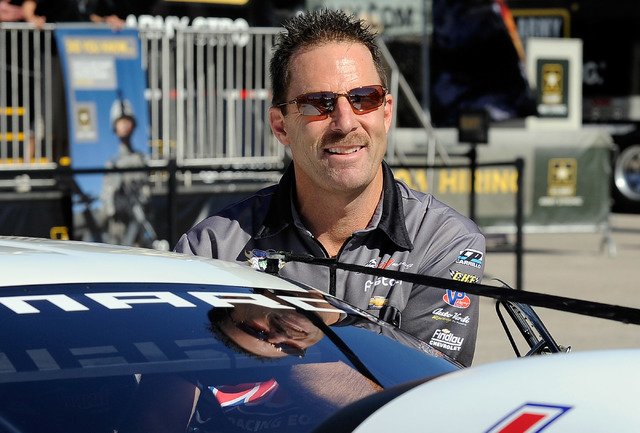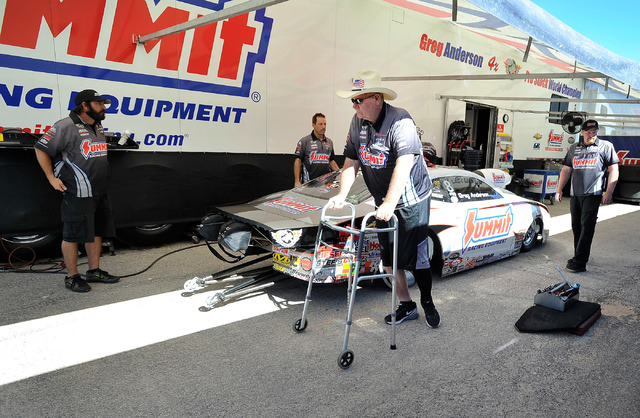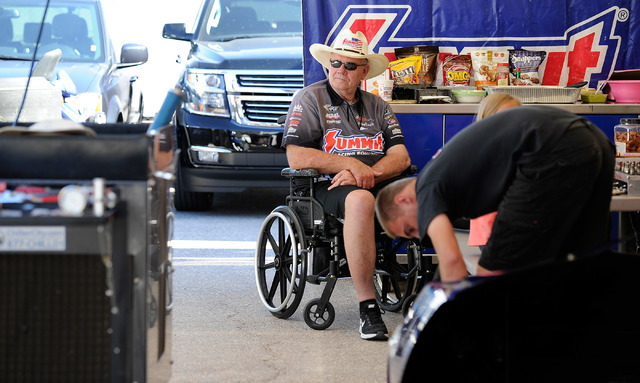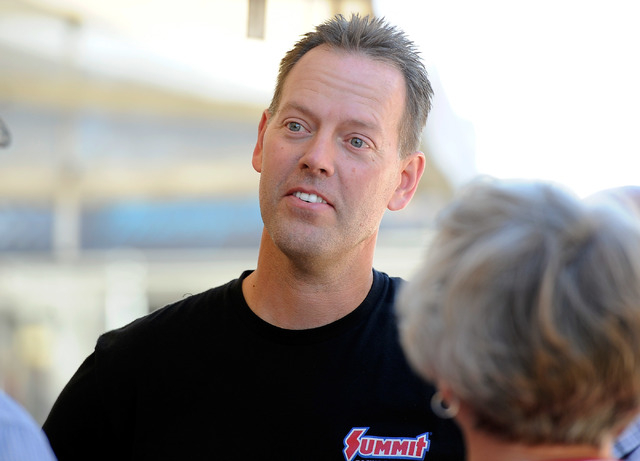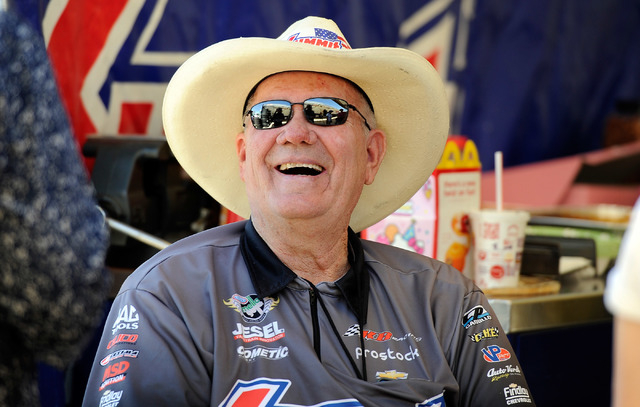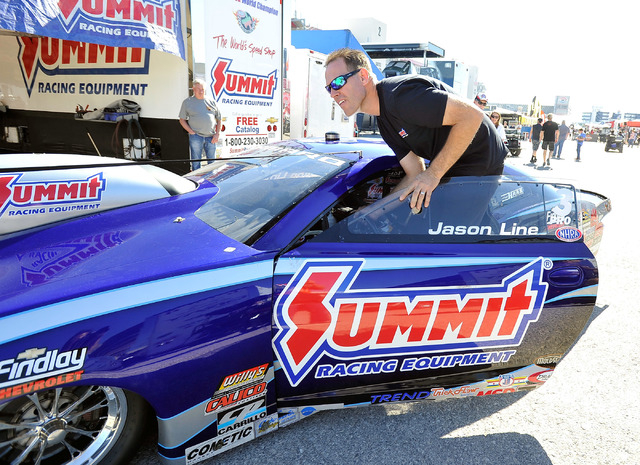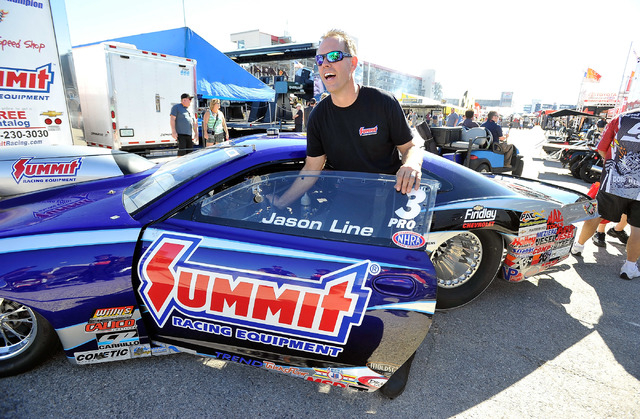 A "No Whining" sign hung on the wall of a hauler in the KB Racing team's pit area Friday at the NHRA Toyota Nationals at The Strip at Las Vegas Motor Speedway. But team owner Ken Black and driver Greg Anderson didn't need an attitude adjustment.
Despite suffering a stroke in 2009 that left him in a coma for three months, the 68-year-old Black was all smiles as he sat in a wheelchair, happily holding court with family and friends.
Likewise, the 53-year-old Anderson — a four-time NHRA Pro Stock world champion — was positive and passionate as he talked about his return to racing after recovering from February heart surgery.
"As much as I want to whine about what I went through, I was crying because I spent eight days in the hospital. He spent six months," Anderson said of Black, who has been involved in drag racing in Las Vegas for the past 50 years.
"I can't even think about feeling bad for myself. I'm one-tenth of what (Black) went through and how he fought, the comeback. It's always been a morale booster for the team.
"I feel fantastic to have a new lease on life, but I'll never catch up to what he did. He's the man. He shows us what it takes to come back from major, major injury and persevere.
"We don't whine, complain or feel bad for ourselves. We dig in and work harder, just like him."
Black, who helped build countless homes in Las Vegas as owner of Vegas General Construction and KB Framers, was driving to his home here almost five years ago when he suffered the stroke that has left him paralyzed on his left side. His grandson, sitting in the passenger seat, helped Black steer the vehicle into a nearby car dealership, where he called 911. An ambulance quickly took Black to Spring Valley Hospital, where doctors removed a portion of his skull to relieve the pressure on his brain.
"That's what saved me," Black said.
Had Black gone into surgery 30 minutes later, doctors said he probably would not have survived. As it was, Black was expected to be brain dead if he emerged from the coma. When he finally did wake up, he was told he would never walk again.
Black's mind and speech were sharp Friday and, after extensive physical therapy, he can walk with the help of a walker.
"From where he came from, that's nothing short of a miracle," said Jason Line, KB Racing's two-time NHRA Pro Stock champ who is gunning for his third title this year. "They told us and his wife, 'If he does wake up, he won't remember anybody.' It's funny because he forgot nothing. He's come a long way.
"He's certainly an inspiration. I don't know anybody who would have worked as hard as he has to get back to where he's at."
Likewise, Black said Anderson and Line — who have driven for him since 2002 — inspired him to recover.
"That's really what pushed me to work hard in therapy — to get back to the racetrack and get more involved with the team again," Black said. "They're both real positive people. They're always encouraging me."
When doctors told Anderson shortly before the NHRA season opener that he needed to fix the heart valve defect he was born with, Black pushed him to get it done.
"He wanted to put it off because the season was just getting ready to start," Black said. "I told him from what I've been through with the stroke, 'You don't have a choice. If you don't get it done, I'm going to fire you anyway, so go get it done.' "
Anderson's decision to have surgery to repair a bicuspid aortic valve saved his life.
When the doctor who performed the same surgery on Denver Broncos coach John Fox touched Anderson's valve, it burst in his hands.
"It's a good thing I did it when I did it, because I probably wouldn't have made it through the first race,'" Anderson said.
Because he had taken anti-inflammatory medication he wasn't supposed to take the week before surgery, Anderson lost a lot of blood, which caused him to speak incoherently for a couple of days after he went home.
He said that time — when some speculated he'd had a stroke — was extremely tough for his wife and two children.
"They're the ones who had to go through the touch-and-go part. I was out of it for a while," he said. "I couldn't answer any questions. Words wouldn't come out right."
Soon thereafter, Anderson came around with a new perspective on life.
"As racers, we think this is more important than anything that happens in life," he said. "When you go through something like this, you realize, it is important because it's what we do for a living, but it's way behind your family and friends and everyone who supports you."
Anderson, who now wears a pacemaker, missed the season's first five races before returning to action and said he feels back at full strength behind the wheel. Line, who said he loves Anderson like a brother, has been impressed with how hard he's worked to come back.
"We're not feeling sorry for him anymore, that's for sure," Line said.
That's not allowed on their team.
■ NOTES — Erica Enders-Stevens, who trails Line by 32 points in the Pro Stock standings, leads after two rounds of qualifying with a time of 6.647 seconds at 208.01 mph. John Force is in the Funny Car lead (4.039 seconds at 318.54 mph). Richie Crampton leads Top Fuel (3.764 seconds; 322.42 mph), and Jerry Savoie leads Pro Stock Motorcycle (6.946 seconds; 192.55 mph). … Qualifying continues at 1 and 4 p.m. today at LVMS.
Contact reporter Todd Dewey at tdewey@reviewjournal.com or 702-383-0354.