Leah Pritchett back on top of drag racing world
Updated April 2, 2017 - 10:15 am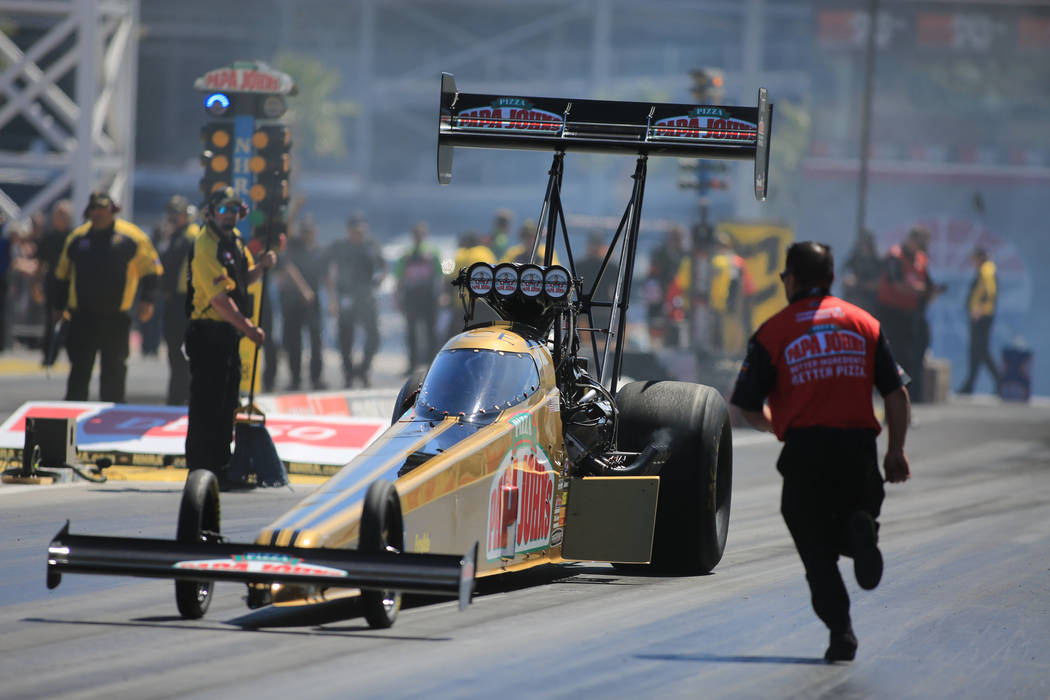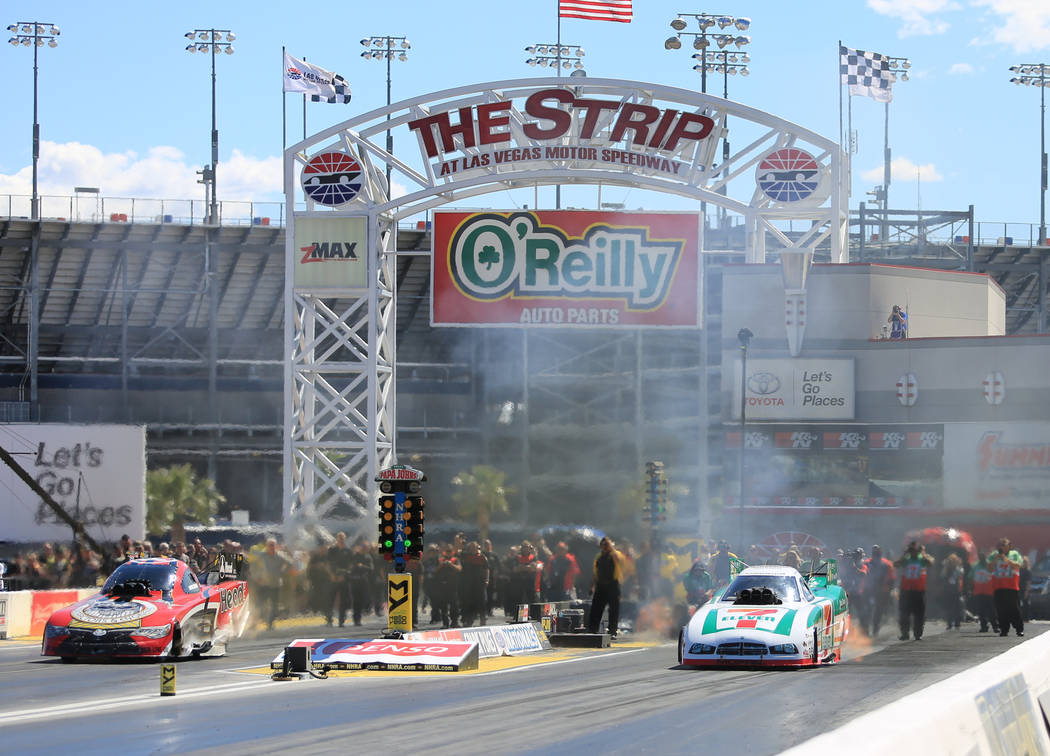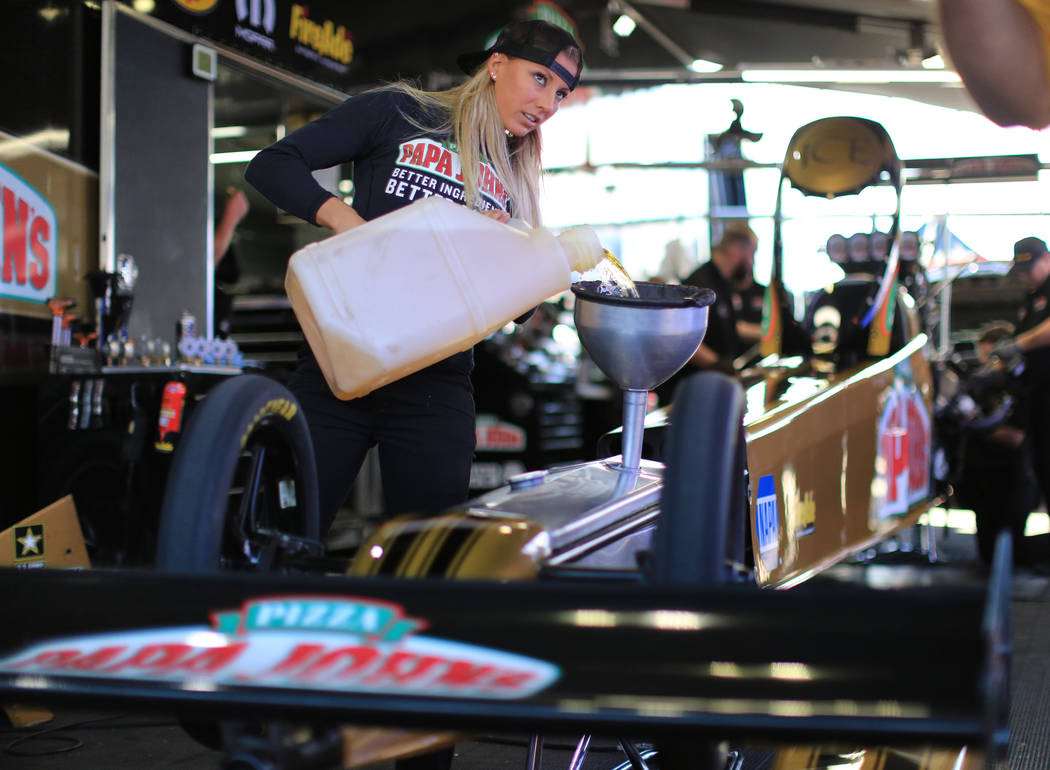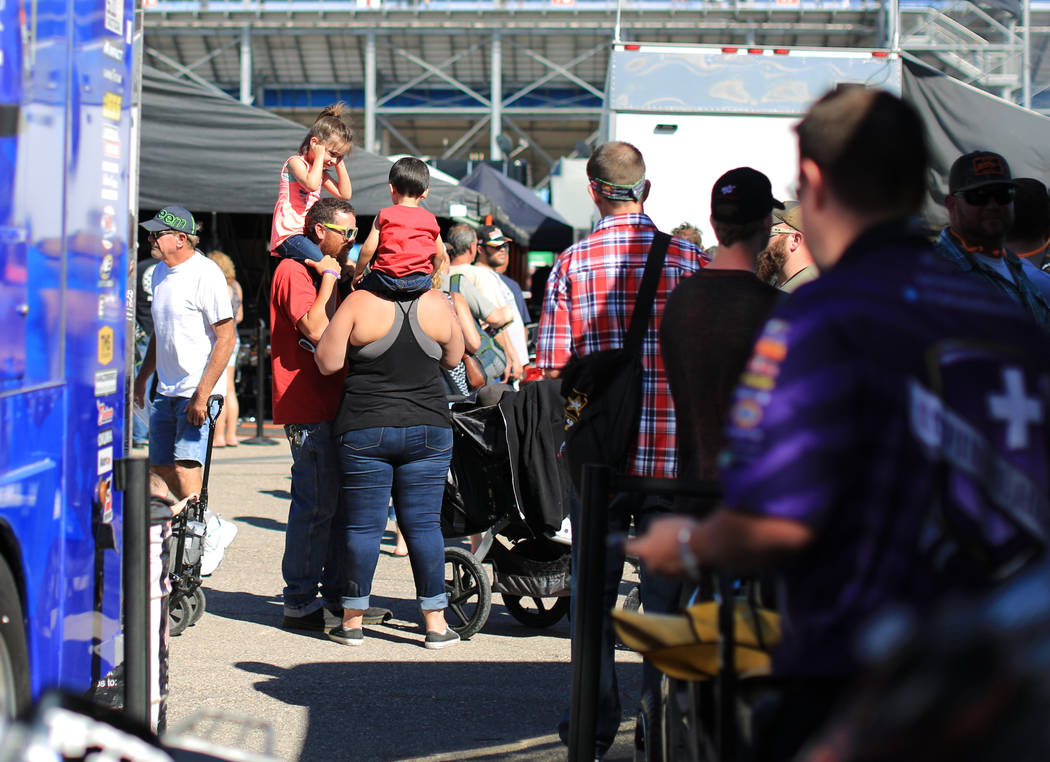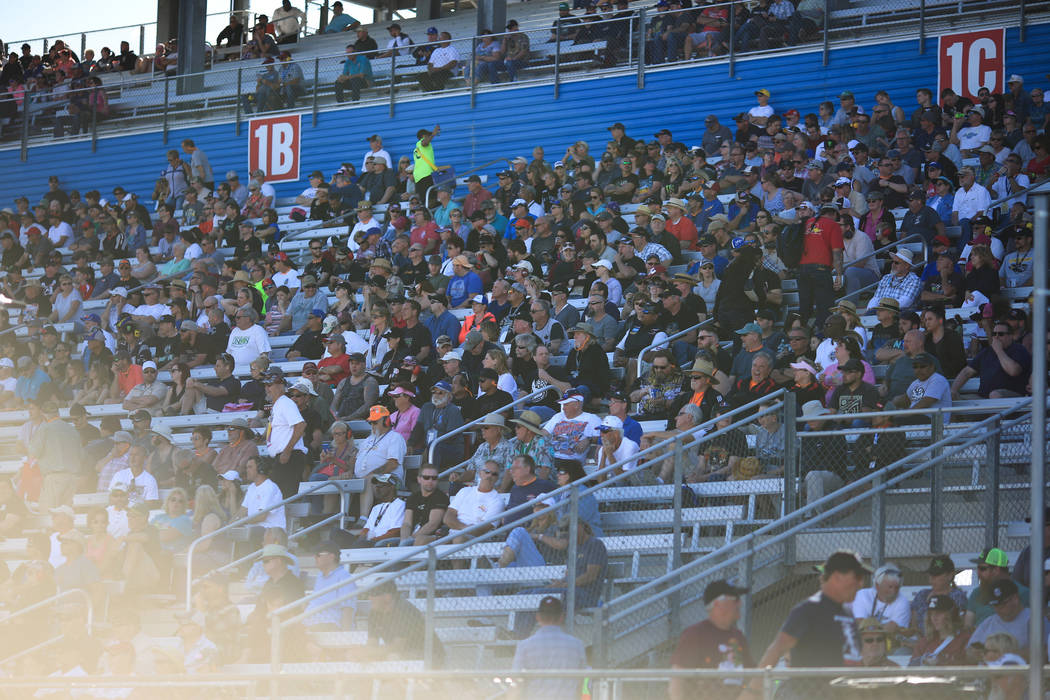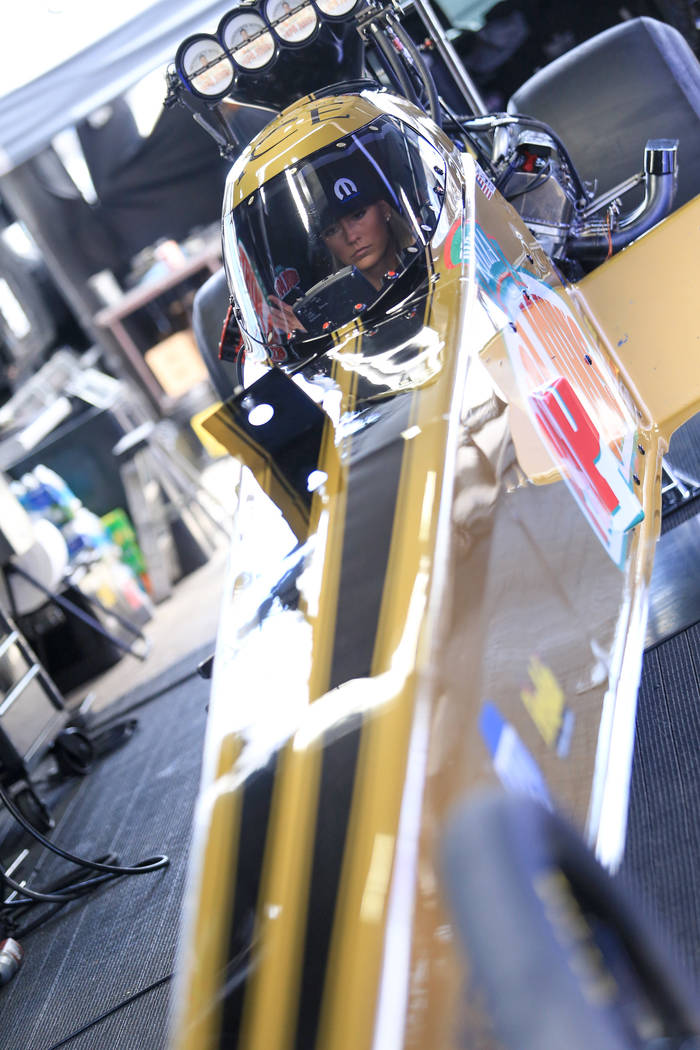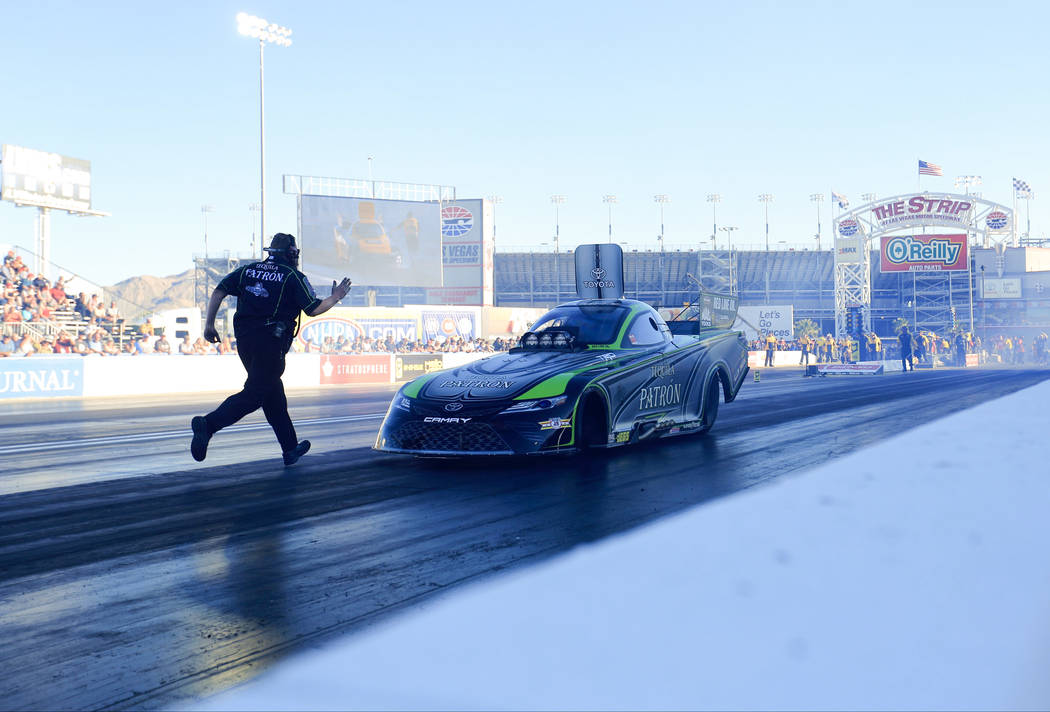 Last year at this time, Leah Pritchett was almost on top of the drag racing world.
And then, just as quickly, she was almost at the bottom. Through no fault of her own.
She would have a come-to-Papa moment.
Now she's back on top of the world again, and on top of the Top Fuel standings heading into Sunday's DENSO Spark Plugs NHRA Nationals final eliminations at Las Vegas Motor Speedway.
Pritchett, 28, is one of drag racing's rising stars. That became apparent during the second stop of 2016, when she defeated Brittany Force in the NHRA's first all-female finale at Chandler, Arizona.
It was her first career victory.
Many more victories were to follow, drag racing people said.
Pritchett raced in Las Vegas, setting fast time of the meet with a speed of 322.11 mph.
Then her team, Bob Vandergriff Racing, pulled out of the sport.
"I was on top of the world," she said Saturday between qualifying sessions at The Strip. "(But) last year was a little bit of a shaky situation. We had a feeling that something was going to go awry, but didn't know (for sure) …"
She joined a privateer team called Lagana Racing. She literally rolled up her sleeves to try to keep her career on the upswing and her name in the Countdown for the Championship.
Pritchett drove the car, and then she helped turn the wrenches.
She got grease under her fingernails. She burned her arm on a flywheel.
A mutual acquaintance arranged for Pritchett to meet John Schnatter — Papa John Schnatter, patriarch of the Papa John's Pizza chain. It was after a rain-delayed meet in New Hampshire, and she didn't have time for a manicure.
"No time to do dry cleaning, no time for how I would prepare myself to meet the (CEO) of one of the top companies of the world," she said.
Schnatter may or may not have noticed the grease around her cuticles.
He definitely noticed the burns on her arm.
John Schnatter, the Big Cheese, could relate. He used to get similar burns when he was cleaning pizza ovens as a young man.
He agreed to sponsor Pritchett, opening the door for her at Don Schumacher Racing, one of drag racing's pre-eminent teams — the same crew that helped her acquire her NHRA license when she was trying to break into the sport as a teenager.
With the blond Californian mashing the throttle, the Papa John's golden dragster — painted the same color as the pizza magnate's old 1981 Camaro muscle car over which the two bonded — won the first two races of 2017. In February, Pritchett set the NHRA elapsed time record with a pass of 3.658 seconds at 329.34 mph en route to the win in Arizona.
Her career is on the upswing again.
"I've always performed in the world of the unknown, where the sky was always falling and the ceiling, and what's going to happen next?" said Pritchett, who will be slotted fifth when racing starts Sunday. "Now it's quite the opposite. There's no more solid of a foundation than Schumacher Racing and the people at Papa John's.
"That's a new feeling."
SATURDAY QUALIFYING
Steve Torrence (3.72, Top Fuel), Courtney Force (3.867, Funny Car) and Jason Line (6.647, Pro Stock) are the top qualifiers for Sunday's final eliminations.
None improved on their times posted on a damp and chilly Friday. Greg Anderson won his second consecutive $50,000 K&N Horsepower Challenge for the Pro Stock cars with a clocking of 6.684 at 205.47.
Contact Ron Kantowski at rkantowski@reviewjournal.com or 702-383-0352. Follow @ronkantowski on Twitter.
NHRA Nationals
What: Round 4 of the NHRA season, featuring Top Fuel, Funny Car and Pro Stock classes.
Where: The Strip at Las Vegas Motor Speedway.
When: Final eliminations at noon Sunday.
2016 winners: Antron Brown (Top Fuel) Alexis DeJoria (Funny Car), Jason Line (Pro Stock).
TV: Fox Sports 1. Final eliminations 3 p.m. Sunday.
■ Tickets: www.LVMS. com
Leah Pritchett file
Age: 28
Birthplace: Redlands, California
Education: Graduated from California State University, San Bernardino with degrees in marketing and communications.
Car: Papa John's Top Fuel dragster
Team: Don Schumacher Racing
Career wins: Three
Best points finish: Seventh, 2016
Did you know?: Pritchett started racing in the NHRA Summit Racing Jr. Drag Racing League when she was 8.