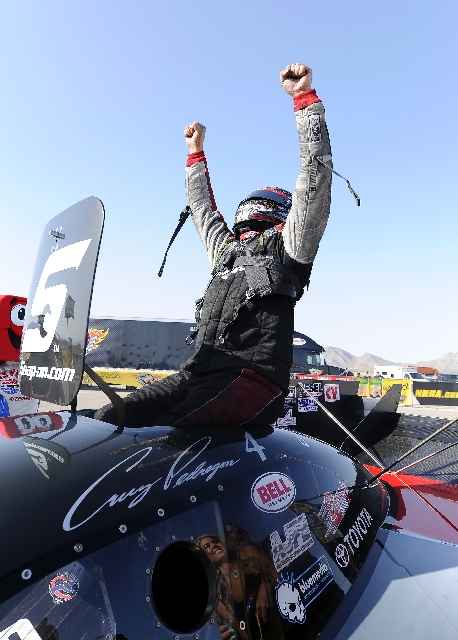 Crew chiefs and coaches have been warned.
They might not be needed anymore.
Cruz Pedregon came to Las Vegas without a crew chief, and left with the Funny Car victory in the SummitRacing.com NHRA Nationals.
He defeated Courtney Force in the final on Sunday at The Strip at Las Vegas Motor Speedway, finishing in 4.173 seconds to Force's 5.244.
"A crew chief? I can't afford one," Pedregon said. "So you either make do with what you have, or you don't race. I want to race. I've learned from a lot of great crew chiefs, and I'm not taking that lightly.
"It is tiring, it is a lot of work, but the reality is budget-wise, and really there isn't a guy I'd pick over me."
Pedregon helped put a damper on what could have been ladies' day at the dragstrip. Force and Erica Enders-Stevens made the finals of their classes, trying to become the first women to win here since Melanie Troxel was victorious in Top Fuel in 2006. Allen Johnson ended Enders-Stevens hopes in Pro Stock by outracing her 6.713 seconds to 10.200.
In the Top Fuel final, Tony Schumacher edged teammate Antron Brown 3.851 seconds to 3.956.
As for Pedregon, he recorded his first victory of the young season in Funny Car, climbing from fifth place to third in points after four races. He is a two-time champion, most recently in 2008.
His chances of winning, however, appeared dim when following a burnout before the final, the car wouldn't go in reverse. Pedregon's crew raced down the track and quickly rolled the car back to the starting line.
"I was thinking about Richard Pryor when he said, 'Be cool, be cool, be cool,' " Pedregon said. "I was a nervous wreck. I started thinking, 'Ah, man, what a way to lose a race.' "
Pedregon said he wouldn't have waited long, and even considered taking the car to the side of the track to let Force cruise by for the victory. But he made it to the line in time.
It wasn't a complete loss for Force, who moved up two spots to take the series lead.
Johnson, chasing his second championship in a row in Pro Stock, also moved from third to first. This was his second victory in a row, adding to the win at Gainesville, Fla., two weeks ago.
It also was his second victory in two days over Enders-Stevens. Johnson beat her Saturday to win the K&N Horsepower Challenge and collect $50,000, a side event to the main action. By winning both events, Johnson received a $25,000 bonus, giving him $100,000 for the trip to The Strip.
He said this weekend sweep compares favorably with last season's championship and with the four victories in Denver, home to his sponsor.
"This deal here is right there at the top of the bucket list," Johnson said.
Schumacher's victory over Brown could be typical of what could be an outstanding seasonlong duel in Top Fuel. Brown, the defending series champion, entered this event in first, but only four points ahead of Schumacher. Now Schumacher is 14 points in front of Brown.
Schumacher knows what it's like to win in Las Vegas, having picked up his seventh victory here. He also is a seven-time series champion.
"I don't know that we had the best car here this weekend," Schumacher said. "We had a good car. There are faster cars than that. Sometimes you've got to go consistent, and sometimes you have to get down the racetrack."
Contact reporter Mark Anderson at manderson@reviewjournal.com or 702-387-2914. Follow him on Twitter: @markanderson65.