Robert Hight, J.R. Todd resume NHRA Funny Car battle in Las Vegas
Updated October 26, 2018 - 6:55 pm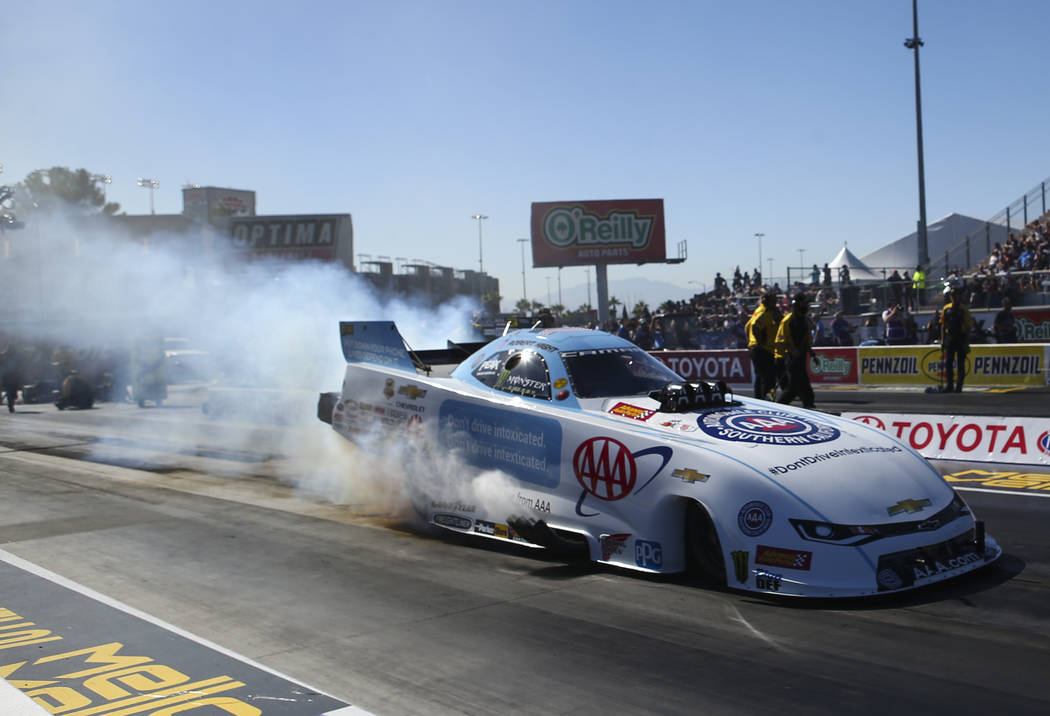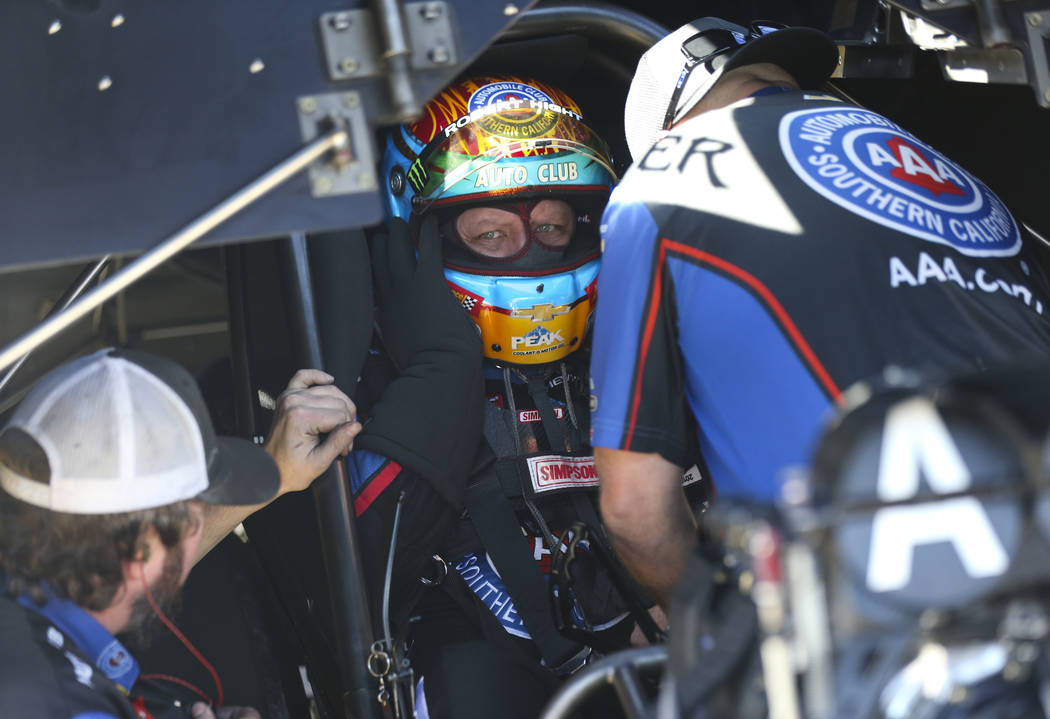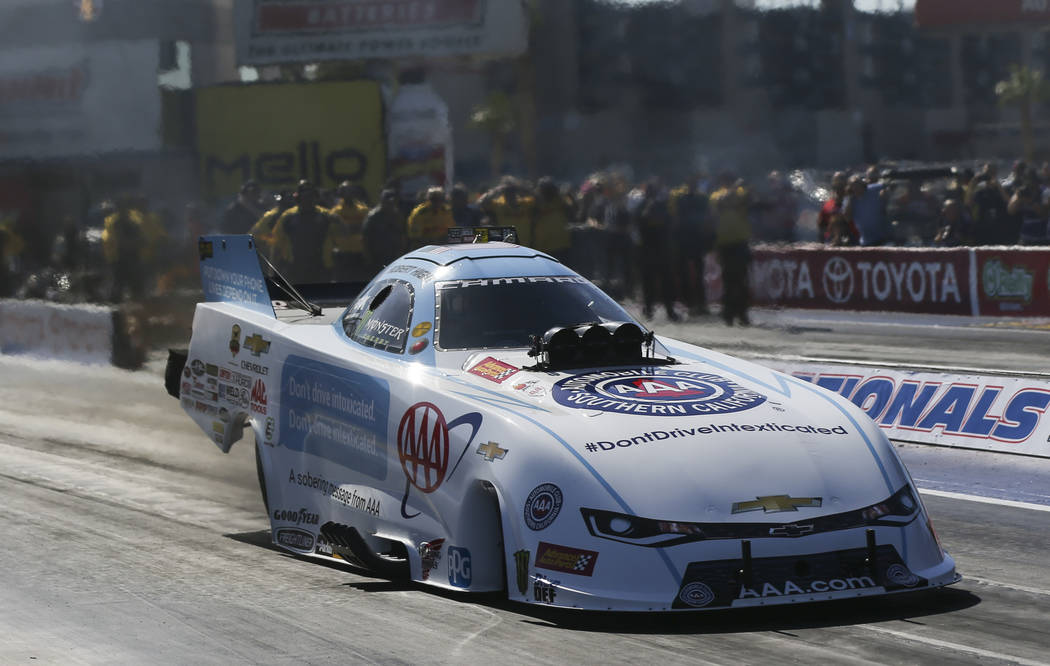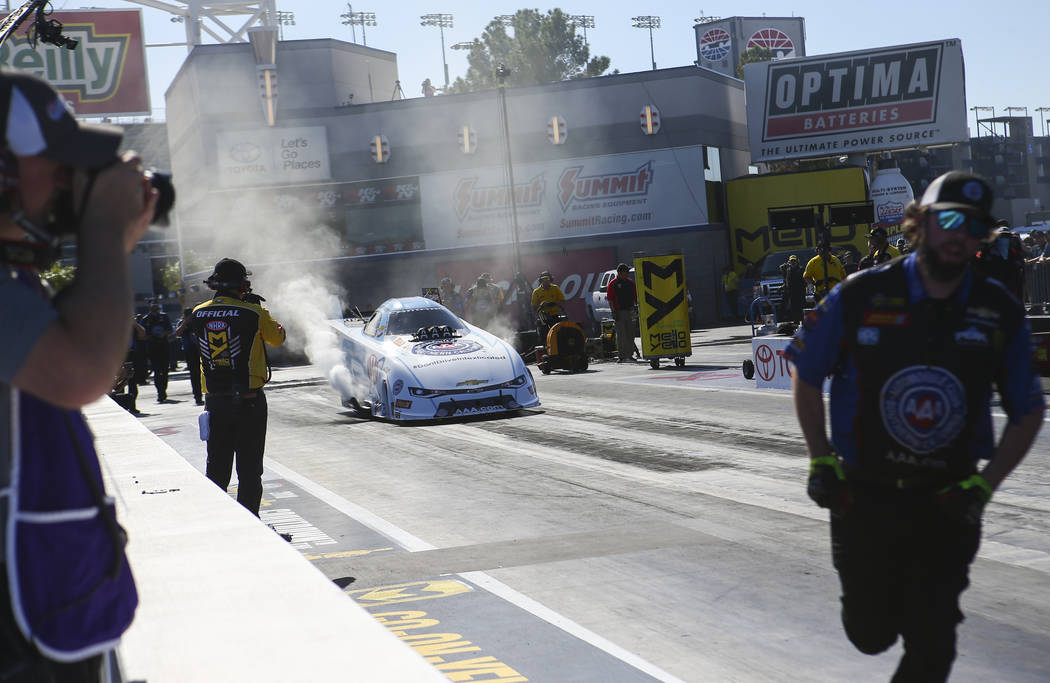 If it's true that everybody loves a good story, those packing the grandstands at this weekend's Toyota Nationals might have trouble choosing sides in the taut battle for the NHRA's Funny Car championship.
On one side of the Las Vegas Motor Speedway Christmas tree is Robert Hight. During the last week of September, the reigning champion won the Midwest Nationals just outside of St. Louis but crashed spectacularly as he crossed the finish line. Hight broke his collarbone. He was forced to design a protective harness before getting back in the car.
Doctors told him he would miss eight weeks.
Hight won the next race in Texas.
Nobody has won back-to-back Funny Car titles since the legendary John Force in 2001 and 2002. Force is Hight's boss and father-in-law.
So that's a pretty good story.
On the other side of the staging lights is J.R. Todd, who once lost a Top Fuel ride when the team owner's shop burned down. In trying to keep his career alive, Todd went the extra mile and then some: He made a sojourn to the Middle East to consult with sheikhs who were looking to break into big-time hot rod racing.
In 2014, Todd was hanging out at a Buffalo Wild Wings in Indianapolis one night when Connie Kalitta called to ask if he would like to drive his Top Fuel car in Las Vegas.
The next day.
Todd jumped on a red-eye flight. He qualified Kalitta's car and resurrected his career.
In 2017, Todd became the first African-American to win a Funny Car race. He also won the last two U.S. Nationals back home in Indianapolis and the first four-wide Funny Car race at LVMS this spring.
So that's a pretty good story, too.
With two races remaining, Hight began the weekend with an 11-point edge — less than a round — on the fast-closing Todd. With Steve Torrence and Tanner Gray enjoying commanding leads in the Top Fuel and Pro Stock divisions, Hight-Todd is the only true championship duel.
If battling back from adversity is a trait that makes one a champion, it might be fitting if Hight and Todd finished in a tie atop the points.
"Truthfully, winning two championships in a row, no matter how you do it in this day and age, is pretty amazing," Hight said Friday about what it would mean to win the title with six screws and a metal plate holding his left clavicle together.
"You've got to keep beating down doors and not give up — because I was really close to giving up," Todd said when asked the same question.
Hight posted the third-fastest time in Friday's provisional qualifying sessions. Todd struggled and wound up 16th.
It was only the foreword of the final two chapters of two really good stories.
Contact Ron Kantowski at rkantowski@reviewjournal.com or 702-383-0352. Follow @ronkantowski on Twitter. s career
NHRA Mello Yello Drag Racing
What: Toyota Nationals.
When: Qualifying Saturday at 12:30 p.m. and 2:45 p.m. Finals Sunday start at 3:37 p.m.
Where: The Strip at Las Vegas Motor Speedway.
TV: Saturday, 2 p.m., FS2. Sunday, 4 p.m., FS1.
Friday's fast qualifiers: Clay Millican (Top Fuel, 3.699 at 327.82 mph); Jack Beckman (Funny Car, 3.922 at 327.19); Greg Anderson (Pro Stock, 6.638 at 205.57).