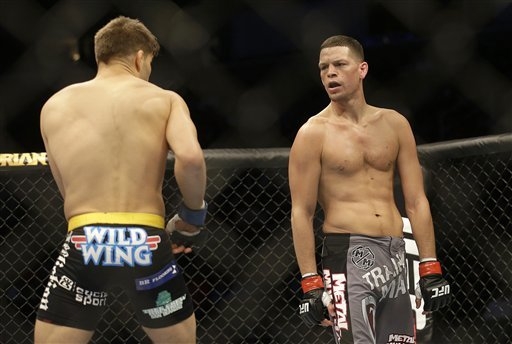 Finally, Nate Diaz is excited about the lightweight division in the Ultimate Fighting Championship.
Diaz said Wednesday he had grown so annoyed with the 155-pound division, and the work required to cut down to that weight, that he was on his way up to welterweight (170 pounds).
Then Anthony Pettis took the lightweight title from Benson Henderson in August and everything changed.
With Henderson out of the picture, Diaz again is excited about making a run at the belt. That quest begins with a bout against his old rival, Gray Maynard, in the main event of "The Ultimate Fighter 18" Finale on Saturday at Mandalay Bay.
Diaz knows what to expect, having fought Maynard twice. Diaz won the first fight when both were contestants on Season 5 of the reality show. Maynard won the rematch by split decision in January 2010 on his way to securing a title shot.
While Diaz said he isn't always a fan of Maynard's style, he conceded his opponent can be exciting at times.
The same couldn't be said of Henderson, according to Diaz.
One of the main reasons Diaz planned on leaving the division was because he had no interest in fighting Henderson again after losing a frustrating unanimous decision to the champion in a title fight in December.
"He wasn't a very entertaining fighter anyway. If you lose to Henderson, it's going to be boring. If you beat Henderson, you have to play some boring-ass games to beat him," Diaz said of Henderson's perceived point-fighting style. "That wasn't too motivating of a fight."
With Henderson out of the way and the flashy Pettis reigning in the division, Diaz's interest has been sparked. He also wants another shot at top contender Josh Thomson, who battered Diaz in April to the point that his brother Nick threw in a towel from the corner.
"I lost to Thomson, and Anthony Pettis is the champ. They're supposed to be the hot (expletive) right now. Those guys are the guys to beat and on top of it," Diaz said. "I was ready to go to 170 pounds. I'm over making weight and all this. I don't feel I get paid good enough to lose weight all year long. I can make the weight no problem, but I wish I was getting compensated a little better for it. At the same time, I wasn't going to leave this division letting those two (expletive) run the show."
Diaz knows he must win the third match against Maynard to get a shot at the top contenders in the division after back-to-back losses to Henderson and Thomson.
He said getting the upper hand on his old castmate after splitting the first two fights isn't necessarily a driving factor for him.
"It's nothing I need to seal the deal on or anything. It doesn't keep me up at night," Diaz said. "Gray Maynard's a worthy opponent. I'd rather fight him than some joker (trying to make) a name for himself. And it's 'The Ultimate Fighter' here where we started, so I guess that's pretty cool."
Maynard has hit a bit of a rough patch as well, going 1-2-1 in his past four fights after starting his career with 10 straight wins. The loss to Diaz counts as an exhibition, so it doesn't show up on the record, but Maynard says it was partly responsible for some of his wins.
"That (loss) was what kind of helped me get back in and do so well when I entered the UFC the way I did," he said. "Losses are always kind of an eye-opener that make you want to change and get better and get back to the winning ways. I was there to compete. That was a loss to me. It hurt just like the ones that actually show on your record."
He had a similar feeling since a first-round knockout loss to T.J. Grant in May that Maynard credits for rejuvenating his training.
"I hate to lose. Hate it," he said. "The whole key is to evolve and figure out how to win."
The fight headlines a card that includes the championship matches for the men's and women's bantamweight tournaments from Season 18 of the reality show. The main card airs live at 7 p.m. on Fox Sports 1 (Cable 329).
Contact reporter Adam Hill at ahill@reviewjournal.com or 702-224-5509. Follow him on Twitter: @adamhilllvrj.