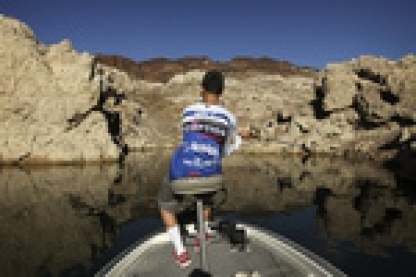 * LAKE MEAD — Top-water lures and swimbaits are catching striped bass during the early morning hours. Some anglers have found success fishing scattered striper boils, while others have been catching fish outside of the tires at Hemenway Harbor. Stripers are also keeping anglers busy along the shoreline near the Hemenway fishing pier. Most of the fish have been averaging around two pounds. Largemouth and smallmouth bass have been taking jigs and top-water lures. Anglers have reportedly reeled in several fish in the three- to four-pound range.
* LAKE MOHAVE — Largemouth bass have been active in the coves this past week. One lucky angler landed a 20-inch, 2.58-pound largemouth while fishing from a kayak, a nice way to get back in that shallow water. Stripers are holding in the coves, and the evening bite is working well. Most are in the one- to two-pound range. Smallmouth bass are running in the three-pound range and hitting worms and various crank baits.
* LAUGHLIN — Striper and catfish action continues to be good. Most stripers have been averaging between one to three pounds and are taking cut anchovies. According to Rusty at the Riviera Marina, the catfish bite is been incredible with fish ranging from four to 16 pounds. Two fishermen working together brought in a 16.4-pound catfish that measured 33.75 inches long while working the water along Casino Row. Unfortunately, the battle to bring the fish in broke the angler's rod.
* LAS VEGAS URBAN PONDS — NDOW planted catfish in each of the urban ponds during the week of Sept. 14. The fish are taking night crawlers and stink baits. Bluegill and bass action continues to be good at most ponds. Lorenzi Park is a great place to take younger anglers for that first fish.
* KIRCH WILDLIFE MANAGEMENT AREA — Anglers are reporting mixed results. While most have found slow action, some anglers are reporting good fishing at Haymeadow and Cold Springs. Water levels are above average going into the fall, a time when trout action generally picks up. Emergent vegetation continues to challenge shore anglers, but that should change with the arrival of colder water temperatures.
* EAGLE VALLEY RESERVOIR — The trout bite continues to improve with the cooling water temperatures, while the bass action has been decreasing for the same reason. Trout have been taking PowerBait in orange, green or rainbow sparkle colors along with small spinning lures.
* ECHO CANYON RESERVOIR — The crappie and bass action has begun to slow as water temperatures have dropped. At the same time, trout action has begun to improve. Trout are taking small spinning lures such as Mepp's and Kastmasters in gold or silver. Bait fishers are doing well with PowerBait or night crawlers with a bit of mini-marshmallow.