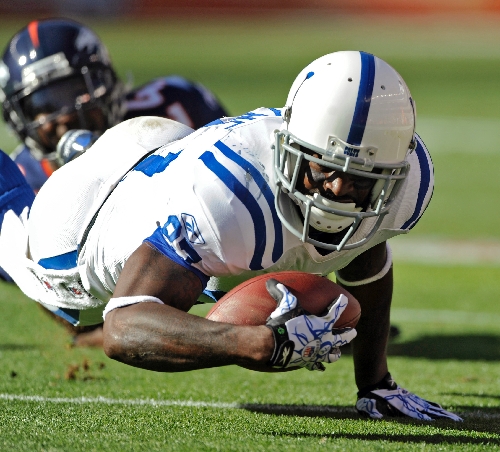 SUNDAY'S GAMES
Kansas City (3-0) at Indianapolis (2-2)
Time: 10 a.m. Line: Colts -7 Total: 45
TV/RADIO: None
■ Weather: Mid-80s, clear
■ Facts: Coming off a bye, unbeaten Kansas City faces a meat-grinder schedule, with games on the road against Indy's second-rated offense and then Houston's No. 3 unit. In Week 1, the Chiefs foiled San Diego's top-rated group, 21-14. … Indy is the only team to have two TDs when starting a drive from inside its 10. … This is the Chiefs' first game against a team that has already won a game. … Five NFL receivers have 28 or more catches and three are Colts (Reggie Wayne 33, Austin Collie 32, Dallas Clark 28).
■ Analysis: Kansas City figures to start two rookie safeties against QB Peyton Manning, whose no-huddle approach won't give them a chance to think. Coming off a loss at Jacksonville, Indy also faces a greater-than-usual sense of urgency.
■ Forecast: Colts 38, Chiefs 23
Jacksonville (2-2) at Buffalo (0-4)
Time: 10 a.m. Line: Pick Total: 41
TV/RADIO: None
■ Weather: Mid-60s, clear
■ Facts: Last year in Week 8, the Jags were ambushed on the road by 0-6 Tennessee, losing 30-13. A year earlier they fell to the 0-8 Bengals at Cincinnati, 21-19. … Buffalo is the lone defense without an interception. Last year the Bills had 28, the second most by any team since 2007. … The Bills are the only team to have yielded a first-drive score each week. … The Jags are 1-6 against the line as a favorite since midseason 2008, including an 18-15 home victory over Buffalo last year as an 8½-point choice.
■ Analysis: Jacksonville, which has two 25-point losses, is 0-4 ATS the past two seasons after facing AFC North rival Indianapolis and will be facing a Buffalo team that just shipped its marquee back, Marshawn Lynch, to Seattle. With a bye looming, all of the Bills are on notice.
■ Forecast: Bills 23, Jaguars 20
Denver (2-2) at Baltimore (3-1)
Time: 10 a.m. Line: Ravens -7 Total: 38½
TV/RADIO: CBS (8), KWWN (1100 AM, 98.9 FM)
■ Weather: Low 70s, clear
■ Facts: Denver's rushing offense is averaging 2.2 yards per carry, the worst for any team the past 64 years. … The Ravens held Denver to 200 yards in last year's 30-7 victory in Baltimore, the Broncos' first loss after a 6-0 start. It was the Broncos' lowest yardage total since getting 194 at Baltimore in 2003. … Denver QB Kyle Orton is on pace to become the first man to attempt 700 passes in a season. Fifty years ago, the Broncos' Frank Tripucka was the first to 400.
■ Analysis: Ravens DT Haloti Noga and his line buddies should be able to mangle Denver's interior line like pipe cleaners, much like what happened last week when Denver rushed 20 times for 19 yards at Tennessee.
■ Forecast: Ravens 20, Broncos 7
St. Louis (2-2) at Detroit (0-4)
Time: 10 a.m. Line: Lions -3 Total: 43
TV/RADIO: None
■ Weather: Indoors
■ Facts: The Rams are underdogs for the 40th consecutive game. … In Week 8 last year, coming off a bye, the Matthew Stafford-led Lions lost at home to St. Louis 17-10 as a 3½-point pick. This time Shaun Hill makes his fourth straight start in place of Stafford (shoulder). … Three of the Rams' next five foes are 0-4. … St. Louis has the league's longest streak of not allowing a first-drive score (13 games)..
■ Analysis: Detroit isn't playing that awful, having 38 more snaps than Green Bay in a close-call road loss last week. This week, the Lions won't be able to brush off another loss to the Rams. Like the Cowboys against the Texans in Week 3, the Lions will be well prepared and play with enormous desperation.
■ Forecast: Lions 24, Rams 10
Atlanta (3-1) at Cleveland (1-3)
Time: 10 a.m. Line: Falcons -3 Total: 40½
TV/RADIO: None
■ Weather: Low 70s, 10 percent chance of rain
■ Facts: If the Browns win, it will match their best five-game start in the past seven years. … Atlanta WR Roddy White was the second-most targeted receiver last year, with 10.3 per game. This year Matt Ryan is taking aim at White an NFL-high 12.5 times an outing in four games. He's caught 32. … The Browns' next five foes all stand 3-1. … Atlanta is fourth on the rushing charts at 144.8 yards a game, but are 20th at 3.9 per carry. Cleveland, meanwhile, is one of two teams not to allow a rushing TD.
■ Analysis: Cleveland RB Peyton Hillis has been a wrecking ball the past two weeks in surpassing 100 yards as the team's new alpha back. Atlanta, meanwhile, easily could be 1-3 despite facing three offenses ranked no better than 23rd. Cleveland's is 21st.
■ Forecast: Browns 21, Falcons 16
Tampa Bay (2-1) at Cincinnati (2-2)
Time: 10 a.m. Line: Bengals -6½ Total: 38
TV/RADIO: None
■ Weather: Mid-80s, clear
■ Facts: The Bucs, returning from a bye, were 0-7 exiting their break last year and beat Green Bay 38-28 as a 9½-point underdog. It was QB Josh Freeman's first start. He's since led his team to three straight road victories as an underdog dating to 2009. … Terrell Owens' 222 receiving yards for Cincinnati last week were the most by anyone since Dallas' Miles Austin had 250 at Kansas City in Week 5 last year. … The Bucs have won the past five games in this series.
■ Analysis: The Bengals are a shadow of their 2009 AFC North title team. The pass rush has disintegrated (three sacks) and their longest run is 13 yards, whereas last year they had with 17 runs of 20-plus. Tampa Bay can fare well if rookie RB LeGarrette Blount is fed the ball.
■ Forecast: Buccaneers 24, Bengals 21
Chicago (3-1) at Carolina (0-4)
Time: 10 a.m. Line: Panthers -1½ Total: 33
TV/RADIO: None
■ Weather: Mid-80s, clear
■ Facts: Chicago QBs were sacked 10 times in a 17-3 road loss to the Giants on Sunday, with Jay Cutler (out, concussion) dumped nine times. But that's no excuse for losing. In 1986, the Cowboys and Eagles yielded 11 sacks and won. … Counting the preseason, Carolina has five offensive TDs in nine games. … When Todd Collins was announced as the Bears' starting QB, the line moved 4 points in Carolina's favor. … The Bears allowed 119 rushing yards through three games until yielding 189 to the New York.
■ Analysis: Carolina couldn't get off the field last week against a relatively pedestrian New Orleans offense, giving up drives of 13, 15 and 18 plays. Bears RB Matt Forte will be Collins' best friend Sunday.
■ Forecast: Bears 21, Panthers 7
Green Bay (3-1) at Washington (2-2)
Time: 10 a.m. Line: Packers -2½ Total: 44
TV: Fox (5)
■ Weather: Mid-70s, clear
■ Facts: Favorites are 23-36-3 against the line this year. … With Redskins veteran RB Clinton Portis out (groin), Arizona State alum Ryan Torain tops the depth chart. A month ago, Washington cut him. … Packers QB Aaron Rodgers has one completion of 40-plus yards. Last season he totaled 17, tied for most in the league. … Last week, Green Bay's defense faced a Lions' offense that led the league in three-and-outs, yet forced only one.
■ Analysis: Despite getting a game ball for guiding Washington to an emotional victory in Philadelphia last week, ex-Eagles QB Donovan McNabb was only 2-for-11 with an interception during a scoreless second half. Green Bay surely has more firepower than that.
■ Forecast: Packers 31, Redskins 16
N.Y. Giants (2-2) at Houston (3-1)
Time: 10 a.m. Line: Texans -3 Total: 47½
RADIO: KXNT-FM (100.5)
■ Weather: Mid-80s, clear
■ Facts: Giants RB Ahmad Bradshaw (questionable, ankle) has six runs of 20-plus yards, most in the league, but also an NFL-high three fumbles. … Houston RB Arian Foster leads NFL rushers with 537 yards, 126 more than anyone else. In August at the Venetian, he was part of the "field" to win the rushing title at 14-1. … Houston gets standout LB Brian Cushing back from suspension. But WR Andre Johnson, who had 12 catches in Week 2, could miss his second straight game (questionable, ankle).
■ Analysis: The Giants' offensive line remains in flux, with standout center Shaun O'Hara (ankle) likely to miss his third straight game. Their pass-blocking woes combine with the fact QB Eli Manning has fumbled more times than anyone else since Week 14 last year (11).
■ Forecast: Texans 31, Giants 21
New Orleans (3-1) at Arizona (2-2)
Time: 1:05 p.m. Line: Saints -6½ Total: 44
RADIO: KXNT-FM (100.5)
■ Weather: Mid-90s, clear
■ Facts: The last times these teams met in Arizona, in 2004 at Sun Devil Stadium, only 28,019 paid to watch. There hasn't been a smaller NFL crowd since. … The Cardinals are ditching QB Derek Anderson for undrafted rookie Matt Hall out of Brigham Young. He had 22 drop-backs last week in a relief role and was sacked six times. … New Orleans is the only team that's winless against the spread this year (0-3-1). … The Cardinals were 41-10 losers at San Diego last week. Over the past two seasons, teams are 11-5-1 ATS coming off a 30-plus-point defeats.
■ Analysis: Saints defensive boss Gregg Williams has a knack for confounding newbie QBs, Hall also will be working with two rookie free-agent WRs when the team goes to four-wide sets.
■ Forecast: Saints 30, Cardinals 13
San Diego (2-2) at Oakland (1-3)
Time: 1:15 p.m. Line: Chargers -6 Total: 45
RADIO: KWWN (1100 AM, 98.9 FM)
■ Weather: High 70s, clear
■ Facts: San Diego ranks No. 1 in offense and defense. But that's no guarantee for success. The dynamic 1953 Eagles, for instance, had only the fifth-best record in a 12-team league. … A Chargers win gives them 14 in a row against Oakland, tying for the longest current streak by one team over another (Patriots over Bills). In that stretch, San Diego is 10-3 ATS.
■ Analysis: The infirmary report speaks volumes: Oakland starting RB Darren McFadden (hamstring), starting QB Bruce Gradkowski (shoulder) and top lineman Robert Gallery (hamstring) are all questionable or worse. Wonder if Oakland will have a half-empty stadium again.
■ Forecast: Chargers 38, Raiders 20
Tennessee (2-2) at Dallas (1-2)
Time: 1:15 p.m. Line: Cowboys -7 Total: 42
TV: CBS (8)
■ Weather: Mid-80s, clear
■ Facts: Tennessee RB Chris Johnson vowed in the offseason to rush for 2,500 yards this year. He's going to have to average 179 per game the rest of the way. … Under coach Wade Phillips, the Cowboys have gone 3-0 immediately after their bye week for the last three years. However, in his last two years at Buffalo (1999 and 2000), the Bills lost their first game off the break both times as a favorite. … The Titans have the NFL's most penalty yards (344) and fumbles (11).
■ Analysis: Although Dallas QB Tony Romo leads the league's No. 5 offense, two of those games came against the league's bottom-feeder defenses, No. 31 Washington and No. 32 Houston. Tennessee has enough athleticism to create problems.
■ Forecast: Cowboys 24, Titans 21
Philadelphia (2-2) at San Francisco (0-4)
Time: 5:20 p.m. Line: 49ers -3 Total: 38
TV/RADIO: NBC (3), KWWN (1100 AM, 98.9 FM)
■ Weather: High 60s, 10 percent chance of rain
■ Facts: QB Michael Vick (out, rib cartilage) and RB LeSean McCoy (questionable, cracked rib) have 87 percent of Philly's rushing yards. If McCoy can't go, the team's leading active rusher would be QB Kevin Kolb with 21. … Dating to 2005, the Eagles have beaten the 49ers four straight by at least 14 points. … New 49ers offensive coordinator Mike Johnson got off to a good start at Atlanta with an 88-yard TD march on the team's first drive. But the offense didn't get another score the rest of the way. … San Francisco is one of two 0-4 teams to be a favorite this week (Detroit).
■ Analysis: Two years ago, the NFC West was a cumulative 20 games under .500, the worst for any division/conference in history. Things aren't much better this year, which gives the 49ers hope they can rally during a stretch of five homes games in six outings. It begins here.
■ Forecast: 49ers 27, Eagles 20
MONDAY'S GAME
Minnesota (1-2) at N.Y. Jets (3-1)
Time: 5:30 p.m. Line: Jets -4 Total: 39
TV/RADIO: ESPN (30), kWWN (1100 AM, 98.9 FM)
■ Weather: Low 70s, 20 percent chance of rain
■ Facts: Under coach Brad Childress, the Vikings are 4-0-1 ATS after a week off. … New Minnesota WR Randy Moss has a reason to be mad: The trade from New England cost him his bye. … Jets WR Braylon Edwards likes to party on Monday nights, as we learned a few weeks ago. In 2008 with Cleveland, his only three 100-yard games came under the "MNF" spotlight. … New York had a league-best 273 rushing yards last week at Buffalo. … Minnesota RB Adrian Peterson, coming off 145- and 160-yard rushing games, hasn't fumbled in 2010. Last year he led all RBs with eight.
■ Analysis: Don't think the arrival of Moss will help QB Brett Favre, whose long heaves resemble a bride blindly throwing her bouquet. Also, Jets CB Darrelle Revis (hamstring) vows to play this week. Not to mention New York gets WR Santonio Holmes back from his suspension.
■ Forecast: Jets 28, Vikings 16
Last week: 6-8 vs. spread; 8-6 straight up
Season total: 33-26-3 (.559) vs. spread; 39-23 (.629) straight up