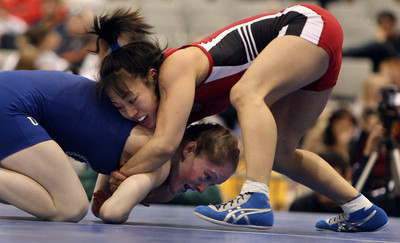 Clarissa Chun had worked so hard and had come so close to realizing her dream of being an Olympic medalist.
And when she finished fifth in the women's wrestling competition in August at Beijing, she was devastated. The notion of getting right back on the mat was the furthest thing from her mind.
Yet that's precisely what Chun did. The world wrestling championships were in Japan in October, and Chun qualified and worked her way through the 105.5-pound bracket, ultimately coming away with the gold medal.
"I had trained so hard for the Olympics," said Chun, who won the women's 105.5 pound title at Thursday's U.S. National Championships at the Las Vegas Convention Center. "I wanted to get something more out of it."
Winning a world championship took some of the sting out of her Olympic loss in China. She stayed in Japan after the Worlds, teaching English. While there, she found herself receiving a lot of media attention as well as adulation from the public. It did a lot to boost her self-esteem.
"Athletes in Japan are looked up to, and they are treated with respect," she said. "The people were wonderful to me, and it made me feel good about myself."
The Honolulu native began wrestling in high school and worked her way through the ranks. She regularly has placed high in major competitions, with her 2008 world title her biggest achievement.
"I'm not the strongest, so I use my quickness and experience to compensate," said the 4-foot-11-inch Chun, who defeated Sara Fulp-Allen by decision in Thursday's championship match, 3-0, 1-0, and did not give up a point in winning four matches. "I try to play to my strengths."
At 27, Chun knows the clock is ticking in her quest to make it back to the Olympics. To her, 2012 seems far away. Yet she knows how quickly time passes, and at the moment, her mindset is to go for London.
"That's the ultimate goal," she said. "If I can stay healthy, I think I have a good chance to make it. But the older you get, the harder it is for your body to recover.
"I'm just trying to keep healthy."
Contact reporter Steve Carp at scarp@ reviewjournal.com or 702-387-2913.