PGA golfer Reavie soars on mended knee
September 28, 2011 - 1:00 am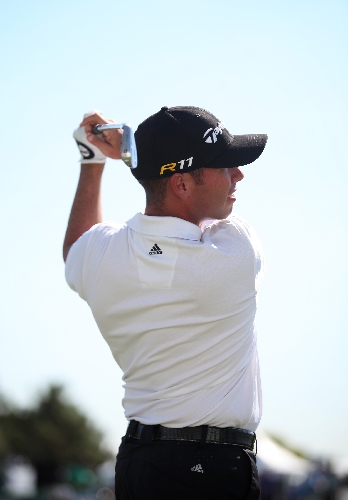 He wasn't having much success playing golf on one leg, so Chez Reavie decided to get his knee fixed, get healthy and get his game back in order.
The 29-year-old Reavie is making a strong case for being the PGA Tour's Comeback Player of the Year. After tearing the anterior cruciate ligament and meniscus in his right knee in January 2010 and having season-ending surgery that June, he has stormed back better than ever.
Reavie has had his best year since turning pro in 2004, earning $2.285 million heading into Thursday's first round of the Justin Timberlake Shriners Hospitals for Children Open at TPC Summerlin. Sitting in 31st on the tour's money list, he has a chance to crack the top 30 with a good performance this week.
"I never lost confidence in myself," said Reavie, who has locked up his playing privileges for 2012 after needing a medical exemption to compete the first six months of the 2011 season. "I understood it was a process, and I'm proudest of how I've improved week to week."
Reavie knew something was wrong when he saw his knee balloon up during the Bob Hope Classic. He's still not sure how he hurt himself, but as he attempted to play through the injury, he found himself dealing with back and neck pain from overcompensating while trying to play on one leg.
"I actually hurt my knee back in high school playing football," Reavie said. "But the doctor said not to operate because I was still growing at the time. But when I tore my meniscus, I knew I had to get it taken care of."
While going through his rehabilitation last fall, Reavie decided to take care of some unfinished business. He got his degree in political science and sociology from Arizona State, where he had attended from 2001 through 2004.
"I was three classes short," Reavie said. "My dad has been on me for years to finish, and it was the perfect opportunity. It took 10 years, but I guess better late than never."
As his knee healed, Reavie also began the task of regaining his form on the course. Now healthy, he finds himself driving the ball longer and giving himself more scoring opportunities.
"I'm a different player now," said Reavie, who has five top-10 finishes in 26 appearances this year. "Before, I couldn't hit it as long as the other guys, so I had to play almost perfect golf. I had no wiggle room. Now I've got more length in my game. My approach to how I play now is so different. I've given myself a little more margin for error."
Reavie had a strong late-season run, including a chance to win the Deutsche Bank Championship in Boston this month. Reavie lost to Webb Simpson on the second playoff hole, but the $864,000 he earned helped lock up his tour card for next year.
"I was shocked at how calm I was," Reavie said of his playoff with Simpson. "I wasn't afraid of the situation. And even though I didn't win, I had so much fun."
Still, Reavie wants to get back to winning. His only victory on tour came in 2008 at the Canadian Open. At the time, it was part of his best season as a pro, as he made $1.444 million.
"I think my game's in good enough shape to win here," Reavie said of TPC Summerlin, where he will start his first round at 12:08 p.m. Thursday from the No. 10 tee. "I've always liked coming here. It's almost a second home to me, and it would be an amazing way to end the year, winning here."
Reavie's first PGA Tour event was in 2004 in Las Vegas, and he started well, shooting 68-64 over the first two rounds of what was then the Michelin Championship. But he faltered in his final round, shooting 14-over 85 after a nightmarish 12 at the par-5 16th.
"It was a 'Tin Cup' moment," Reavie said of the debacle that resulted in a 72nd-place finish. "I hit about five balls in the water."
Don't expect history to repeat itself this week. Not with Reavie's experience, newfound confidence and two healthy legs.
■ NOTES — Lee Janzen, John Riegger, Marty Jertson and Drew Kittleson were the final four pros to make it into the field, having qualified Monday. … Henderson's Nick Watney has been paired with Jonathan Byrd and Martin Laird, the past two Shriners Open champions, for the first two rounds. Watney, Byrd and Laird tee off at 7:28 a.m. Thursday from the No. 10 tee. … Other pairings of note include former UNLV stars Charley Hoffman and Ryan Moore teeing off at 7:38 a.m. Thursday from the No. 10 tee, and former Rebels Chris Riley and Chad Campbell playing together at 11:30 a.m. from the No. 1 tee.
Contact reporter Steve Carp at scarp@reviewjournal.com or 702-387-2913. Follow him on Twitter: @stevecarprj.