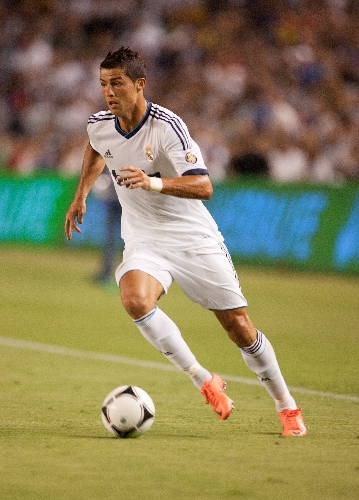 As comfortable as Las Vegas is hosting celebrities, the city can be forgiven if it acts a bit starstruck tonight.
Real Madrid is paying a visit, and in team sports it doesn't get much bigger than this.
Think if the New York Yankees showed up at Cashman Field for Big League Weekend, or the Dallas Cowboys played an NFL preseason game at Sam Boyd Stadium. Or when the star-laden U.S. men's national basketball team comes to the Thomas & Mack Center.
Multiply that excitement a hundredfold and that's the buzz Los Blancos creates.
Of course, it's easy to generate excitement when you have the world's most popular footballer, Cristiano Ronaldo, on your side.
The 27-year-old Ronaldo, Real's magical forward from Portugal, will play against Mexican League champions Santos Laguna in a World Football Challenge friendly at Sam Boyd as the reigning La Liga champions from Spain continue to prepare to defend their title this month.
Contacted by email Friday, Ronaldo said this is no pleasure trip for himself and his teammates.
"We play to win every match, and that'll be the case when we play Santos," he said. "Our season starts in a couple of weeks, so these matches are very important to getting fit and ready for the season."
Ronaldo played only the second half Thursday in a 5-1 win over 2011 Major League Soccer champion Los Angeles Galaxy at Carson, Calif. He had three good scoring chances, nearly converting a bicycle kick.
Real Madrid coach Jose Mourinho said he doesn't take lightly the responsibility of guiding a team with a worldwide reputation and high expectations.
"Pressure is part of big jobs, not just in soccer, but in every area," Mourinho said. "We adapt to it. It becomes part of our natural habitat. I love it.
"Motivation is in everything we do. It's a key component of our working philosophy. A friendly is a match, a match is to perform, and we respect our opponent and our fans and we know in a club like Real Madrid we need to perform every day."
According to Forbes Magazine, Real Madrid's franchise value is $1.88 billion, second to powerful Manchester United ($2.23 billion) among the world's richest sports franchises. The Yankees and Cowboys are next at $1.85 billion.
Those numbers largely explain why fans gladly paid up to $250 to watch Real Madrid practice Saturday at UCLA.
Tonight, all eyes will be on Ronaldo, who is paid $12 million a year and whose transfer fee from Manchester United in 2009 was $131.6 million, the richest transaction of its kind in sports history.
Among the world's most popular athletes – LeBron James, Manny Pacquiao, Tiger Woods, Michael Phelps – Ronaldo arguably is the most well-known.
"I know I have a responsibility to the fans to perform at a high level," he said. "I always try my best."
By early Saturday, 24,000 tickets had been sold for tonight's game. A crowd of 30,317 attended Thursday's friendly at the Home Depot Center in Carson.
Ronaldo knew just how to respond when told about the last time Las Vegas hosted such soccer star power – in 1977, when Portuguese legend Eusebio battled Pele during the Las Vegas Quicksilvers' North American Soccer League opener against the New York Cosmos.
"Eusebio is one of the greatest of all time and did a lot for football in our country," Ronaldo said. "He is an icon to many generations, including my own, and it is an honor to be able to play in Las Vegas as he did."
Ronaldo will face just a bit more scrutiny tonight than Pele and Eusebio did in their day. After all, Ronaldo has 12.1 million followers on Twitter and is liked by almost 48 million on Facebook.
Contact reporter Steve Carp at scarp@reviewjournal.com or 702-387-2913. Follow him on Twitter: @stevecarprj.
WORLD FOOTBALL CHALLENGE
• WHO: Real Madrid vs. Santos Laguna
• WHEN: 8 p.m. today
• WHERE: Sam Boyd Stadium
• TV: Fox Soccer Channel (Cable 335)
• TICKETS: $71, $91, $131, $181, $256