Pryor making Raiders interesting
October 13, 2013 - 9:59 am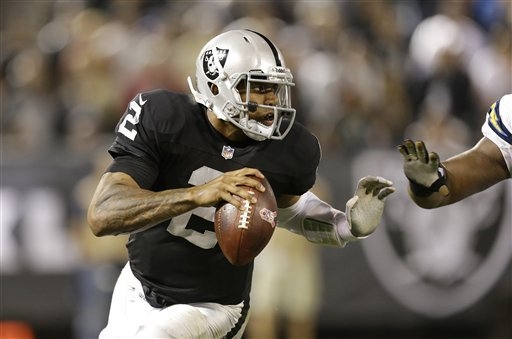 Despite a losing record, the Oakland Raiders qualify as an early-season surprise team. The positive vibes are mostly due to Terrelle Pryor's rapid progress.
Oakland's quarterback situation has been a mess for years. Pryor, a former Ohio State star picked in the NFL's supplemental draft in August 2011, is cleaning it up.
"Pryor is impressing me. He's turning out to be really good," Systemplays.com handicapper Doug Fitz said. "The Raiders are playing much better than a lot of people expected, and Pryor's excellent speed and mobility can neutralize a strong Kansas City defense."
The Raiders (2-3) are 8½-point road underdogs today, but they have turned Kansas City into a second home by beating the Chiefs six straight times at Arrowhead Stadium.
Of course, Kansas City is the league's biggest surprise, starting 5-0 after last season's 2-14 fiasco. The Chiefs were rejuvenated by adding coach Andy Reid and Alex Smith, a quarterback castoff from San Francisco.
The improvements are not all on the offensive side. Kansas City ranks No. 1 in the league in scoring defense, allowing 11.6 points per game.
Fitz, the leading handicapper in the Review-Journal NFL Challenge at 16-8-1, is taking the points and citing another series trend. The underdog is 11-1 against the spread in the teams' past 12 meetings.
"It appears the Chiefs are getting a little too much respect and the Raiders not enough judging from this big number," Fitz said. "The Chiefs continue to have serious problems scoring in the red zone despite their 5-0 record. The Raiders always play AFC West rivals tough, especially as underdogs."
Pryor passed for 221 yards and two touchdowns in Oakland's 27-17 upset of the San Diego Chargers last week. Running back Darren McFadden missed that game but might return against the Chiefs.
Fitz (@fitz_doug on Twitter) scouts the rest of today's Week 6 matchups:
■ Philadelphia (-2½) at Tampa Bay: Eagles quarterback Michael Vick is not expected to play because of a hamstring injury, but Nick Foles is not much of a dropoff, if any. The Buccaneers rank 31st in the league in total offense (274.8 yards per game) and scoring offense (11.0 points per game). I'll lean to Tampa Bay mainly because teams coming off a bye week generally play well, but it's not a strong opinion.
■ Green Bay (-3) at Baltimore: The loss of All-Pro linebacker Clay Matthews should really hurt the Packers, who rank 26th in the league against the pass. Ravens quarterback Joe Flacco seems like he might be finding his stride after a very shaky start, and Torrey Smith leads the AFC with 556 receiving yards. Baltimore is the play as a home 'dog, especially with the line moving up from 2½.
■ Detroit (-2½) at Cleveland: I'll give the Browns, who have won and covered their past three games, more than a decent chance to win. In relief of quarterback Brian Hoyer, Brandon Weeden looked good last week in the victory over Buffalo. The Cleveland defense has recorded 18 sacks, tied for third in the NFL. Detroit wide receiver Nate Burleson will likely miss his third straight game, and Calvin Johnson is a game-time decision with an injured right knee. The Lions are a risky bet as road favorites.
■ Carolina at Minnesota (-2): The quarterback matchup favors Carolina despite Cam Newton's recent slump. The Vikings will start Matt Cassel for a second time, and I don't think he can follow up his good performance in London in a victory over the Steelers. Running back Adrian Peterson will play for Minnesota, but it's tough to say how focused he and the team can be after the tragic death of his 2-year-old son.
■ St. Louis at Houston (-7½): The Texans' Matt Schaub has been a disaster, ranking 26th in the league with a 76.9 passer rating while tossing nine interceptions. The Rams are one of the league's weakest teams, but they hold a huge edge over Houston in offensive and defensive yards per point, an important handicapping consideration. With the line over a touchdown, that's too much to ask the underachieving Texans to overcome.
■ Pittsburgh at N.Y. Jets (-1): Sharp money showed on the Steelers, but I don't have a strong opinion. The Jets are in a bad spot coming off their big Monday night upset in Atlanta. After a bye, it should be a much better spot for Pittsburgh, but its 0-4 record is not deceiving. The Steelers are just not that strong on defense anymore, and the offense relies on Ben Roethlisberger to do almost everything. I lean slightly to Pittsburgh.
■ Cincinnati (-6½) at Buffalo: It's not often that I'll back this heavy of a road favorite, but the situation here for the Cincinnati defense is too good to pass up. The Bills are going with quarterback Thad Lewis, who was promoted from the practice squad and is making only his second NFL start. I just can't see Buffalo scoring enough to prevent what should be a rout.
■ Tennessee at Seattle (-13½): The Seahawks are 10-0 straight up and 9-1 ATS at home since last season. Overcoming that home-field advantage is tough enough for any team, but the Titans also have to deal with a Seattle team coming off its first loss. That's a bad combination, but I never recommend laying double digits in any NFL game, so I'll pass.
■ Jacksonville at Denver (-27): Peyton Manning has 20 touchdown passes, and the Jaguars have scored 51 points. I use a good system that applies to the Jaguars with the line in the stratosphere like this, but they are so bad I can't bet them under any circumstances. I strongly advise not to get involved with either side in this game.
■ Arizona at San Francisco (-10½): The Cardinals hold a substantial edge in overall yards per point, which is enough to put me squarely in their corner despite quarterback Carson Palmer and their offense appearing anemic. The Arizona defense has been outstanding, and that alone can keep big underdogs hanging around the number. The 49ers are 1-4 ATS in their past five games when favored by more than 10 points. This will be a closer game than most people expect.
■ New Orleans at New England (-2): I'm not getting in the way of the Saints, one of the league's top teams with one of the elite quarterbacks, getting points. Drew Brees is operating the offense at a high level, and with coach Sean Payton back, New Orleans seems fearless this year and is out to make a statement. The Patriots' Tom Brady is still dealing with an inexperienced receiving corps that is not quite on the same page with him. New England hopes to get star tight end Rob Gronkowski back this week, but it sounds as if he might sit this one out.
■ Washington at Dallas (-5½): The Redskins have owned the Cowboys recently, winning three straight and covering six in a row. Washington quarterback Robert Griffin lll finally had a good performance two weeks ago at Oakland before a bye. Tony Romo always has been a solid quarterback, but it's certainly no secret that he finds ways to throw away a close game, and this should be close. Laying more than a field goal is too much for this intense NFC East rivalry.
COMPILED BY MATT YOUMANS