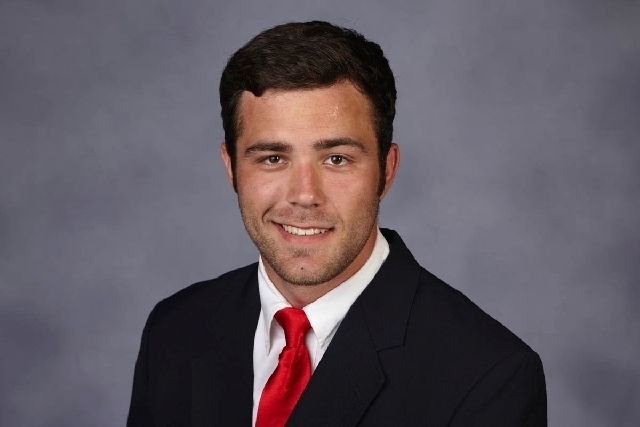 ELY — Logan Yunker grew up in Las Vegas a UNLV fan, so he felt a little strange when he donned UNR blue.
But he didn";t wear that color long, staying a year at the northern Nevada school before transferring to UNLV after the 2011 season.
Now Yunker, a sophomore who sat out last football season under NCAA transfer rules, is the leading candidate to become the Rebels"; punter.
He is competing with freshman Nicolai Bornand for the starting job. A hamstring injury has hampered Bornand, allowing Yunker to edge in front.
But Yunker wants his teammate healthy for a stronger position battle.
"I always feel like I do 10 times better with competition," he said.
Coach Bobby Hauck said Yunker (6 feet 2 inches, 200 pounds) has the makings to be a quality punter.
"He";s got decent mechanics," Hauck said. "He gets it off fast, and he";s really been hitting the ball well. If I had to choose something I like best about him, he operates fast. When the punter operates fast, you don";t have to protect much."
Yunker first chose UNR because he wanted to go away for college without traveling far. He got some grief about being from Las Vegas, but he decided to leave Reno mostly because he didn";t like the cold weather and missed his hometown.
Back in Las Vegas, teammates have ribbed him for once being with the Wolf Pack.
He looks forward to going back to Reno on Oct. 26 in a Rebels uniform.
"I am so excited," Yunker said.
NOTABLE
Freshman Henri Jussila led all rushers with 28 yards on four carries in Saturday";s scrimmage. He also had a 12-yard touchdown run. "Man, he looked good today," Hauck said of the running back from Finland. "He";s a good player. I really like him a lot. I would anticipate with our depth there he would redshirt, but if this was our first year, he might be the starter." Hauck also said he expected to play freshman Keith Whitely and junior Shaquille Murray-Lawrence, both competing to be the third running back. Whitely should get most of his early work in the season on special teams, Hauck said. The coach also plans to follow through on his practice of playing lots of backs early in the season. "Timmy (Cornett) would love to start and play every play, and then we";d never have him in November," Hauck said. … The scrimmage was light compared to recent practices, and Hauck said today";s lone practice also won";t be as physical. The team then will go hard Monday and Tuesday before dialing it down for the Aug. 29 season opener at Minnesota. "We";re pretty fatigued," Hauck said. "They";ve gone really hard 12, 13 days." … Hauck said UNLV will begin scout team work today in preparation for the Golden Gophers.
SITTING OUT
Player Pos. Status
Taylor Barnhill TE Out
Efrem Clark DL Out
Max Ehlert LB Out
Taylor Spencer WR Out
MARK ANDERSON/LAS VEGAS REVIEW-JOURNAL