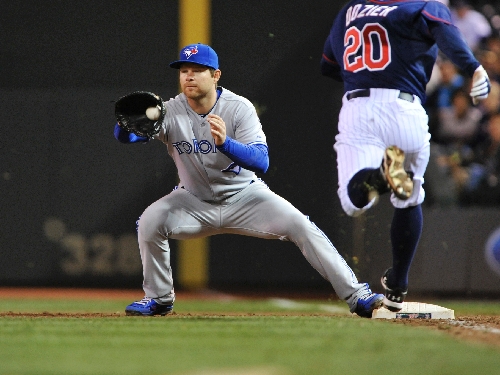 Once 51s first baseman Adam Lind stopped swinging for the fences, he naturally began blasting balls over them.
Lind launched two long balls and a three-run double Monday, and homered and doubled on Tuesday at Cashman Field, where he has hit all six of his home runs for Las Vegas since getting sent here by the Blue Jays on May 20.
"After the second day, we found a couple drills to get his rhythm back, and he's been great ever since then," 51s hitting coach Chad Mottola said. "He was pressing a little more because he was hitting the ball well, but he wanted home runs, and he kind of said, 'Forget it, I'm just going to hit the ball hard,' and he got (the homers).
"It was just a matter of time for him."
Lind credits Mottola, his former teammate, for helping him to focus more on the process and less on the results.
"That's something he preaches – that (homers) are a byproduct of a good swing," Lind said. "That's kind of why I'm in this whole mess. I kind of got obsessed with the home runs.
"I'll take my hits when I get them, and sometimes they'll go over the wall."
The 28-year-old Lind – who hit .305 with 35 homers, 114 RBIs and 46 doubles for Toronto in 2009 en route to winning the American League's Silver Slugger award at designated hitter – was optioned to Las Vegas after batting .186 with three homers and 11 RBIs in 34 games for the Blue Jays.
Lind, who will make $5 million this season in the third year of a $17.4 million, four-year contract, subsequently was outrighted to the minors by the Blue Jays and removed from their 40-man roster after clearing waivers.
"I can't control what management does," Lind said of the moves. "If they want me back in the big leagues, they'll call me up. If not, then I'll just be here."
Approaching his stint in Las Vegas with a positive attitude, Lind said he hasn't used the demotion as motivation.
"No. It was a business move," he said. "They had to make a decision, and they felt that was the best one to make."
That said, Lind has played like a man on a mission for the 51s (38-28), batting .421 (40-for-95) with six homers, eight doubles and 25 RBIs in 24 games.
He went 1-for-2 with two walks in Wednesday's 6-5 home win over Tucson (21-45) after going 9-for-14 with three homers, four doubles, nine RBIs and seven runs in his previous three games.
"That's been the main goal here, to try and get my rhythm back," he said. "I'm swinging at strikes, taking the balls and having quality at-bats.
"I've been working hard and feeling good and trying to get back in the big leagues."
Blue Jays manager John Farrell said Monday that conditioning was a factor in Lind's demotion, and the 6-foot-2-inch, 215-pound slugger said he's been instructed to lose 10 pounds.
Asked if he has lost weight, Lind, with a piece of watermelon in hand, replied, "We're working on it."
Since his career year of 2009 – when he had a .370 on-base percentage – Lind has 52 homers and 170 RBIs for Toronto but has batted .238 with a .289 on-base percentage.
Still, he remains confident he can regain his form for the Blue Jays if given another chance.
"I probably can't duplicate the success I've had here," he said. "But I definitely know I'll have better at-bats up there and do better than when I got sent down."
Contact reporter Todd Dewey at tdewey@reviewjournal.com or 702-383-0354.
LAS VEGAS — 6
TUCSON — 5
KEY: The 51s rallied for four runs in the sixth inning on RBI singles by Anthony Gose and Adeiny Hechavarria and an error by Padres pitcher Kip Wells.
NEXT: Colorado Springs (RHP Carlos Torres) at 51s (RHP Andrew Carpenter), 7:05 p.m. today, KBAD-AM (920)