Rebels dealt worst home loss since '03
November 13, 2013 - 12:01 am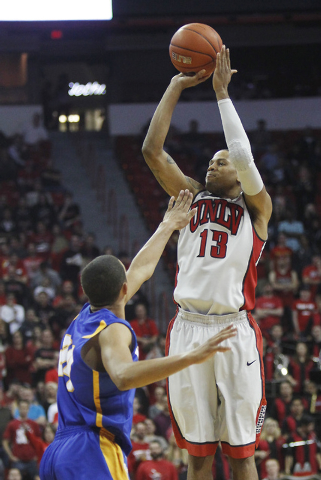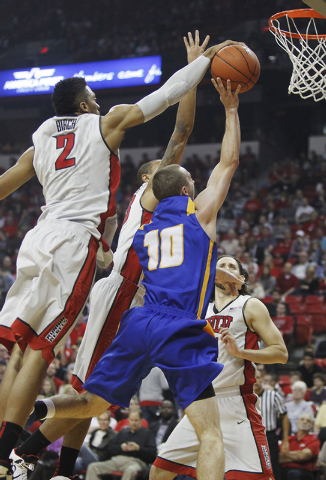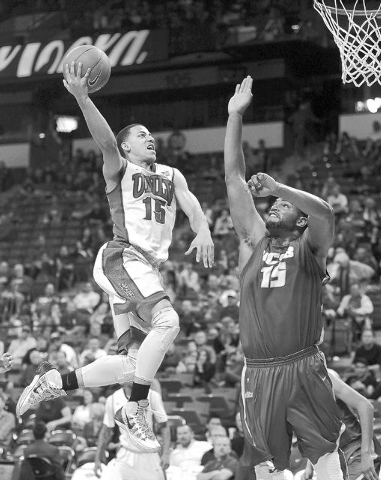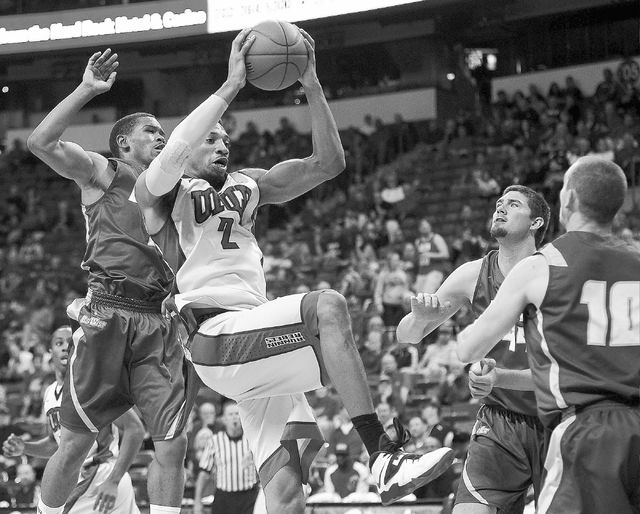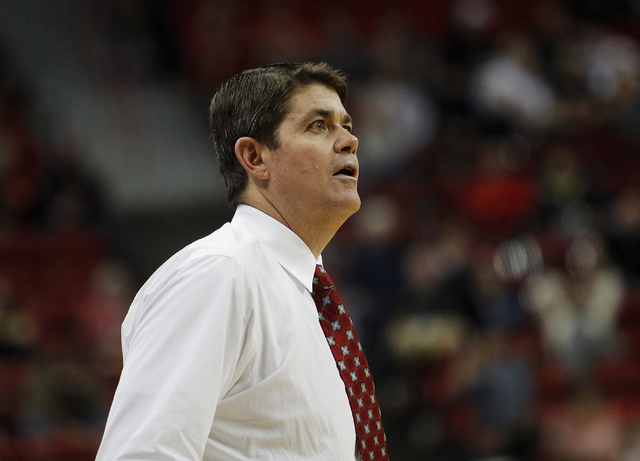 It was an upset, and it certainly could be considered a stunning one due to the severity of the beating. But Alan Williams was not surprised.
"Not at all," he said. "Fortunately, I was able to do some damage, and we just kept putting it on them."
The 6-foot-7-inch, 280-pound Williams, nicknamed "Big Sauce," scored 21 points as UC Santa Barbara poured it on in an 86-65 runaway victory over UNLV on Tuesday night at the Thomas &Mack Center.
The result stunned most of the 12,242 in attendance, as there were scattered boos and fans scrambling early for the exits.
The Rebels suffered their most decisive home loss since a 98-73 defeat to Southern California in February 2003.
Soon after UNLV was undressed and its weaknesses exposed, coach Dave Rice called it a "pitiful performance," and no one would argue.
"It was very disheartening and very disappointing. We played very, very poorly," Rice said. "There is plenty of time to figure it out, but that time is absolutely now. It's time to grow up."
The Rebels (1-1) were expected to endure growing pains this season, with Rice forced to overhaul his roster over the summer, and this one was excruciating for him.
Kyle Boswell connected on 5 of 7 3-pointers on his way to 19 points, and his shooting opened up the middle for Williams to pound away like a wrecking ball. The Gauchos' big man abused UNLV junior Khem Birch and every other defender who tried to stop him.
"For 6-7 and 280, he's got as good of feet and hands as anyone you're going to come across," UCSB coach Bob Williams said. "He's a great player, and he's getting better."
Williams, one of the best players in the Big West Conference, shot 9-for-19 and added nine rebounds and two blocks. The Rebels were dealing with numerous problems, and their refusal to double-team Williams was a big one.
"They didn't double me at all. Not once," Alan Williams said. "We were aggressive, and it seemed like they were passive at times. It was our belief in ourselves that we could come in here and get a win."
The Gauchos (2-0) closed with a 24-9 run to take a 45-29 lead to the half, and Boswell's 3-pointer extended the margin to 52-32 with 17:32 remaining.
UCSB, a 9-point underdog, shot 55.8 percent (29 of 52) from the field and led by as many as 26 points. Its zone defense left the Rebels dazed, confused and hesitant to attack.
"We tightened the zone up, tightened the zone up and tightened the zone up," Bob Williams said. "It pretty much controlled the tempo."
UNLV, which went almost five minutes without a field goal in the first half, shot 36.5 percent from the field. The Rebels' failures against a zone defense led to their demise in an NCAA Tournament loss to California in March, and not much has changed.
Senior guard Kevin Olekaibe hit 5 of 11 3-pointers and led UNLV with 15 points. The Rebels' other double-figure scorers were freshmen Kendall Smith (13 points) and Jamal Aytes (10 points).
"I think in Kevin's case, when we are playing against zone, he will be our designated shooter," Rice said. "We're going to continue to see zone until we prove we can play well against it."
UNLV's shooting woes were spread throughout the team, from Birch (1 of 7) to guards Jelan Kendrick (2 of 12), Daquan Cook (0 of 5) and Bryce Dejean-Jones, who returned from a hamstring injury to shoot 1 of 5.
"It was more silence," Olekaibe said, when asked to describe what was said by players postgame in the locker room. "Me being a senior, even though I'm new to the team, I've got to step up."
Birch made all six of his free throws, but the Rebels were 11 of 20, and poor shooting from the line is another on their long list of problems.
"We're determined to do better," Rice said. "We've got great fans who are passionate. I understand the frustration of people and appreciate the loyalty of fans hanging in there with us."
Contact reporter Matt Youmans at myoumans@reviewjournal.com or 702-387-2907. Follow him on Twitter: @mattyoumans247.