Rebels refuse to sink to opponent's level
December 20, 2013 - 11:48 pm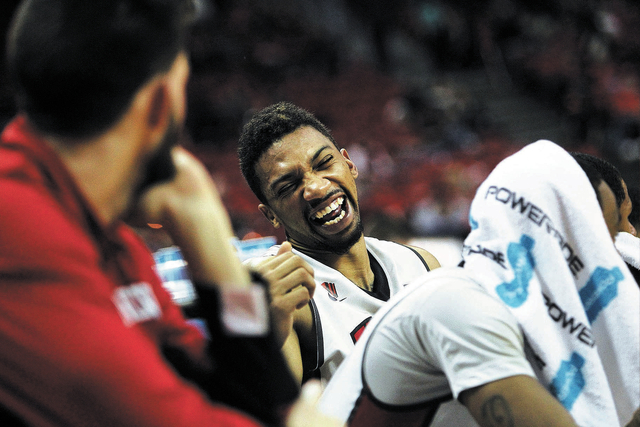 UNLV has developed a troubling tendency to play down to the level of many opponents over the last few years.
It has become almost commonplace to see teams from lesser-known schools come in to the Thomas & Mack Center and hang around for 25 minutes before the Rebels finally put on a big run late to make the final score appear lopsided.
That trend was bucked on Friday night as UNLV put an early 18-0 run on Sacred Heart en route to an 82-50 victory.
"That just came from (not underestimating this team)," junior forward Khem Birch said. "Coach told us that this was not one of the best teams (we have played), but they had their best game against Boston College, an ACC team. So we just wanted to come out just like we did against Arizona."
The thought-process proved to be successful.
After the Pioneers captured the lead with a quick 3-pointer, UNLV rattled off the next 18 points over a 5:30 stretch.
Birch made a layup inside and then Bryce Dejean-Jones made a pair of free throws and a fast-break layup.
"We got a lot of easy baskets in transition to help us get to an early lead and we just tried to build on that," Dejean-Jones said.
Birch converted a 3-point play in the lane before Roscoe Smith hit a jumper from the free throw line against a loose Sacred Heart zone.
Kendall Smith then finished consecutive fast breaks with layups before hitting a jumper in the paint. Smith then extended his personal streak to seven straight points by making 1 of 2 free throws to complete the run.
Much of the work was done on the defensive end where the Rebels forced the Pioneers into six missed shots and five turnovers during that span. The 18-3 edge turned into a 42-15 halftime lead.
"I thought the first half we played fantastic. The defense was sensational and any time you go into halftime with a 27-point lead and having only allowed 15 points, you're going to be happy with that," UNLV coach Dave Rice said. "I challenged the guys at shootaround and said, 'Sacred Heart will be playing their ninth road game and have played their best against their best competition.' We had to come out ready to play.
"I told them every single guy in this locker room has got to do everything he has to do from pregame meal to warmups to be ready to come out and play and I thought we did that."
The lull that often affects UNLV did come, but it happened with the game pretty well in hand. Sacred Heart went on a 19-6 run over a 6:36 stretch in the second half against a content Rebel side that had built a 36-point lead.
"There was a stretch in the second half where we didn't play our best," Rice said. "But we played better at the end of the game and I think that will carry into our games this weekend."
Contact reporter Adam Hill at ahill@reviewjournal.com or 702-224-5509. Follow him on Twitter: @adamhilllvrj.