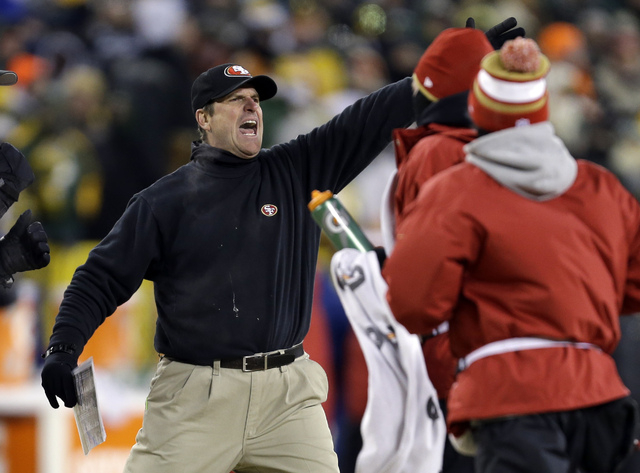 The Cleveland Browns were the last team to have a head coach under contract for next season in the NFL.
Before deciding to hire Mike Pettine, however, the team may have tried to acquire a coach via trade.
Pro Football Talk's Mike Florio reported that Cleveland had reached out to the San Francisco 49ers to make a deal that would have sent San Francisco coach Jim Harbaugh to Cleveland in exchange for multiple draft picks.
Florio said that the deal was in place, but Harbaugh ultimately opted to say no to the trade. Had he gone, he would have coached in the same division as the Baltimore Ravens, who are coached by his brother, John.
Ian Rapoport of the NFL Network tweeted that a 49ers source called the report "completely false. Ridiculous." Cleveland has yet to deny the report.
SI.com said that the trade prospect is noteworthy because of Harbaugh's contract situation. He has two years left on his five-year, $25 million deal and while the two are discussing an extension, news outlets including the San Jose Mercury News have reported that general manager Trant Baalke's ultimate control over roster decisions has been a point of discussion.
Harbaugh coached the 49ers to the NFC Championship game in his first year in 2011. He reached the Super Bowl in 2012 and returned to the NFC Championship in 2013.
A coach being traded is not entirely unheard-of in the NFL. Jon Gruden moved from the Oakland Raiders to the Tampa Bay Buccaneers for four draft picks and cash. The Buccaneers beat Oakland in the Super Bowl at the end of that season.
The Jets also traded coach Herman Edwards to the Chiefs for a fourth-round pick in 2006.