Rock 'n' Roll Las Vegas Marathon is winner's first time in first place
November 18, 2013 - 12:24 pm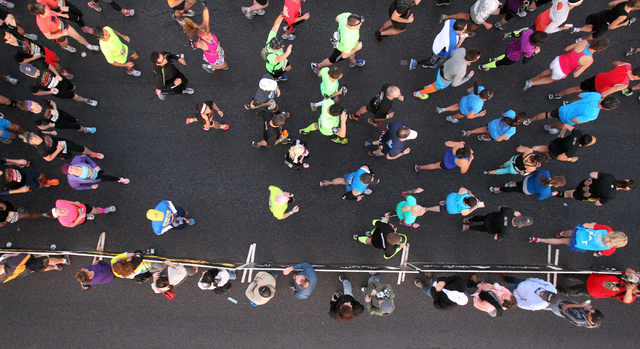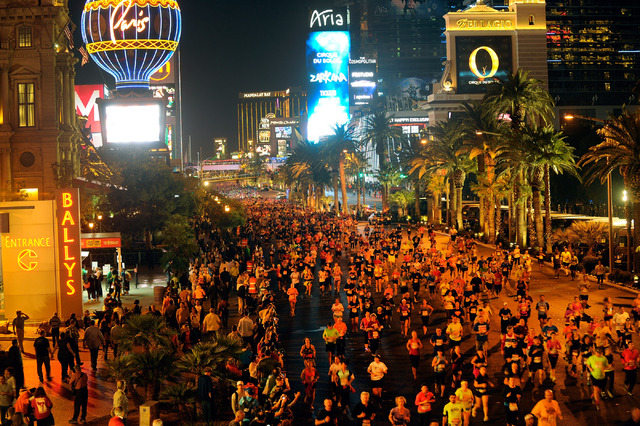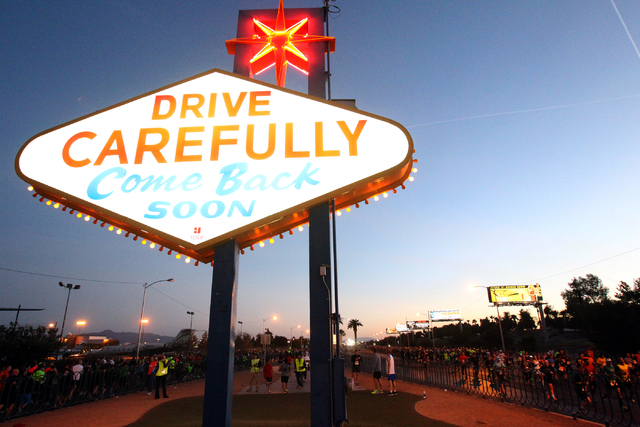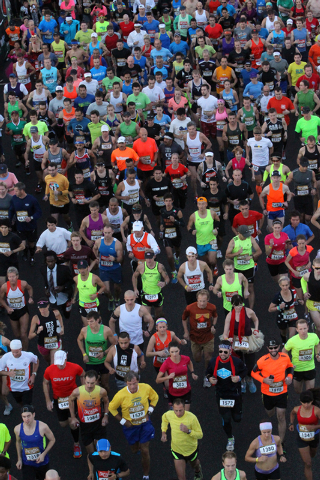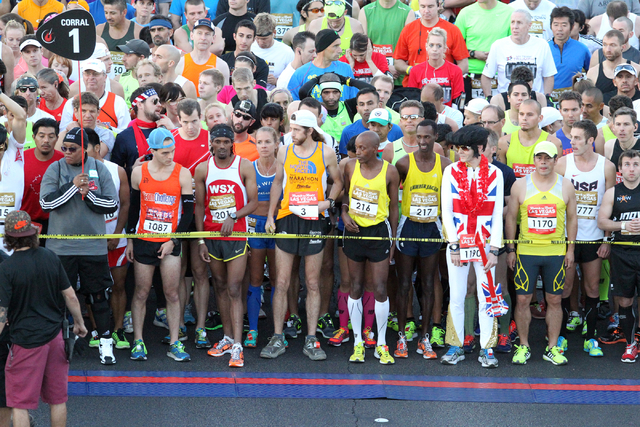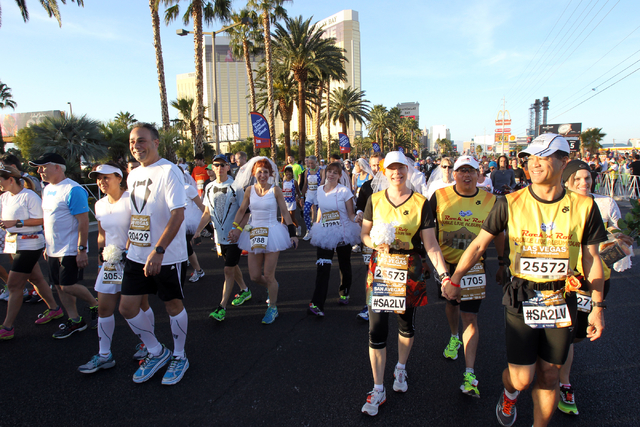 While on a six-month deployment to the Al Udeid Air Base in Qatar, located in Southwest Asia, U.S. Air Force Captain Jason Brosseau trained for the Rock 'n' Roll Las Vegas Marathon in temperatures averaging more than 100 degrees with up to 80 percent humidity.
On leave in Las Vegas on a perfect Sunday night for running, Brosseau barely broke a sweat en route to winning his first marathon with a time of 2:35:26.
"I was training in the sand and training in the heat," the 28-year-old from Colorado Springs, Colo., said. "I come here, there's sand but the heat's gone. I love it."
Brosseau, who returned from Qatar on Oct. 30, placed third in the Air Force Marathon in 2010 but hadn't run a marathon in 17 months before holding off Las Vegas resident Andrew Duncan (2:35:35) by 9 seconds in the 26.2-mile race that started in front of Mandalay Bay and finished in front of The Mirage.
"I didn't know what was gonna happen, when you're six months away from your family eating crappy food," he said. "My workouts leading up to this didn't tell me I was gonna win. As far as I'm concerned, it was a fluke.
"Everything fell into place. I had great fans, great weather and a flat course."
Yon Yilma of Edmonds, Wash., who finished fourth, led the marathon most of the way before fading down the stretch.
"On mile 18, I saw him. He was cramping up," Brosseau said. "I said, 'I'm gonna run this guy down.' I passed him with about two (miles) to go and took the win."
Brosseau, who ran track and cross country at Southern Illinois, needed a finishing kick to pull away from Duncan, who passed him on mile 14 and stayed close to him the rest of the way.
"Not until the end did I pull away," Brosseau said. "I'm a track runner, so I knew if it came down to kick, it was all me, so I waited until there was a mile to go and I made my move."
With the marathon and half marathon starting at the same time, Brosseau wasn't sure what place he was in until the courses split at mile 9 and he was told he was in fourth place.
"I was like, 'Awesome.' I thought I was in like 20th," he said.
While the half-marathon course was contested almost entirely on the Strip, the marathon route twice took runners under the Fremont Street Experience, which wowed Brosseau.
"In old Vegas, when you go through that tunnel, it's amazing," he said. "When you've got that many people cheering for you and lights everywhere, it felt great."
Elite American marathoner and ultramarathoner Michael Wardian was one of more than 200 runners who competed in two full or half marathons Sunday — in San Antonio in the morning and Las Vegas at night.
Going the distance in both races, Wardian won the San Antonio marathon in hot and humid conditions in 2:31:19 but came up short in Las Vegas, taking 10th place (2:57:56) after a fast start.
"I lost my legs in the second half," he said. "I lost my stomach and had to go to the bathroom a couple times. That doesn't work during a marathon."
The 39-year-old from Arlington, Va., was still pleased with his effort and thoroughly enjoyed himself, high-fiving some of the hundreds of fans who lined the Strip before crossing the finish line.
"This is a great place to run. What an amazing event. I would love to come back. That was a fun day," he said. "I ran as hard as I could. It just wasn't enough."
Nuta Olaru cruised to her second straight win in the women's marathon and reigning American half-marathon champion Adriana Nelson won the half- marathon in equally dominant fashion.
Olaru, who finished in 2:58:46, beat second-place finisher Jennifer Benitez (3:04:48) by more than six minutes and Nelson (1:18:10) beat Jennifer Boyd (1:22:38) by more than four minutes.
"I like the lights," said Olaru, who placed second in the recent Denver Marathon. "The lights give me a power in the night."
Olaru and Nelson, both originally from Romania, are friends who traveled here together from Boulder, Colo., where they both live.
Nelson, who was the top American finisher at the recent New York City Marathon, entered the race on the spur of the moment. She and her husband came to town to promote their business at the Health &Fitness Expo, where she worked nine hours Friday and 10 on Saturday.
"I didn't even plan to run here. I just couldn't stand to be here and not race," she said. "This is like one of my dreams actually to run here. It's so awesome. So many people are here cheering you on and the lights. It's amazing."
In the men's half-marathon, Fidele Jefferson (1:06:17) edged Tefera Deneke (1:06:26) — his friend and training partner from Flagstaff, Ariz.
They ran up front together for virtually the entire 13.1-mile race before Jefferson, originally from the African nation of Burundi, pulled away.
"I just kicked in the last 400 meters, but I was feeling good the whole time," he said. "We were aiming to run a little bit faster but we fell short a little bit.
"The pace was a little bit slow, so we decided to take it easy and to win No. 1 and 2. We're good friends. This guy has helped me a lot. I could've gone faster, but there's no point."
Ahmed Osman, who finished fourth, also trains in Flagstaff with Jefferson and Deneke, who was coming back from a hamstring injury and hadn't run a marathon for almost a year.
"I'm still struggling to push the pace, but I told (Jefferson) to just push, push," said Deneke, originally from Ethiopia. "We just help each other. It doesn't matter (that he beat me). We're best friends."
The fifth running of the Las Vegas marathon under the Rock 'n' Roll banner — and the third year it was run on the Strip at night — featured a total of 26,337 runners: 20,814 in the half marathon, 3,023 in the marathon and 2,500 in the Zappos.com Half of the Half.
Grant Berthiaume of Tucson, Ariz., won the wheelchair marathon in 2:08:38.
Contact reporter Todd Dewey at @reviewjournal.com or 702-383-0354. Follow him on Twitter: @tdewey33.