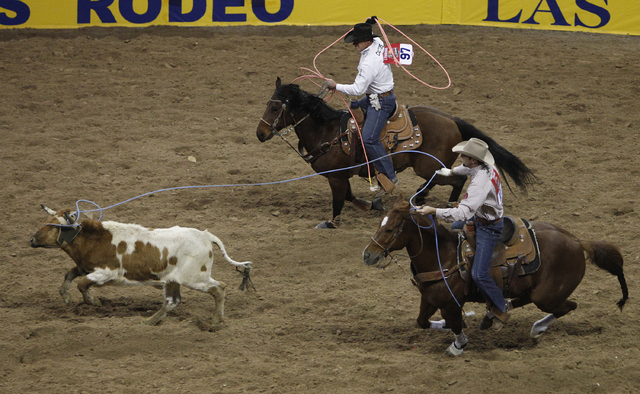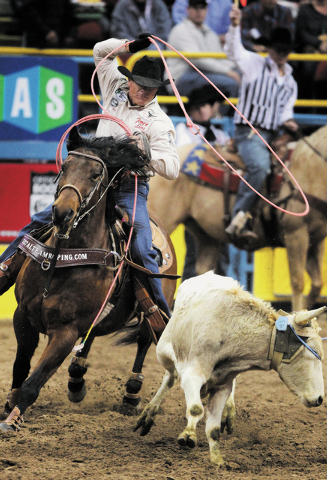 Long before Clay O'Brien Cooper won seven team roping heeler world titles — and narrowly missed winning a record-tying eighth last year at age 51 — the Gardnerville resident enjoyed a colorful career as a child actor.
Cooper made his acting debut alongside none other than John Wayne in the 1972 film "The Cowboys" — which follows a rancher, played by The Duke, who is forced to train a group of young boys for a 400-mile cattle drive.
Cooper, who turned 10 years old during the shooting of the film, played a boy named Hardy Fimps and relished the chance to work with Wayne.
"It was a great experience for a young person my age that had watched John Wayne movies and was familiar with what a great American and hero figure that John Wayne was," he said. "It was a great blessing to have an opportunity as a little kid to play in a movie with an icon of American history."
Cooper said The Duke was the same as most of the characters he portrayed.
"He presented himself off camera exactly as he did on camera. He was the same guy," he said. "That's why he was such a legend, for who he was and the things he stood for."
Cooper was introduced to the movie business by his stepfather, Gene O'Brien, who wrangled horses for TV shows such as Bonanza and Gunsmoke, which Cooper also appeared in.
"That's how I got to try out for 'The Cowboys,' " he said. "I was blessed to have the opportunity to work with some really cool people, (including) John Wayne and James Garner.
"I was a little kid with starstruck eyes. You'd pinch yourself and wonder if it's really you and it's really happening. I was just blessed to be in the right spot at the right time. My life's been a fairy tale."
Once Cooper's voice changed and he couldn't land child roles anymore, he turned his attention to rodeo and never looked back.
"I've always roped since I was a little kid. It's what I loved to do and what I wanted to pursue, so that's the direction I went," he said. "I've been blessed with the opportunity to do what I've always loved and enjoyed doing. It's been a good life."
Much like Cooper looked up to Wayne, Justin Van Davis has the utmost respect and admiration for Cooper, his team roping partner at the National Finals Rodeo.
"He's an idol to most of us guys that team rope," Davis said. "He's one of the best heelers there's ever been. We all look up to him."
Considering Cooper made his NFR debut in 1981, the year before Davis was born, he probably has a hat or pair of boots that's older than Davis.
"There's a pretty good chance of that since he made the NFR 27 times and I'm only 31," said Davis, competing in his first NFR. "We get along really good. I'm a good listener and he's got a lot of knowledge, so the two go together pretty good."
Cooper spends time in Morgan Mill, Texas, in the winter but has called Gardnerville home for the last three years. He and his wife, Alisa, who is from the Reno area, moved to Gardnerville after their two adult daughters, Bailey and Quinn, left home.
At about the same time, Cooper decided to give rodeo another shot.
"I wanted to see if I could still compete at the top level," he said.
The answer was evident last year, when he won his fourth NFR average title (73.4 seconds on 10 head) and placed second in the world standings with $189,666 — just $1,131 behind Fallon's Jade Corkill — 18 years after his last world title.
"When I started back last year on the road to try and qualify for the NFR, I didn't really know where I stacked up competition-wise, because I haven't traveled very hard for several years. So it was a great year," Cooper said. "I was grateful to have the opportunity and be able to compete at a high level against the best in the world. It was cool to be able to do that."
Cooper helped Chad Masters win the team roping header world title last year and they plan to team up again next year.
Cooper and Davis — who qualified 14th and 15th, respectively, this year — finished second in Thursday's first round with a time of 4.90 seconds but didn't place Friday or Saturday at the Thomas &Mack Center.
If this rodeo thing doesn't work out, maybe Cooper can take another crack at acting. It was recently reported that Tommy Lee Jones will write and direct a remake of "The Cowboys."
Contact reporter Todd Dewey at tdewey@reviewjournal.com or 702-383-0354. Follow him on Twitter: @tdewey33.