Rousey picks up first KO win, retains title
February 22, 2014 - 11:23 pm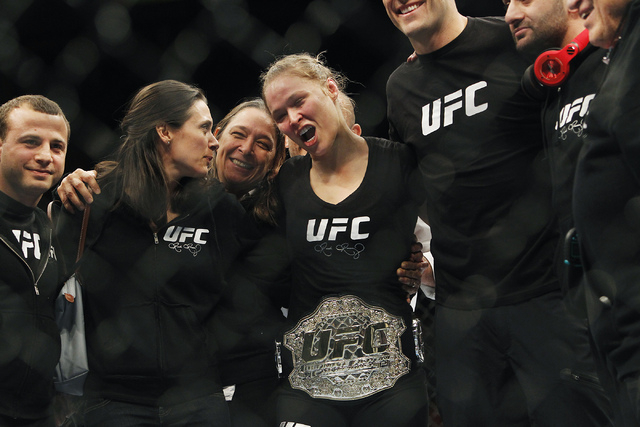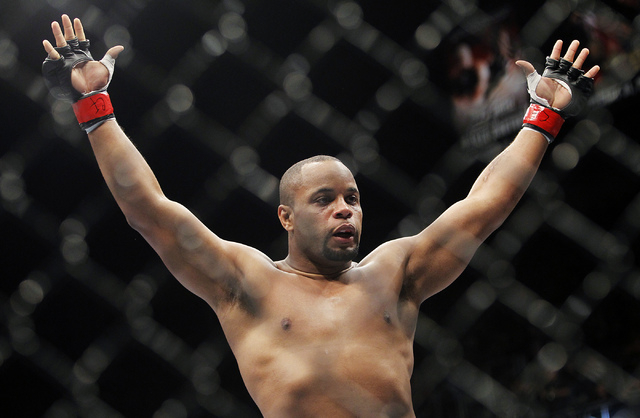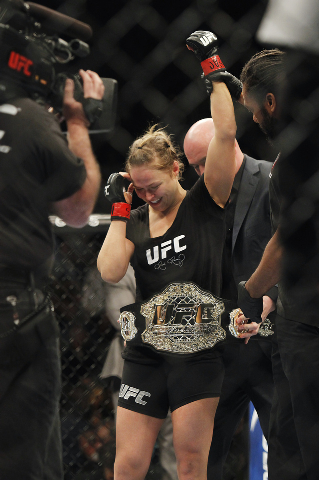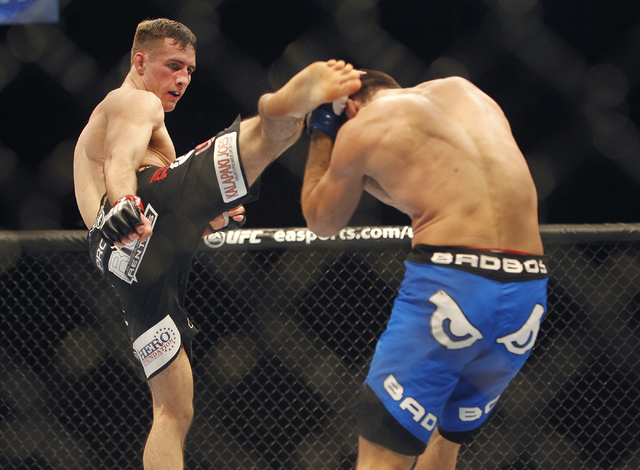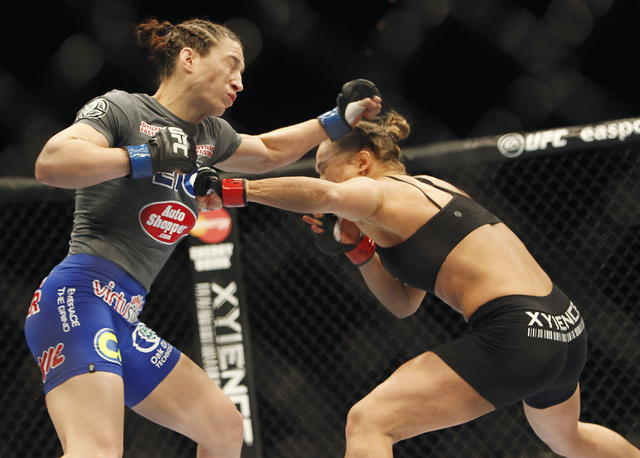 In preparing to fight Ronda Rousey, Sara McMann insisted she was plenty ready to defend against the champion's signature armbar.
Unfortunately for the challenger, what she couldn't train for proved to be her downfall.
Rousey remained unbeaten and retained the Ultimate Fighting Championship women's bantamweight title with a first-round TKO of McMann in the main event of UFC 170 at Mandalay Bay on Saturday night.
McMann dropped to her knees after Rousey delivered a right knee to the body, and referee Herb Dean immediately stepped in to stop the fight at just 1:06 of the opening round.
McMann said it's difficult to simulate something like getting a crushing blow to the midsection at practice.
"I got hit in the liver," McMann said "That's hard to train for."
The fans immediately expressed their displeasure at what they seemed to believe was a quick stoppage with a chorus of boos, but McMann refused to complain.
"I was trying to get back up. It's my own fault," the 2004 Olympic wrestling silver medalist said. "You see a fighter drop like that, it's (the referee's) job to protect us. I should have tried to get back up faster."
The end result was just another victory for Rousey, who improved to 9-0 as a pro and defended the belt for the third time.
It was, however, the first time she didn't end the fight with the armbar.
"People forget I won the title for the first time a year after my first pro fight. I'm learning still," Rousey said. "I'm feeling more well-rounded as a martial artist now. I'm not just looking for one particular finish. I'm looking for what's available."
The fight marked the first fight between Olympic medalists in UFC history. The anticipated battle between McMann's wrestling and Rousey's judo never truly materialized.
McMann landed a couple of hard right hands early, and Rousey pushed her to the cage. Both fighters landed a few shots in the clinch, including a big right elbow by Rousey.
Moments later, her knee ended McMann's night.
"I didn't think (the stoppage) was too soon. I would've kept going if nobody stopped me," Rousey said. "But that's why there's a referee in there to make sure nobody gets hurt."
The co-featured bout ended nearly as fast.
Daniel Cormier made quick work of late-replacement Patrick Cummins with a first-round knockout in a light heavyweight bout.
Cormier said he was irritated by all the talking Cummins did after accepting the fight just 10 days out as an injury replacement for Rashad Evans.
"It had to happen this way. It couldn't have gone the distance. I'm mad he even landed two punches because of all the talking he did," Cormier said after scoring a knockout in just 1:19. "When you talk, you better be able to back it up. That's what I do."
The rest of the main card consisted of three welterweight bouts.
Rory MacDonald bounced back from a surprising loss to Robbie Lawler in November with a unanimous decision victory over Demian Maia.
MacDonald spent the majority of the opening round on his back as Maia dominated position. MacDonald worked his way back to his feet in the closing moments of the round and took control.
He picked apart an exhausted Maia throughout the rest of the fight to take the final two rounds on all three scorecards.
MacDonald has long been viewed as a potential future champion, but suffered a big setback with the loss to Lawler, who will fight for the belt in March.
MacDonald proclaimed himself back on track.
"The animal's back," he said. "I'm ready to kick some ass. I'm ready to kill."
Las Vegan Mike Pyle won his fifth fight in six tries with a third-round finish of TJ Waldburger. The 38-year-old Pyle was in dominant position on the ground and landed a string of unanswered, undefended elbows and punches before referee Herb Dean stepped in to save Waldburger.
Former professional kickboxer Stephen "Wonderboy" Thompson showed off his striking skills with a first-round knockout of Robert Whittaker.
Thompson landed a crushing right hand to send Whittaker to the ground, then followed it up with a series of shots to prompt the stoppage at 3:43 of the opening round.
All four fights on the televised portion of the preliminary card went the distance.
The most relevant of the bouts, at least in terms of the title picture, was Raphael Assuncao's win over Pedro Munhoz.
Assuncao made his case to be the next challenger to bantamweight champion Renan Barao by winning all three rounds.
The win was his sixth in a row.
"My record speaks for itself," Assuncao said about whether he would start lobbying for a title shot. "I'm not going to change who I am or the way I promote fights just to get a title shot, but I think I've done plenty to earn that shot.
"I'm ready to go if that's what the UFC wants."
Former Bellator champion Zach Makovsky improved to 2-0 in the UFC with a unanimous decision win over Josh Sampo.
Also, Alexis Davis and Aljamain Sterling earned decision victories.
The untelevised portion of the prelms featured former featherweight contender Erik Koch scoring an impressive first-round knockout in his lightweight debut.
Koch landed a right hand and followed with a series of big shots on the ground to finish Rafaello Oliveira at 1:24 of the opening round.
Also, Ernest Chavez defeated Yosdenis Cedeno by split decision in a lightweight bout to open the preliminary card.
Contact reporter Adam Hill at ahill@reviewjournal.com or 702-224-5509. Follow him on Twitter: @adamhilllvrj.