Runner competes in Las Vegas half marathon despite stage 4 cancer
November 13, 2016 - 11:18 pm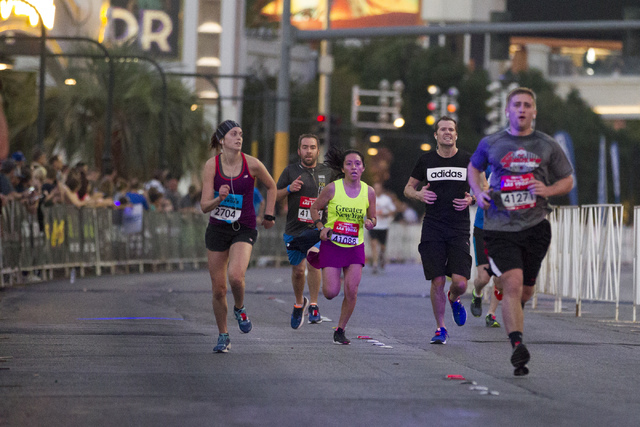 For many, running events can be deeply personal.
For Alexandra Charpentier of Austin, Texas, that's certainly the case.
Charpentier, 47, was diagnosed with stage 4 lung cancer at the end of June after becoming breathless on a tennis court.
"In a two-week period, I went from 'You have pneumonia to you have cancer to you have lung cancer to you have stage 4 and we're so sorry it's inoperable and incurable,' " she recalled.
As a single mom with two kids, she refused to let cancer dictate her life, so she ran the half marathon and raised $7,500 for the Bonnie Addario Lung Cancer Foundation in California.
"It was emotional at the start," she said. "I knew it was going to be different, but again, I've got two young kids. … Yes my life has changed, but my life isn't over. Mommy has a chance."
Youngster impresses in half marathon
One of the youngest runners in the half marathon was also one of the top finishers.
Jayden White, a 12-year-old from North Carolina, finished the race in 1:32:03.
It was the second half marathon for White, who ran one in 1:35:00 last fall.
White started running when he was 5, and with an eye toward the future, said one of the things he likes about running is that it could lead to a good scholarship and a lot of money.
He said he enjoyed his run on the Strip with all the energy and excitement of the race.
"I feel free," White said.
Harris completes 131st event
Joe Harris was first challenged to run a 5K in June 2004.
He did it and said it almost killed him. But it also felt good and it was the hook that got him into running.
Later that year, he was invited to run a half marathon that was taking place in January. That was his first Rock 'n' Roll event, and he fell in love with them.
Most events have been half marathons, but he's run his fair share of marathons, too.
Sunday, it was the half again, for his 131st Rock 'n' Roll event — the most of any competitor — at one of his favorite courses.
"I love this course. This is such a great course. Running up the Strip is just so, so cool. It's Las Vegas," he said. "Everything is bigger and better. It's just so exciting. To think they only close the Strip twice a year and one of them is for Rock 'n' Roll. I'm just so happy to be here."
10K winners
Stewart Reich of Frederick, Maryland, paced the men, finishing in 32:07.
His wife, Stephanie, finished first among the women in 36:31.
Las Vegan Christopher Clark finished ninth overall — eighth of the men — at 37:31.
Contact Betsy Helfand at bhelfand@reviewjournal.com. Follow on Twitter: @BetsyHelfand
RELATED
Viva Las Vegas! 'Elvis' wins Rock 'n' Roll marathon
Only in Las Vegas: Couples hit run-thru weddings during marathon