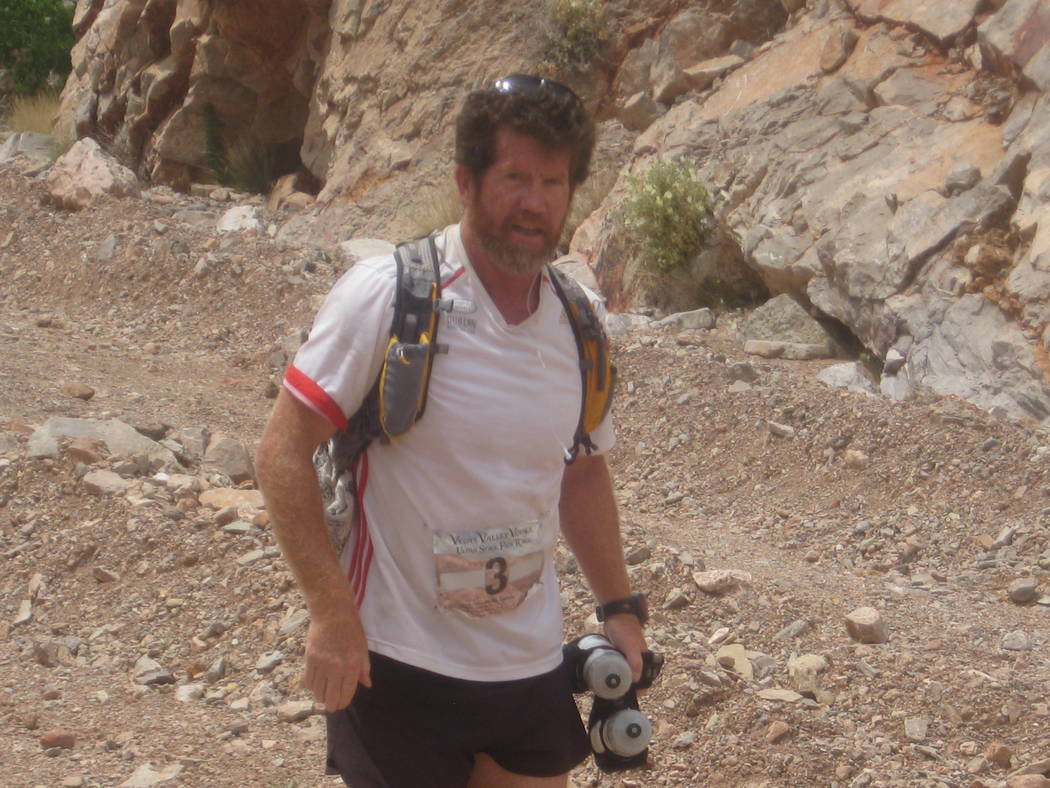 Hot, sweaty and with approximately 120 miles of desert still to traverse, Mike Lynch decided he wasn't smart enough to quit the greatest challenge of his running career.
The retired Aeropostale worker kept trudging along on the Vegas Valley Voyage, a six-day, 150-mile stage race that's one of four in the United States. When he crossed the finish line on the sixth day, Lynch gave himself a rare moment to bask in the accomplishment of finishing, and soon he'll be chasing that same feeling when the race returns to Las Vegas and the Mojave Desert on Thursday.
"I've done a lot of marathons and ultras, and unless I'm going very hard on them and trying for a certain time, I'll get done and start thinking about the next race," Lynch said. "You come out of this experience, and it's a tremendous relief. You look back and you kind of wonder, 'how did I do that?'"
Lynch was egged on to sign up last year by race organizer Joyce Forier, who started the event after running a similar stage race in Madagascar. Runners are timed going from one race camp to another in a stage race, sleeping overnight before getting up to tackle another stage the next day.
Lynch ran a 50-mile race leading up to the event to prepare for its longest stage, 42 miles on Day 5, but still had to push himself to keep moving day after day.
"I'm so used to doing a race and coming back home and not doing anything for a couple days," Lynch said. "To get up the next day and basically do another marathon, it's tough."
Lynch competed in the assisted division of the race, meaning he only carried items such as food, water and first aid equipment, while organizers moved things such as his sleeping bag and clothes from stage to stage. There's also a self-supported division, in which runners have to carry their equipment throughout the race, including a list of required items for personal safety.
"It is a very limited number of people that can take this on," Forier said. "It's such an extreme feat."
Those who do take it on will find themselves moving through the Black Mountains, the Muddy Mountains and even by the Virgin River as they navigate the race's terrain. No course map is given, so runners have to rely on colored flags and their own compass to make their way to each checkpoint and each race camp along the way.
"There's a lot of quiet time. It gives you time to think," said Forier, describing her experience in a stage race. "I laughed, I cried, I swore. You go through all of it."
The recreation notebook appears Wednesdays. Ben Gotz can be reached at bgotz@reviewjournal.com. Follow @BenSGotz on Twitter.
Calendar
Thursday-Tuesday: Vegas Valley Voyage, Las Vegas
Saturday: Moms Rock! (5K, 1.7 miles), Las Vegas
Saturday: Run for Life (10K, 5K), Henderson