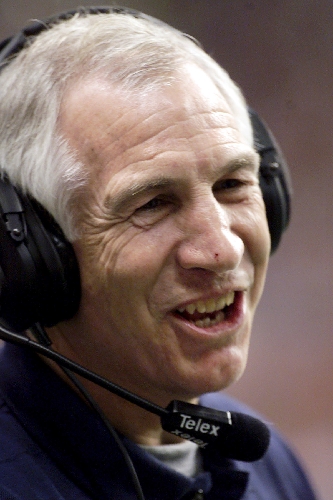 NEW YORK — A former Penn State football assistant coach charged with sexually abusing eight boys in a scandal that has rocked the university said Monday that there was no abuse and that any activities in a campus shower with a boy were just horseplay, not molestation.
In a telephone interview aired Monday night on NBC News' "Rock Center," Bob Costas asked Jerry Sandusky if he's a pedophile, and Sandusky responded, "No."
Meanwhile, The New York Times reported on its website late Monday that close to 10 additional suspected victims have come forward to authorities since Sandusky's arrest, according to people close to the investigation. The paper said police were working to confirm the new allegations.
Sandusky, once considered veteran coach Joe Paterno's heir apparent, was arrested more than a week ago and is charged with sexually abusing eight boys, some on Penn State property, over a 15-year span.
"I am innocent of those charges," the 67-year-old Sandusky said. "… I could say that I have done some of those things. I have horsed around with kids. I have showered (with them) after workouts. I have hugged them, and I have touched their legs without intent of sexual contact."
Asked if there was anything he did do wrong, Sandusky said, "I shouldn't have showered with those kids."
Athletic director Tim Curley and Penn State vice president Gary Schultz are charged with perjury but maintain their innocence. Paterno and president Graham Spanier were ousted from their jobs for not doing enough after Sandusky was accused of assaulting a young boy in the showers of the campus football complex in 2002. Paterno is not the target of any legal investigation, but conceded he should have done more. Spanier, who remains a tenured faculty member, has said he would have reported a crime if he'd suspected one had been committed.
The interview with Costas was Sandusky's first public comment on the charges. He had previously maintained his innocence through his attorney.
A spokesman for Pennsylvania Attorney General Linda Kelly declined to comment on the interview, citing the active investigation.
Sandusky's attorney, Joe Amendola, told CNN on Monday that his client was just behaving like "a jock."
"Jerry Sandusky is a big overgrown kid," Amendola said. "He's a jock, and for anybody who's ever played sports, you get showers after you work out. … What I'm being told happened is that Jerry was in the shower with this kid, the kid was messing around, having a good time, you had (former graduate assistant and now wide receivers coach Mike) McQueary come in and see that. He felt uncomfortable."
McQueary told a grand jury he saw Sandusky sodomizing a boy about 10 years old in a shower at the Nittany Lions' practice center in March 2002. McQueary did not go to police but instead told Paterno, Curley and Schultz, although it is unclear how detailed a description he gave. Schultz, in turn, notified Spanier.
Amendola accused the attorney general's office of having "thrown everything they can throw up against the wall." He said some of the allegations, such as putting a hand on a boy's knee, do not constitute criminal conduct and other cases include no direct complaint by the boy.
"They have other people who are saying they saw something, but they don't have actual people saying, 'This is what Jerry did to me,' " he said. "We're working to find those people, and when the time comes, and if we are able to do that, we think this whole case will change dramatically."
The Associated Press has made several efforts to reach Sandusky by phone and through his attorney, but messages haven't been returned. The AP also knocked on Sandusky's door and left messages at least three times over the past week.
When Sandusky retired in 1999, at just 55, he cited his desire to devote more time to The Second Mile, a charity he founded in 1977 to help at-risk kids. According to the grand jury report, however, Sandusky was a sexual predator who used the charity and his Penn State connections to prey on young boys.
Though Sandusky was not particularly close with Paterno, he remained a familiar sight around the Penn State football complex. He was given an office in the East Area Locker building, across the street from the football building, as part of his retirement package, and would take Second Mile kids around the football facilities.
The Sandusky interview came on a day when it was announced the president of The Second Mile had resigned. Jack Raykovitz, a practicing psychologist who had led the group for 28 years, said he hoped his resignation, accepted Sunday, would help restore faith in the group's mission.
Separately, the Big Ten Conference has decided to take Paterno's name off its championship trophy. League commissioner Jim Delany said that it is "inappropriate" to keep Paterno's name on the trophy that will be awarded Dec. 3 to the winner of the conference's first title game.
The trophy will now be called the Stagg Championship Trophy after football pioneer Amos Alonzo Stagg, who won 319 games in 57 years at the University of Chicago.