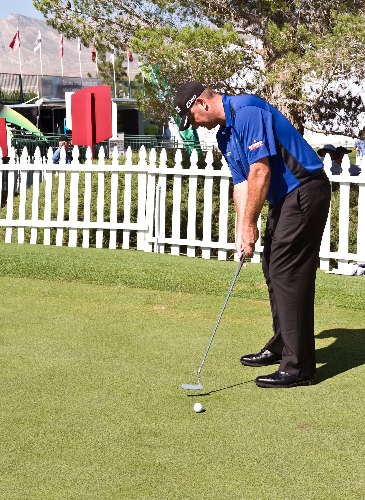 The numbers say otherwise, but Bill Lunde insists he's playing better than he did last year, when he won on the PGA Tour for the first time and banked more than $1 million.
The former UNLV All-American is gearing up to prove that point in the Justin Timberlake Shriners Hospitals for Children Open, which begins Thursday at TPC Summerlin.
"It's hard to explain," the 35-year-old Lunde said. "But I feel better about my game. I haven't won; I don't even have a top-10 (finish). But I've played well and putted well. I just haven't been able to finish strong during the weekend."
Lunde's easygoing mindset is enabled by his exempt status on Tour. Though he is 117th in 2011 earnings with $610,948, dangerously close to dropping out of the top 125, his playing status is secure because of his victory on Aug. 8, 2010, in the Turning Stone Resort Championship at Verona, N.Y.
"In the bigger picture, it doesn't change anything," Lunde said. "You still want to play well and be above 125. It's a pride thing. But as for playing knowing that if you don't produce you're going back to (qualifying) school, it's a huge difference. I'm much more relaxed and I've been a lot more consistent in everything I do on the course, which is why I believe I've played better this year."
Lunde's best finish of the year is 12th at the Tournament of Champions in January. He has been 13th twice and also made it into the FedEx Cup playoffs, lasting two weeks.
"That was big, making the playoffs and getting to Boston," Lunde said, referring to reaching the second round of the FedEx Cup, the Deutsche Bank Championship earlier this month. "I would have loved to have moved on to Chicago (BMW Championship), but I was out of gas. I think I had played eight of the previous nine weeks, and I had nothing left."
Lunde returned to Las Vegas on Sept. 5 and put his clubs in the closet for 10 days to recharge his batteries. On Monday, he helped out friend and fellow ex-Rebel Charley Hoffman as a guest server for 120 dinner guests at Morton's Steakhouse following Hoffman's pro-am.
With the Tour's Fall Series about to start, Lunde hopes to push his earnings above $1 million in consecutive years for the first time since turning pro in 1998.
"It would mean a lot to me to win here," said Lunde, whose best finish at TPC Summerlin was a tie for 27th in 2009. "Las Vegas has been great to me. Being part of UNLV golf, everyone here has supported me. Plus, I'm probably the only person who has played here, worked here and caddied here."
When Lunde took time off from playing in 2006, he worked in sales for the tournament, then known as the Frys.com Open. When the caddie for another former Rebel, Chad Campbell, was running late to the course, Lunde filled in.
Even if Lunde doesn't win this week's top prize of $774,000, he'll want to play well on the par-5, 560-yard 16th, which is the designated hole in the seasonlong Kodak Challenge. Lunde leads the 30-hole competition with four events to go. If he stays on top with the best cumulative score, he would win $1 million.
After years as a struggling tour pro, Lunde said he is grateful for such high-earning opportunities.
"I feel very blessed and fortunate," he said. "It wasn't that long ago I remember having $10,000 in credit card bills and not knowing how I was going to pay for it."
■ NOTES — The PGA Tour issued a statement that Bill Haas, winner of the Tour Championship and FedEx Cup on Sunday, was never scheduled to play the Shriners Open, though he had been listed as an entrant because of a clerical error. Scott McCarron was added to the field. … Besides Lunde, Campbell and Hoffman, former UNLV players scheduled to play are Chris Riley, Ryan Moore and Andres Gonzales. … Las Vegas Mayor Carolyn Goodman will be the guest speaker at the Women's Day "Kick Off Your Heels" luncheon at 11 a.m. today on The Hill at TPC Summerlin.
Contact reporter Steve Carp at scarp@reviewjournal.com or 702-387-2913. Follow him on twitter @stevecarprj.