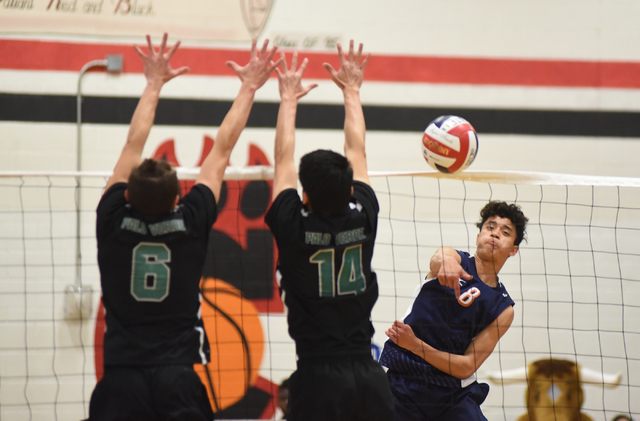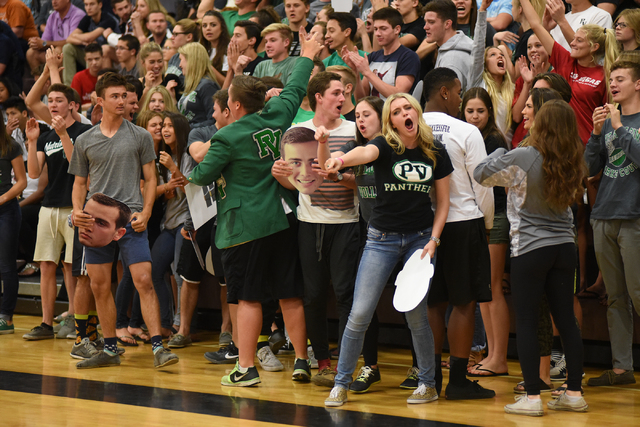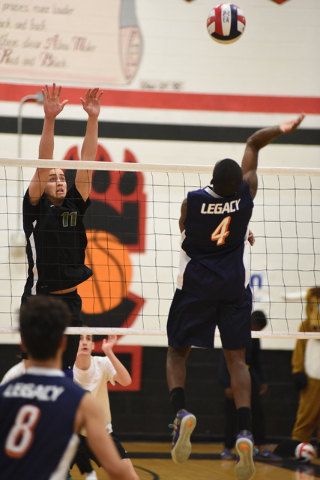 The Most Valuable Player chants for Palo Verde senior Michael Simister began before the first serve Wednesday from more than 200 fans in the Panthers' student section.
Simister didn't disappoint on the biggest stage.
The senior had 24 kills, four aces and four blocks to lead the Panthers to a 25-21, 25-10, 25-15 sweep over Legacy in the Division I boys state volleyball championship at Las Vegas High. It was Palo Verde's first state title since 2009.
"This is definitely one of the biggest moments of my life," Simister said. "I'll never forget it. This has been our goal since we lost to Shadow Ridge (in the Sunset Region semifinals) last year. The very next day, we were in the gym putting in work. We've been waiting for this moment. It's been my dream since I started playing volleyball."
Simister started the match with a monster kill off an assist from Cole Willson. With the score tied at 20, the Panthers (32-11) went on a 5-1 run to take the first set.
Simister had three of those points on kills and finished the set with nine kills, one block and an ace.
"That's a hell of a way to start off the state championship game," Palo Verde coach Phil Clarke said.
Legacy didn't help itself, finishing the set with six service errors.
In the second set, Palo Verde grabbed a 7-0 lead before cruising to victory. Simister scored four of the Panthers' final five points to send the crowd into a frenzy.
"He was just on fire," said Willson, who had 38 assists, eight digs and two blocks. "He was so focused and dialed in from the beginning. He never messed up. He maybe had one error. It was ridiculous."
Palo Verde (32-11) quickly won the final set and the championship.
Zaire Franklin led Legacy (19-7) with 11 kills and eight digs. Anthony Madden had six kills and six digs, Anthony Delgado added 28 assists and 13 digs, and Anthony Guevara contributed seven kills and eight digs.
DIVISION I-A
Jordan Glenn knew the state championship match was about to end, and he wanted to be the one to finish it.
The senior middle blocker got his wish.
Glenn put the ball straight down for a kill to complete Mojave's 25-11, 25-14, 25-22 victory over Clark in the Division I-A boys state volleyball championship match Wednesday at Chaparral.
"I wanted it so bad," said Glenn, who led the team with 11 kills. "I was hoping that it came to me, and I finished what I had to do."
After cruising through the first two sets, Mojave (27-3) ran into trouble in the third against the Chargers (14-5), who opened the set on a 7-1 run.
Clark led 21-18, but Glenn had three kills down the stretch to help the Rattlers close out their second consecutive state title.
"Jordan has been our key player all year long," Mojave coach Erik Davis said of the 6-foot-4-inch Glenn. "When we're in a bind, we're able to go to Jordan, and he's able to get us out of that bind. He's just such a dominant presence, such a tremendous athlete that he can just go up there and put it past blocks. We needed him tonight, and he came through for us."
Mojave put up a strong block early, disrupting Clark's offense and setting the tone for the match. The Rattlers had four blocks in the first set, as they took advantage of their size. Along with Glenn, Mojave starts 6-7 Clayton Fontano, 6-4 Marcus Jackson and 6-3 Absalon Williams.
"I don't know what happened in the last set, but in the first two sets, we had them rattled," Glenn said.
Alex Carvalho had five kills in the first set to help Mojave take control. The Rattlers scored the first five points of the match, and Clark never threatened in the set.
Carvalho finished with nine kills, three digs and two aces for the Rattlers.
Clark got two aces from Walter Regalado to start the second set and led 3-0 before Mojave again made a run. Carvalho had two kills during Mojave's 5-1 run to close out the set, including a powerful shot off Regalado to clinch it.
Setter Jason Zambrano had 30 assists and four aces, and Fontano had six kills for Mojave.
Henok Mucheye led Clark with four kills and four blocks.