Soccer fans swarm restaurants, sports apparel shops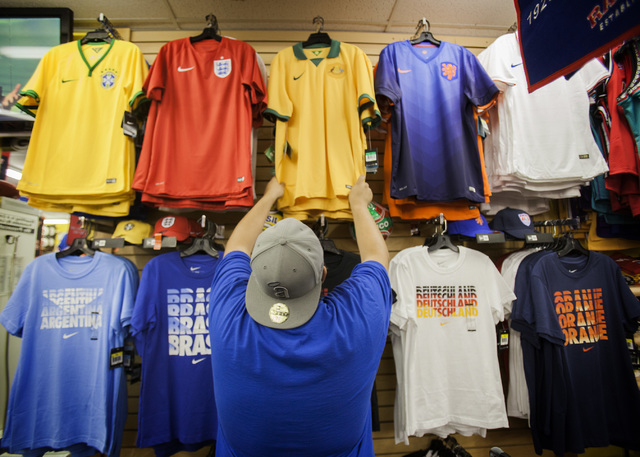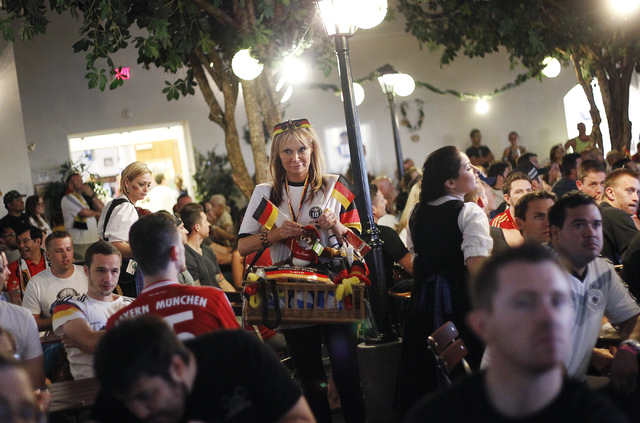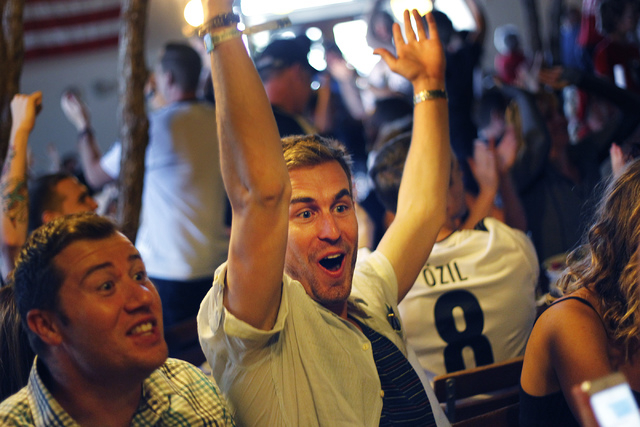 It is a weekday morning — a time at which most businesses are still quiet. But as Bruce Mianecki arranges new World Cup merchandise at his shop, his day is proving to be anything but typical.
For soccer fans all over the globe, the four weeks of the World Cup change everything. One match can signify the end or the beginning of a journey. Entire nations rally behind their teams, win or lose. There is no cheer quite like that of die-hard fans when a goal is scored.
The tournament also is beneficial to local businesses that cater to those fans. From bars to sports shops, almost everyone holds a stake in the World Cup.
Since the first game Mianecki, 48, owner of Uniform Sports said that there has been a surge in the level of customers. While being interviewed, a couple with European accents came in looking for a child's Brazil shirt.
"So far there has been a 22 percent increase in sales this month," said Mianecki, who has been operating his business at Las Vegas Premium Outlets for more than 15 years.
Jerseys and T-shirts representing teams from all major sports including baseball, basketball, hockey and of course soccer line the store from floor to the ceiling.
Although the sport is not known for having a large American fan base, Mianecki believes that this is changing, thanks to younger fans.
"A lot of younger girls and boys are playing soccer now than before and this is definitely changing things," said Mianecki.
While fans need gear to represent their favorite team, they also need entertainment venues that cater to their needs.
"People are coming to Las Vegas to watch the games in high-energy environments and enjoy the only places in the country where (sports) betting is legal," said David G. Schwartz, director at the center for gaming research at UNLV. "It is going to have a positive impact on the local economy."
Fans have been swarming the Hofbrauhaus Las Vegas since the inaugural game. The German beer house even had its own unique jersey made in celebration.
"During the USA match … we had about 1,000 people come in. It was incredible," said Stefan Gastager, president of Hofbrauhaus.
While headlining matches with teams such as Germany and USA create most of the buzz and turnout, matches featuring other countries such as Brazil and Mexico also draw in crowds ranging from 100 to 200, according to Tony Sinzger, vice president of Hofbrauhaus.
The tree-lined beer garden has been transformed into a fan's paradise with flags representing countries vying for the cup and large televisions set up in a circular array so no one misses the action.
Gastager and Sinzger pride themselves in creating a unique atmosphere that grabs the attention of patrons. Traditional pretzels are baked fresh every day in house using dough imported directly from Germany and are served by waiters dressed in traditional Bavarian garb.
"We have seen a 15 percent increase in revenue since the World Cup started," said Singzer.
Just like the ebb and flow of the World Cup, the benefits it brings to businesses will depend greatly on how popular teams like the U.S.A., Germany, Brazil and Mexico perform. It all comes down to the ever-elusive goal.
"We really want and need the American team to do well," said Gastager.
Contact Review-Journal writer Paulina Rojas at projas@reviewjournal.com or 702 383-0206. Find her on Twitter: @ PerpetuallyPau