November 20, 2014 - 12:09 am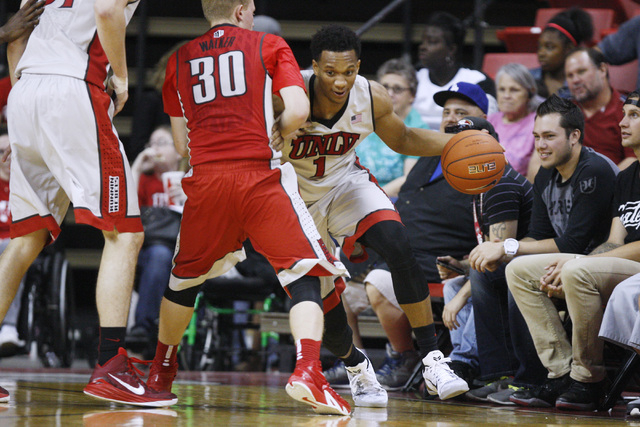 When he was in charge of the offense as an associate head coach for Brigham Young's basketball team, Dave Rice over his final seasons with the Cougars never had to worry about finding true balance with shot selection.
It's a difficult thing, almost impossible at times, to preach freedom as a coach one minute and urge discipline the next.
That was never an issue when instructing Jimmer Fredette at BYU.
"The Jimmer we all remember was the college player of the year who as a senior averaged 26 points," Rice said. "He had the ultimate freedom to shoot and, more importantly, teammates who knew that because he was so good, he had that ultimate freedom. That's a big distinction.
"But one of the many things I have learned in my time as head coach (at UNLV), is that I have to do a better job managing shot selection, especially early in the season. I have always given guys the freedom and confidence to shoot, but I have been more restrictive in recent seasons. By doing that, I hope I haven't made them tentative."
In three seasons under Rice, the Rebels have ranked 58th, 226th and 245th nationally in 3-point shooting, hitting just 33 percent of their attempts in each of the past two seasons and making it an easy decision for opposing coaches to zone UNLV until more than a few shots fall in succession.
In short, UNLV hasn't shot the ball well consistently for some time.
But in what might be deemed the greatest of ironies when considering those numbers, the UNLV team that meets Stanford in a Coaches vs. Cancer semifinal on Friday night at the Barclays Center in Brooklyn, N.Y., might be better served this season to shoot more 3-pointers than ever under Rice.
New faces have brought different skill sets to UNLV, many of those players arriving with an ability to make shots. That, and the fact UNLV doesn't possess a proven post threat at the offensive end, means you can again expect opponents to continue daring the Rebels to make 3s against different zone looks. Stanford will absolutely zone the Rebels.
UNLV is 2-0 and yet hardly ripped up the nets in beating Morehead State and Sam Houston State, making just 39 percent of its shots and 29 percent on 3s.
But here's the thing about percentages: They don't always tell the entire story.
It's true that talent level will more times than not dictate over the course of a season just how good a team is at shooting beyond the arc. You are what you are over 30 or so games.
But it's also true that you can have a game in which your best shooter misses all of his 3-point attempts and yet each was a good shot created out of sound offense. He just had an off night. It happens.
The same player might make all his attempts the next game.
"If a guy has a wide-open shot and we've run our offense and thrown it into the post and back out again, I want him taking it," Rice said. "I don't have a (magic number) on how many 3-pointers I'd like us to take each game. That is always dictated on things like how much zone the other team is playing, how much man defense, how much they are pressing us.
"When reviewing game film or watching from the sidelines, I always look at the quality of shots we are getting more than percentages. It's easy as players when you get down in a game to start thinking that you can hit a bunch of home runs by shooting more 3-pointers. But we only shot 13 against Sam Houston State and (won 59-57). We were selective when we shot them, and I really like that. We've already shown progress in that area."
The new faces have knocked down important 3s in two games. Rashad Vaughn, despite shooting 4 of 13 on 3-pointers, has one of those shots you always believe will go in. His 3-pointer late proved to be the difference in a 60-59 win against Morehead State.
Patrick McCaw and Jordan Cornish have also made key 3-pointers.
Freshmen, all of them.
It would help UNLV's cause if sophomore forward Chris Wood (7 of 21 from the field) better understood the importance of him scoring inside, and if freshmen Dwayne Morgan and Goodluck Okonoboh quickly develop offensive games not solely predicated on energy baskets.
The Rebels can't beat really good teams by just shooting 3s, meaning any consistent production near the basket will only test an opponent's mettle to stay in a zone or not.
"We haven't really started shooting well yet this year," Rice said. "But I have made a concerted effort to tell our staff that we need to recruit players with a lot of ball-handling skills, shooting ability and character.
"Shooting is definitely a big part of that equation."
He doesn't have Jimmer Fredette and hasn't given anyone unlimited freedom.
But this is a different group of Rebels. Different skill sets.
How ironic. It might be better if they actually embrace the 3 this season.
It might be one way they can compete on a nightly basis.
Las Vegas Review-Journal sports columnist Ed Graney can be reached at egraney@reviewjournal.com or 702-383-4618. He can be heard from 11 a.m. to 2 p.m. Monday through Friday on "Gridlock," ESPN 1100 and 98.9 FM. Follow him on Twitter: @edgraney.