Age just a number for Barnes, Woodard
December 3, 2011 - 12:21 am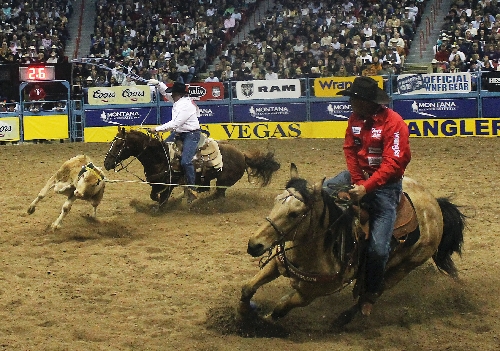 The saying goes that it is a mistake to regard age as a downhill grade toward dissolution, that as one grows older, one climbs with surprising strides.
I'm not so sure that adage was meant to include team roping.
Instead of gingerly climbing through life's second half, Jake Barnes and Walt Woodard are usually chasing steers around rodeos, one trying to rope the animal's head and the other its hind legs, all in less than four seconds.
I can't put on a shirt in that time.
Barnes and Woodard would be the oldest duo in Professional Rodeo Cowboys Association history to win a world championship should they claim the team roping title over 10 days at the National Finals Rodeo, a combination that reaches 108 years, or the age Trevor Brazile will be when winning his 82nd all-around crown.
"You know, age really doesn't matter to the young guys we're competing against," Woodard said. "They could (not) care less. It's all about execution and trying to be the best in the world.
"I suppose if people can identify with how old we are and that we're able to still do this, that's wonderful. We're just honored to be here again. Anything can go wrong at any time that can just wipe you out, so to have this kind of longevity is pretty cool."
Barnes is 52 and one world title from tying the team roping record of eight, held by Speed Williams and Rich Skelton, because you have to believe most rodeo records are held by guys named Speed or Tex.
Woodard is 56 and says he has never seen someone as skilled, as confident, as instinctive as Barnes, that his partner knows where Woodard is at all times, that he can adjust as well as anyone when two men on horses begin spinning ropes.
"I would love," Woodard said, "to help give him that eighth world championship."
Barnes and Woodard finished fourth in the first two go-rounds at the Thomas & Mack Center and have won $15,000. They entered the NFR ninth in the world standings, meaning that eighth title for Barnes is no more a sure thing than all bull riders completing eight-second rides on a given night.
"You can't really get sidetracked on that stuff," Barnes said. "It would be fantastic to win an eighth, but there is a lot of luck involved in this, and everyone who makes it to Vegas is capable of winning. It's my 25th time here. You're not really nervous, but there is pressure. This is what we work all season for. This is our payday."
Rodeo is like most sports in that those who perform today have far more advantages when learning the craft than some decades ago. There are team roping clinics, schools, YouTube videos, tutorials, more and more information for young cowboys interested in the discipline.
Woodard and his son run a roping school at their ranch in Texas. Barnes grew up roping in New Mexico, lives in Arizona and is a trainer for TotalTeamRoping.com.
It used to be that if you weren't from a specific part of the country, roping was something you knew little about and rarely saw. Now, it doesn't matter what part of the world you call home. There is always an opportunity to learn.
The only bad deal out of it is for the steer, who when roped successfully, gives the look of a kid's Laffy Taffy after a good, long stretch. I can only imagine the animal's grief until an official deems it a legal run and waves that flag, allowing T-Bone or Stewie or whatever its name is to trot away and ice those hooves.
"It's not even close in terms of talented (ropers) now, not even comparable to how good guys are than 10 to 15 years ago," Woodard said. "They learn to rope at such an early age. It takes a lot of discipline and hard work. At our age, you really have to work at it. It takes a lot of practice. I'm not sure you get too old to win, but you could get too lazy to win. We're not there yet."
A combined 108 is nothing.
Brazile probably will be just hitting his stride by then.
Las Vegas Review-Journal sports columnist Ed Graney can be reached at egraney@reviewjournal.com or 702-383-4618. He can be heard from 3 to 5 p.m. Tuesday and Thursday on "Monsters of the Midday," Fox Sports Radio 920 AM. Follow him on Twitter: @edgraney.