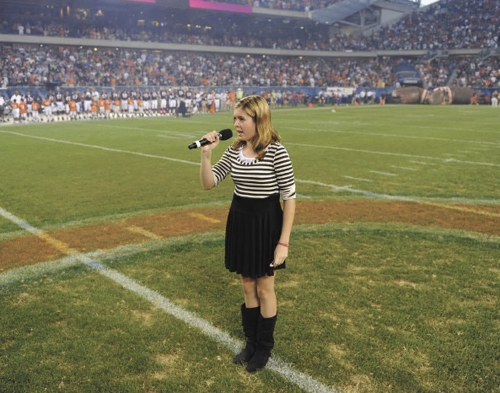 I don't assign stars when listening to whoever sings the national anthem before a sporting event. I assign Ellies. It's a much stricter measuring stick.
It takes Ellie Smith a little more than 1 minute, 30 seconds to gracefully sing "The Star Spangled Banner," to offer in a classy and professional manner what some entertainers have chosen to wreck in a maze of ego and riffs.
Just sing the song. The words do all the heavy lifting.
Smith understands this. She is 14 with a voice that is more gift from above than developed over time. She hummed before talking. Hers is unlimited range.
That, and she is a Dallas Cowboys fan. I didn't think it was possible to think more highly of her, but then she proved me wrong.
The home-schooled student from Henderson will assume center court again tonight at Staples Center in Los Angeles, where Smith will sing both the American and Canadian anthems prior to the NBA All-Star Rookie game.
My best guess: She won't pull a Christina.
She never has.
The Packers won Super Bowl XLV, but the rage before kickoff was how Christina Aguilera botched the national anthem. She flubbed on the words. She fumbled big time.
We're talking a 1½ Ellies performance.
Criticism flew from every angle on the Web. Aguilera was pummeled with disapproval, mostly from insecure people who only dream of owning such a voice and who probably couldn't stand on one of the world's biggest stages (much less sing on it) without relieving themselves.
"I knew she messed up the words right away," Smith said. "I know how she must have felt, how nervous you can be, even for someone like her. Anyone would have been. Singing at any NFL game is huge, but the Super Bowl? It's so hard. I felt bad for her."
This is a pro talking. Smith first sang the anthem before a gymnastics competition at age 6 and has done it more times than UNLV's basketball team has missed shots this season. Well, maybe not that many.
She has upward of seven voice coaches. She has sung the anthem for the Lakers, the Suns, the Rangers, the White Sox, the Bulls, the Jazz, the Dodgers, the Mavericks. She is a regular at UNLV football and basketball games.
She was most nervous at a Bears-Cardinals game last August, when 75,000 stood at Soldier Field.
"I was shaking," she said. "I almost peed my pants."
Her father, Rick, suggests the last comment be redacted.
He knows me better than that.
It's that kind of reaction that makes Ellie Smith so charming, that makes her 14 and red-faced embarrassed when, after Ellie sang before a Lakers game recently, Rick tried getting the attention of teen heartthrob Jesse McCartney for his daughter to meet.
Fathers. Will we ever learn?
Ellie acts. She dances. She plays piano and guitar. She has performed the lead in several theater productions here and in Utah and three times has been offered parts on Broadway, when the family didn't think it the best time to have one parent and her living in New York and another with 12-year old sister Amy here.
Smith also has sung several times with Tony Bennett, performed at Andre Agassi's "Grand Slam" benefit and in March will release her first single, a country-pop version titled "Stay Grounded."
Yes. There is a message.
"This is a very fickle business," Rick said. "You can be a superstar today and unknown tomorrow. It's our job as parents to help prepare her for that kind of roller-coaster, to never push her, to help keep her life clean and wholesome."
There is no explanation for her talents. Her mother, Geri, sang a bit in college. Rick's father also sang at an amateur level. But nothing like Ellie.
Her dream is to sing at Cowboys Stadium (smart kid) and one day to land the role of Christine in "Phantom." Opera lessons began two years ago.
"The best thing anyone can do," Ellie said. "You can belt out the anthem so healthier, reach high notes so easier."
Rick and his wife arrived here in 1995 and immediately adopted UNLV as the athletic program they would support. He is a Rebel Athletic Fund member, which makes this part all the more enjoyable to report: Ellie is a regular at Brigham Young's summer singing and entertainer camp and has fallen in love with the University of Jimmer.
Which means the old man could have some explaining to do sitting around his UNLV buddies a few years from now if an incredibly talented Catholic-born opera singer is belting out the anthem on a regular basis in Provo.
"Tell everyone at UNLV I apologize in advance," Rick said.
He knows me better than that.
Las Vegas Review-Journal sports columnist Ed Graney can be reached at egraney@ reviewjournal.com or 702-383-4618. He can also be heard from 2 to 4 p.m. Monday and Thursday on "Monsters of the Midday," Fox Sports Radio 920 AM. Follow him on Twitter: @edgraney.